Hundreds of people living in student-dominated area have been fined for waste offences in last two years. In 2015, when a new bin regime was introduced, there were 317 fines being handed out in Cathays and Plasnewydd, almost nine times of that on the previous year.
In order to improve the waste system and recycling rate, the government has changed the size of wheeled bins and promoted bespoke red-and-cream bags for general waste instead of black bags, which is believed to the main reason of the sharp increase in fines. Though penalty is carried out effectively, it seems that the circumstance is still below the expectations of the public in some areas.
Is penalty the best way to solve the garbage problem in Cardiff?
Raza Prince, 45, working in fine service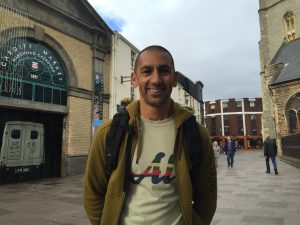 "Well, I think it makes little difference. The system could be better if there is more accessible information about recycling."
"I understand you can go on to the website and get information, but some people just don't do it. People always find excuses for themselves. So a little bit more advertising will be better to inform people."
"Education is key."
Bethan Parnis, 18, retail assistant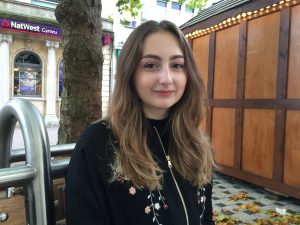 "I think it got to have fine to make people aware. Many people just don't care about the garbage. If people know they would be get fined, they would be much more careful."
Wei Zhou, 27, student of Cardiff Metropolitan University

"Penalty is definitely a good way to improve recycling, but apparently, it's not enough."
"I do think some educational campaign should be carried out in every community so that people's awareness could be raised."
Hamoudi Thirb, 66, retired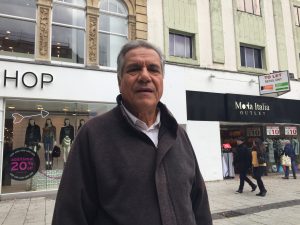 "Actually I'm quite satisfied with the situation in my area. And yes, penalty is the best way to improve the recycling."
"If there is no penalty, nobody will support the law. And that's for the good of society and environment."
"Though the government changed the size of the wheeled bin, for me, it's enough."
Mike Harvey, 70, retired, preaching Christian on the street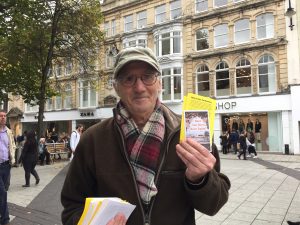 "Penalty is wrong. To me, that's stealing!"
"If I were a councilor, I'd go to people's houses and knock their doors. I'll speak to you and I wouldn't fine you."
"It's called correctness. I'm correcting you to do what's right."
Danial Lake, Welsh, 35, hoist operator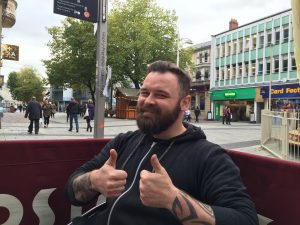 "I don't generally think fine is the way to go for anything. It is just another way of taxing the public."
"Actually the system should be more flexible, I mean, we often have big problems with birds because  we aren't allowed to put bins outside the door in my area. That's ridiculous!"

Opinions concerning garbage differs a lot, but we have every reason to draw a conclusion that penalty is only the tool, not the aim in solving this tough issue.