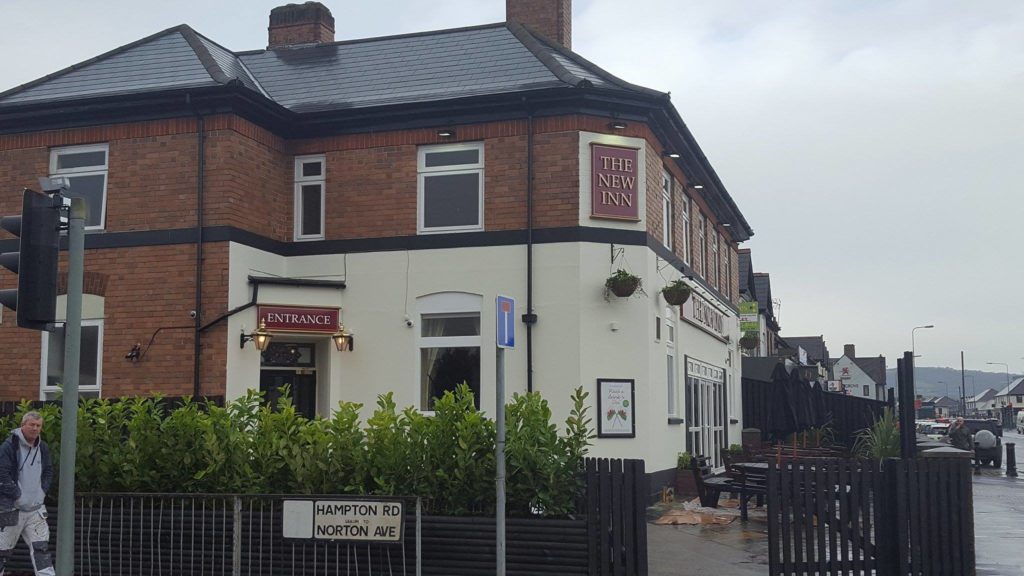 ONE of Cardiff's most controversial pubs is reopening its doors this week after nearly a year of renovation.
The New Inn in Birchgrove closed in March 2016, but after extensive redevelopment the pub is ready to reopen under new management on Wednesday.
The pub had problems with drug use, violence and anti-social behaviour and was notorious among neighbours. But operator Punch Taverns says it is now aimed at a new clientele.
Gwion Iwan, regional manager for Punch Taverns, said the pub had been totally refurbished. "We've invested £360,000 in a complete refurbishment. It's a complete upgrade — new bar, new tiling, new publican.
"We've worked very closely with residents and the Independent and Labour councillors, as well as the local Conservative MP. We've listened to all the residents responses' to try and improve the pub, and we've given it our best.
"When the pub opens, it will be much easier for us to show how much we've improved it."
But some residents are worried the redevelopment won't be enough to shake off its reputation and its old clientele.
A resident of nearby Hampton Road, who wished to remain anonymous, was deeply unhappy about the reopening.
"My wife and I have witnessed some awful things. Each landlord has tried to promise us they'll police the premises, but they've never been able to. They just can't control it.
"The anti-social behaviour started early, sometimes as early as six in the evening on Six Nations weekends. It can't be policed. There were people urinating, shouting, swearing, dealing and taking drugs in the alleys, coming straight out of the pub. And we're the ones being kept awake.
"The way my wife was addressed when she asked people to calm down, it's atrocious."
Fenella Bowden, Independent Councillor for Heath and Birchgrove, said: "Despite the renovations there are still lots of concerns about drinking outside, loud music, and anti-social behaviour on the surrounding roads, which is why we've pushed for an upcoming corporate licence review.
"Punch Taverns were very keen to emphasise they were aiming for a new clientele, but we just don't think they can be confident. The residents have gone through hell for many years – the pub has been a big shadow over them."
The redevelopment has included 6ft tall box hedge to screen part of the grounds.
Coun Bowden said: "The new hedges just aren't good enough sound barriers – they're not high or thick enough. Punch have to understand that there will be children walking past, and that residents will still be affected by the loud noise.
"There's no karaoke or pool table in the new pub, which will help, but they're still showing sports, and keeping the smoking area, which means loud, noisy conversations."
Coun Bowden also raised the issue of parking. "The New Inn used to bring a lot of people in who weren't local, so there'll be very little place to park. Residents on Milton and Hampton roads – who have to pay for their parking spaces – might see them lost to customers."
The anonymous neighbour agreed: "Where are we going to park? That's the thing that the residents are most disgruntled about."
Ken Hooton, a retired resident also living on Hampton Road, was much more optimistic. "It's been shut for months, and we've already got three lovely pubs nearby, but one more nicely refurbished one can only be good.
"It's been here for over a hundred years. I know there are some people living nearby that are anti-pubs, but I don't agree with them at all on that. I think it'll be a good thing."
The anonymous neighbour disagreed: "There's three other pubs nearby. I can't imagine they'll get the business they need without bringing back the kind of people they've promised to keep away.
"I just hope my wife and I, and other people, don't have to start policing the community again. It's been quiet. We want it to stay that way."
An initial planning application had been sent in July 2016 for a timber smoking shelter and new fencing, but was withdrawn shortly afterwards. The new applications were sent in October, and were approved after consultations with councillors and local residents. Further meetings were held in January 2017 after residents voiced their concerns.
Corrections: A previous version of this article quoted a source as saying that the pub licence had been changed, and that a licensing review would be taking place on March 3. This was not correct. the pub is reopening with the same licence, and the date for the licensing review has not yet been set.