Free ticket available to all as charity says 'thank you' for support during difficult year
Prostate Cymru are offering everyone a free ticket to their Big Christmas Raffle, with prizes such as a giant 4.5 litre bottle of Jameson Whisky and a signed Tommy 'Hitman' Hearns boxing glove up for grabs.
Additional tickets can be purchased for £1 per ticket or £5 for a strip.
The funds raised will go towards the charity's main aims: raising awareness; supporting and improving treatments and equipment; funding Welsh research and innovation and supporting the education of Welsh medical students.
Prostate cancer is the most common cancer in men in Wales, and the second most common cause of cancer death in UK men.
For men in Wales, there is a 1 in 8 risk of having prostate cancer, rising to 1 in 3 if there is a family history of the disease. For Afro-Caribbean men, the risk is 1 in 4.
"We know that people can bury their heads in the sand when it comes to health," said Chris Leyshon, Prostate Cymru's community and sport officer.
"It is important to remember that warning signs don't always mean cancer," he continued. "However, by acknowledging and addressing them, quality of life can be greatly improved".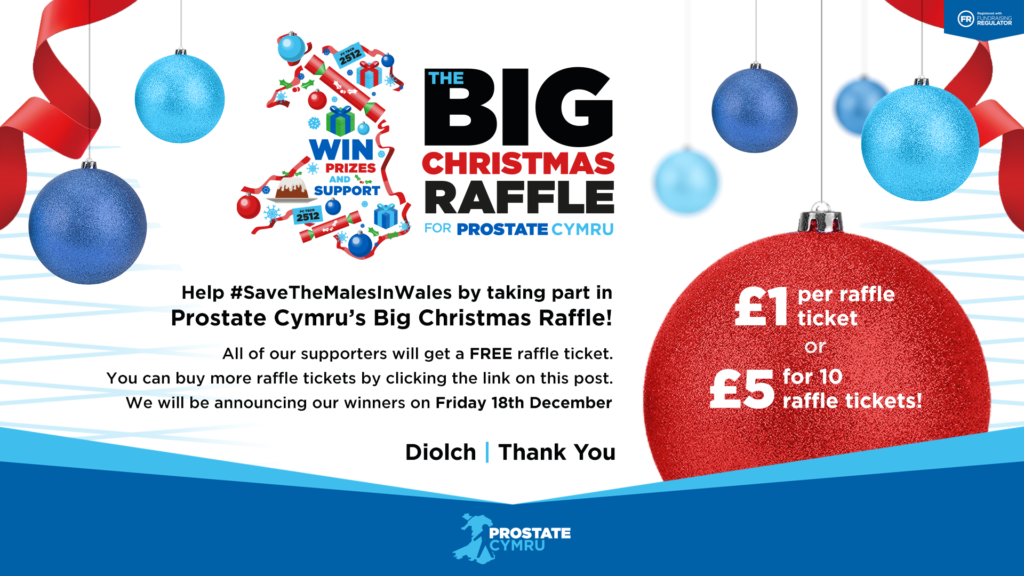 This year, Prostate Cymru has had to hold any fundraising events virtually.
In July, over 600 people took part in a virtual 'Big Walk' and raised £62,330.02 for the charity, and a virtual pre-match breakfast was held before the England v Wales match in November.
The charity has also been able to hold virtual awareness sessions for businesses, something that would not have been possible without the fundraising of supporters.
Mr Leyshon, said: "This year has been hard and the charity sector has really been hit.
"Our awareness talks being cancelled and our events being postponed has been difficult, and as a huge thank you to all of our supporters we are offering everyone a free ticket to The Big Christmas Raffle.
"It was inspiring to see the communities of Wales come together this year to support the charity and we can't wait to see what the next year holds".
The deadline to buy tickets is December 18, which is also when the winners will be announced. Any prizes that are not experiences will be delivered on December 21.