Graduates are tackling the pandemic with their VR tour business
TWO Cardiff University graduates are making a name for themselves using virtual and augmented reality to create 360-degree tours of businesses.
Universities, retailers and real estate agents are among those who have turned to Virtus Tech, based in Pontcanna and founded in 2018 by 25-year-old George Bellwood and Robin David, 24.
They were able to get their business off the ground with the help of Big Ideas Wales, a youth entrepreneurship service.
"During university and since I graduated, the service has offered me invaluable support every step of the way. It's reassuring to know that I can pick up the phone and ask for advice whenever I might need it,"

said Mr Bellwood.
Big Ideas Wales is aimed at five to twenty-five-year-olds, including students and graduates, who want to develop their business ideas.
It is part of Business Wales and funded by the Welsh Government and the European Regional Development Fund.
Mr Bellwood was referred to Big Ideas Wales by Claire Parry-Witchell, who is the Enterprise Officer at Cardiff University.
She said: "In just two years, George has made huge strides in developing his business. As a savvy businessperson, George has been able to turn this challenging year for so many businesses into a success for his company, entering new markets as a result.
"Consistent client wins and the employment of a new member of the team is testament to the hard work George has put into Virtus Tech."
Some of their clients have included Cardiff University, University of Wales Trinity Saint David and co-working space Tramshed Tech, based in Grangetown.
Under normal circumstances, Mr Bellwood and Mr David would visit their client's site to gather the images needed to create their virtual tours.
However, with the pandemic forcing many organisations to face unprecedented challenges, Virtus Tech was been able to bridge this gap when visiting was not possible.
They use their programming to design a platform where their clients were able to create their own tours without relying on others to capture the images for them.
This proved to be crucial for businesses forced to close and universities, who would have been gearing up for open days and visitors during the autumn.
Cardiff University used their platform to add new features for prospective students, including in-built videos from students.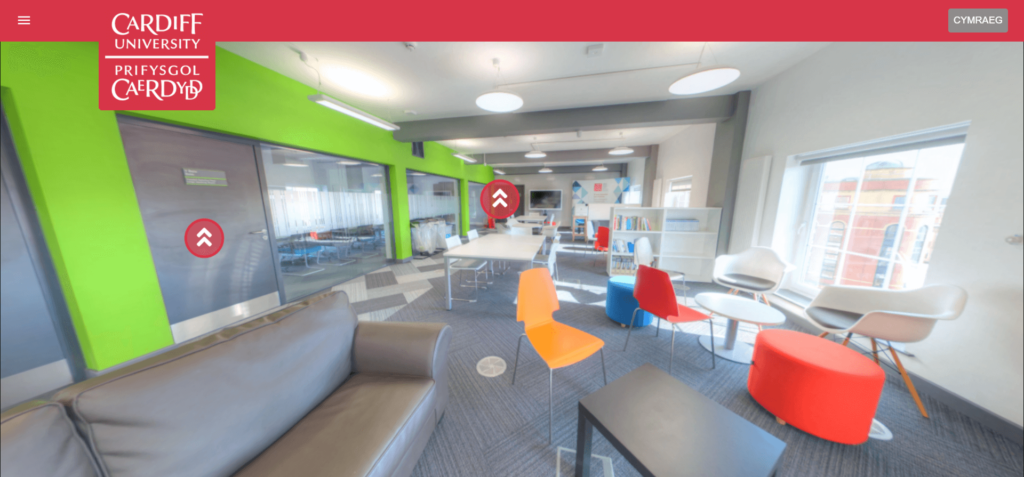 "Since open days were cancelled, a virtual tour was the most effective way to not only show the campuses and facilities that the university offers but also to demonstrate to current and prospective students what the university is doing to ensure a safe environment and follow government guidelines," Mr Bellwood said.
"Working closely with the University's project managers, it took over a week to film the entire university, but now we can say that, to date, the UK's largest bespoke virtual tour for an education institution was built by Virtus Tech."
The company has also been able to provide help to the property and hospitality sectors, such as enabling buyers to tour prospective houses.
Despite their success, the company is continuing to innovate by introducing a tool that allows clients to monitor how effective their tours are through machine learning and image recognition.