The Wales international has faced a challenging 18 months, but Chelsea supporters are optimistic about his future
ETHAN Ampadu has made headlines in recent weeks for a series of excellent performances in a resurgent Sheffield United side.
A little over a week ago, ex-Borussia Dortmund and PSG boss Thomas Tuchel replaced Frank Lampard at the helm of his parent club, Chelsea, which has raised the possibility of Ampadu finally breaking into The Blues' first team next season.
The 20-year-old has been at Chelsea since 2017 but has spent time away from Stamford Bridge on loan. Last season, he moved to Germany to play for RB Leipzig, but he played only 78 minutes in the Bundesliga.
This season, he has once more found himself at pastures new and has made 16 league appearances at Sheffield United. The Blades currently sit rock bottom of the Premier League, 11 points from safety.
They endured a torrid start to the season, only managing to win their first league game in January, but their results have improved since the turn of the year. Since January 12, they have won three Premier League matches, including a hard-fought away win against Manchester United.
Ampadu's form has epitomised his side's tumultuous season, as he initially struggled to cement a consistent position in the starting line-up.
After January 2, some Blades fans were calling for Ampadu to be removed from Chris Wilder's starting XI – or even sent back to Chelsea – after he failed to prevent Crystal Palace's Eberechi Eze from carrying the ball 60 yards en route to his goal of the season contender at Selhurst Park.
Eight days later, Ampadu put in a man-of-the-match performance against Newcastle United at Bramall Lane as his side claimed their first three points of the campaign. To end the month on a high, Ampadu then gained plaudits for his defensive performance at Old Trafford.
This weekend, Wilder's men will look to pull off another surprise result – but this time, Ampadu will have to make do with watching from the sidelines as they take on Chelsea.
Reflecting on his side's early-season woes, and Ampadu's role, Wilder said: "We don't sign bad players. Ethan is a young player and, like all young players, they find it difficult when results aren't great but then you see the confidence come back."
With the rescheduled European Championship set to start in June, Wales fans will be hoping that Ampadu's confidence only continues to increase.
Llion Carbis, a Welsh Chelsea supporter who spent a year editing the Chelsea FanCast website and was twice shortlisted for the Young Football Blogger Award in 2016 and 2018, says that Ampadu's technical ability and maturity makes him stand out.
"The maturity he shows and the leadership he shows, using constant communication with teammates and instructing players with far greater experience than him on where to position themselves and where to play the right pass, makes him such an intelligent player in terms of his positional awareness," said Llion.
His ability has never been in doubt. Ampadu made his senior debut for Exeter City in an upset against Championship opposition, Brentford, in the Carabao Cup in 2016. He was only 15 years old.
Exeter's then-manager, Paul Tisdale, said: "The biggest compliment I can give him is that he plays like a 35-year-old. That's not normally the English way – we like drama, we like spark. But we don't often encourage and cultivate subtle, classy players, and he's one of those."
Ampadu's reluctance to adhere to "the English way" makes sense. Since leaving Exeter, he has gained 20 caps for Wales, who he qualifies for through his Welsh mother, and has said that his decision to represent them was an easy one.
He made his Wales debut in a 2-0 defeat against France in Paris in November 2017. Ten months later, he played in his first competitive international fixture – a 4-1 win in the Nations League against the Republic of Ireland – which committed his future to Wales.
After the Ireland game, Ampadu said: "There was talk, but for me, I've always been thinking about Wales. As you could see tonight, I really enjoy playing for Wales, the atmosphere, and everything around it. I've always felt part of the set-up and the senior players and staff have helped that."
Ampadu previously represented England at under-16 and under-17 level, and he was also eligible to play for the Republic of Ireland and Ghana. Despite Tisdale's best efforts – and as a result of the qualities he admired so much – Ampadu struggled to make his mark in England's international set-up.
"I phoned England, very relevant people, to say you have to get hold of this chap," said Tisdale, a week after Ampadu made his competitive Wales debut.
"I was told he takes too few touches. They were looking for players who take more touches, but that is his strength, he does things in one touch or two touches and sees things early."
England's loss is Wales's gain. Megan Feringa, who is a writer and social media manager for Welsh Football Fans, says that Wales benefit most from Ampadu by playing him as a defensive midfielder alongside Joe Allen, but that his versatility makes him a valuable asset.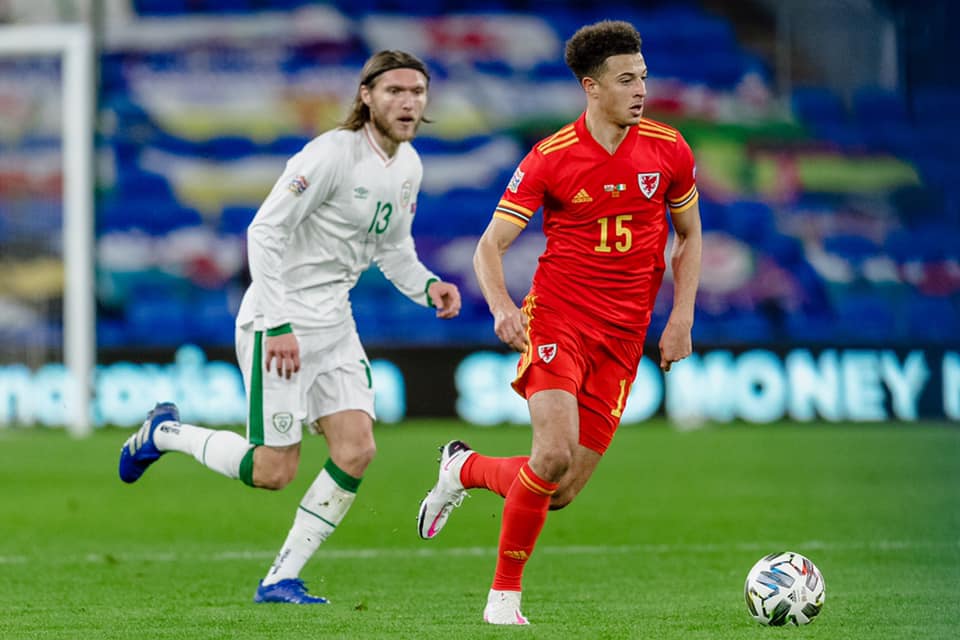 Megan, who comes from the United States and first came across Welsh football while studying in Cardiff, compares Ampadu's playing style to a rather different type of footballer.
She said: "One of the biggest strengths he has is his confidence in dictating the pitch, whether that's with the ball or without the ball at his feet. When he's given time on the ball, it's almost like he's an American football quarterback.
"Then there's his physicality – there's nothing that's going to get past that boy. If he's playing as a defensive midfielder, right in front of the back four, he's not going to let it get past him."
Two examples stand out when considering Ampadu's willingness to use his physicality. In 2017, only minutes after replacing Cesc Fàbregas to make his Chelsea debut in the Carabao Cup (still only aged 17) Ampadu left Nottingham Forest's Danny Fox in a heap with a hard tackle aptly described by commentator Gary Taphouse as "no-nonsense."
A year later, in the closing moments of a Nations League game for Wales against Denmark, Ampadu found himself on the end of a clattering from Kaspar Dolberg, whose late challenge pushed him into the advertising boards and was deemed worthy of a yellow card.
Ampadu was almost immediately booked himself for retaliating as Dolberg went up for a header. As Megan put it: "Two minutes later, Ethan just laid him out! It was old-fashioned. Eye-for-eye, tooth-for-tooth. I miss those kinds of players. Where I'm from, we play very physical sports. Ethan's an old-fashioned, gritty player."
Though Llion has identified discipline as something Ampadu still needs to work on, he is confident that he has gained from his loan spells and can replicate his international displays as a Chelsea regular when he returns from South Yorkshire.
He said: "Chelsea need a holding midfielder. Frank Lampard was insistent on trying to sign Declan Rice, but that hasn't come to fruition. There is a gaping need for a defensive midfielder who has that intelligence and knows when to sit and when to make progressive passes to keep the game ticking over, who has that strength and physical presence.
"Thomas Tuchel's coaching career is born from his academy days at Mainz and, even at Borussia Dortmund and PSG, he has maintained that legacy of integrating young players. I can't see why Ethan Ampadu can't break into the team."
Others struggle to see a long-term future for Ampadu at Stamford Bridge. Sam Tabuteau, a writer for Absolute Chelsea on Sports Illustrated, said: "Ampadu is a player of undoubted ability. Confident in and out of possession, Ampadu's ascension under Antonio Conte was startling.
"But his recent loan spells have stunted his progress and, as much as he may prove to be a player of Premier League standard, his future at Chelsea is unclear.
"Jorginho is back in favour and Billy Gilmour appears to be in Tuchel's plans. Tuchel's arrival, like that of any new manager, can breathe a new lease of life into players previously out of contention. But I feel his relationship with Jorginho and Gilmour will only make it harder for Ampadu.
"The current rotation of midfielders is already hard enough to break into and it would come as no surprise to see Tuchel target a midfielder in the summer."
As Llion points out, supporters only see so much when a player is not making regular appearances. He said: "From the outside looking in, it's always going to seem like these loan moves have been regressive due to the lack of involvement at Leipzig and the turbulent circumstances he's endured at Sheffield United.
"It's easy to underestimate the significance of the technical advice and insight he would have received from someone like Julian Nagelsmann, who is one of the most promising tactical coaches in the world.
"Equally, Chris Wilder's ascension of Sheffield United from League One to Premier League world-beaters is quite astonishing, and I don't think you can overstate that influence. What's most important to recognise is that he is now receiving a continuous run of games."
Megan agrees. "The Bundesliga is really good for developing players' technical skills. If you look at Ethan from two years ago and Ethan now, those technical skills have been honed. I wouldn't say that he went backwards in any aspect at all. He was pushing for game time there and if you're doing that, you're going to be a better player.
"At Sheffield United, at first I was a little bit nervous because they were putting him all over the pitch. Now that he's playing at the left side of a back three, he's fit in really well."
Whatever comes next for Ampadu at club level, his place in the Wales line-up seems secure.
"I think he's indispensable to Wales. He's one of the leaders of the squad – and I know how strange that can sound given his young age and limited club experience – but he's proven continually to be one of our most outstanding performers on the international stage because of the composure and authority that he brings to the team," said Llion.
"We're all waiting for Chris Gunter and Wayne Hennessey to become Wales centurions. Perhaps Ethan Ampadu has the potential to be one in the future."