Proposal from mobile network Three prompts objections
A telecommunication mast is proposed for a residential area of Leckwith to help bring the 5G mobile network to the area.
According to the application there is "acute need" for the new mast as the higher radio frequencies used for 5G do not have the same range as frequencies that are currently used.
"This specific proposal forms part of an integral requirement for H3G LTE [Three network] to expand its 5G telecommunications network across Cardiff, specifically in this instance to enhance 5G coverage levels and network capacity within the Leckwith area," says the application.
The proposal was made by Hutchison 3G UK Ltd on behalf of improving the Three mobile network which is currently building "the UK's fastest 5G network".
While the mast will be in proximity to a residential area the report says there will be sufficient distance to properties.
The mast will be 20m high (the minimum height for the mast to provide a 5G network) and surrounded by bulky cabinets on the ground which will, however, not impede pedestrian flow or motorists' safety.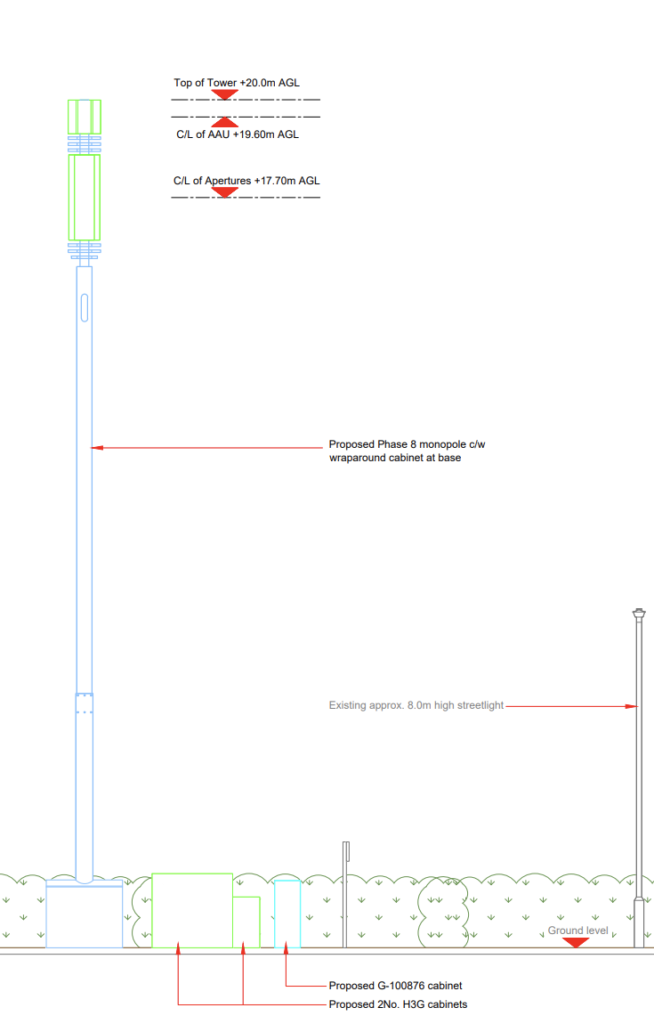 There are a number of limiting factors that require the mast to be in the proposed area in order for it to fit into the overall network infrastructure.
"The cell search areas for 5G are extremely constrained with a typical cell radius of approximately 250m meaning that it would not be feasible to site the column outside of this locale," explains the application.
Four other sites have been considered for the mast but were not deemed suitable due to residence proximity, obstructing pedestrians and cycling paths as well as insufficient pavement width to house the equipment.
The site now proposed is the only viable one and also the "least visually intrusive option available".
The mast will be within 200 metres of the Ysgol Gymraeg Pwll Coch, a large Welsh-medium primary school.
Trees on Lawrenny Avenue as well as existing streetlights will help to reduce the unsightliness of the mast, says the application.
On the 4th and 5th of February three objections were filed by local residents that say the mast is unsightly and will devalue their house prices. They also claim that the masts could affect people's health due to radiation.
Mobile UK, the trade association for national mobile network operators including Three, outlines that tests carried out by the UK's telecoms regulator, OFCOM on 5G-enabled mobile masts across the country have disproven this claim.
"The highest emission levels (e.g. radiation) recorded at mobile phone masts were consistently well within the strict safety guidelines that monitor radiation levels," Mobile UK says.
This week Mobile UK has launched the #5GCheckTheFacts public information campaign to clarify the facts relating to the 5G mobile network.
Previously three applications for 5G-enabled communication masts have been overturned in Danescourt, Cardiff.
Residents have until the 11th of February to comment on the proposal.