For Christmas, the woodworkers made a decorative tree and now they're expanding into homeware
A FATHER and son have combined their enthusiasm for woodwork and charity in a lockdown-born venture that transforms pallets into various products.  
Gobaith Mewn / Pallets of Hope sells a range of items through its Facebook page, all hand-made by the father-son duo in their Cardiff home.
"I'd far rather get my tools out than sit in front of the computer," says Nick Burd, whose enduring love for DIY was what initially kickstarted the idea to give pallets a second life.
His son Aled got involved with the project after returning to the family home during lockdown.
"I'm not really sure how it started but I think we just ended up having a pallet about and it got converted into something, and then just learning the ropes from dad because he's always been very interested in this DIY stuff," he adds.
For the festive season they made a pallet Christmas, which they think is the first of its kind in Wales.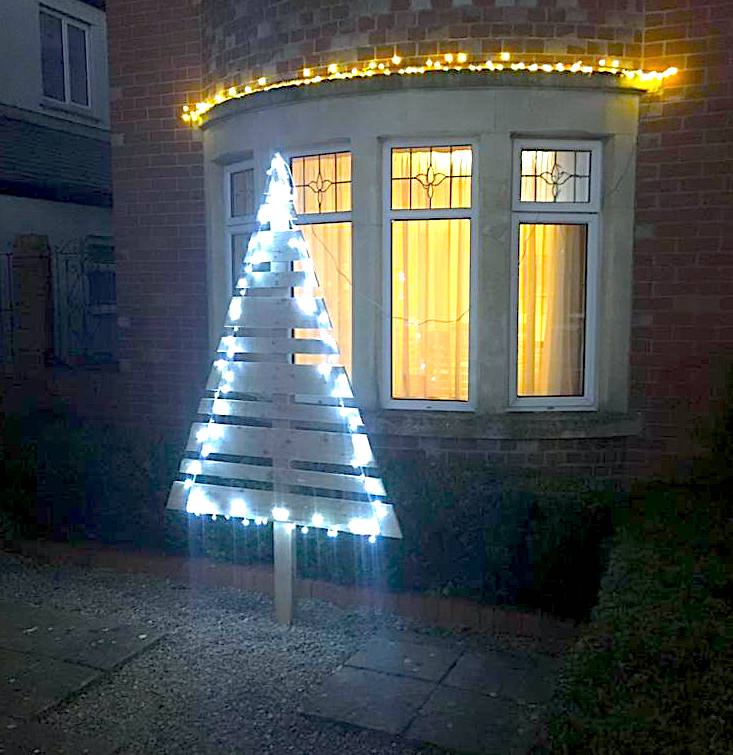 The pallets are usually sourced from building projects or picked up from streets, allowing the wood to be recycled instead of going to landfill.
The pallets are then processed in the garage or the patio, after Aled's mother requested that the dining room should be returned to its normal function.
"We have ourselves a little workout when, with crowbars and hammers, we dismantle the pallets … that's a bit of fun," explains Nick.
"Then you end up with a pile of timber that we've learned to cut and plane [a way of removing upper layers of the wood to reveal more quality wood] and make into our various products," he added.
They are currently selling hexagon-shaped shelves, succulent boxes, different sized mirrors, and a nest box with more products such as coffee tables coming soon.
All payments are processed online and the items can be picked up from the Burd home or delivered during a weekly Cardiff run.
The two usually spend an hour in the evenings working on the pallets and a couple more hours during the weekend.
"I think it was more of a hobby than anything else just making things and giving them out as gifts … fairly soon my daughter's bedroom was full of all the things we made," explains Nick.
One night they decided to share their products with a wider audience, while Aled suggested that 50% of the sales price should be donated.
"We've always done a lot of charity and I suppose during lockdown it's given us less of an opportunity to give back as much as we would," says Aled.
For the next two months the donations will go to the Cardiff and Vale Health Charity, but the idea is to switch the beneficiary every quarter.
"We think the local hospital and all the medical and support staff can do with all the support they can get," says Nick on why the NHS was their first choice.
"I suppose it's about what charity is most in need at that time," adds Aled, who says he wants to support many different causes in the future.
In the Spring the Burd's home might show off an Easter-themed pallet installation.
"Probably not an Easter bunny but we could do a giant egg and put that outside."