Remember the crafty line-out move that ended Ireland's Triple Crown Hopes in 2011?
THIS year marks the 10th anniversary of one of the most bizarre tries during a game of international rugby.
On the 12th March 2011, Wales beat Ireland 19-13 at Cardiff. However, Mike Phillips' try for Wales was actually illegal.  Here we look back at what happened, and why match officials were heavily criticised.
The Six Nations over the years has seen some remarkable and extraordinary moments, from historic comebacks to freakish tries. 
However, one of the most memorable Welsh tries against Ireland in March 2011 will be remembered for all the wrong reasons.
Ireland travelled to Cardiff for round four of the 2011 Six Nations Championship and predictions pointed towards an Irish win. 
But a crafty line-out move caught the Irish flat-footed as Mike Phillips broke away to score during the second half, after Wales used a different ball at a line-out.
This move was technically against rugby's Law 19.2.
19.2 (b) (Quick Throw-In) For a quick throw in, the player may be anywhere outside the field of play between the line of touch and the player's goal line. 
A quick throw-in must be taken with the same ball that has gone into touch. 
TV replays showed that in taking a quick throw-in, Wales' hooker and captain Matthew Rees had used a different ball, handed to him by a ball-boy, from the one that Ireland's Jonny Sexton had put into touch.
Although Ireland captain Brian O'Driscoll had not seen the line-out error, half the Irish team protested to the match referee but were shooed away. 
When referee Jonathan Kaplan asked his touch judge Peter Allan whether it was the correct ball, Allan answered "Yes" and Kaplan awarded the try, much to the evident annoyance of O'Driscoll and his team.
Despite the visitors almost hitting back immediately, the Welsh managed to hold out and secured the win with a six-point lead, ending Ireland's Triple Crown hopes.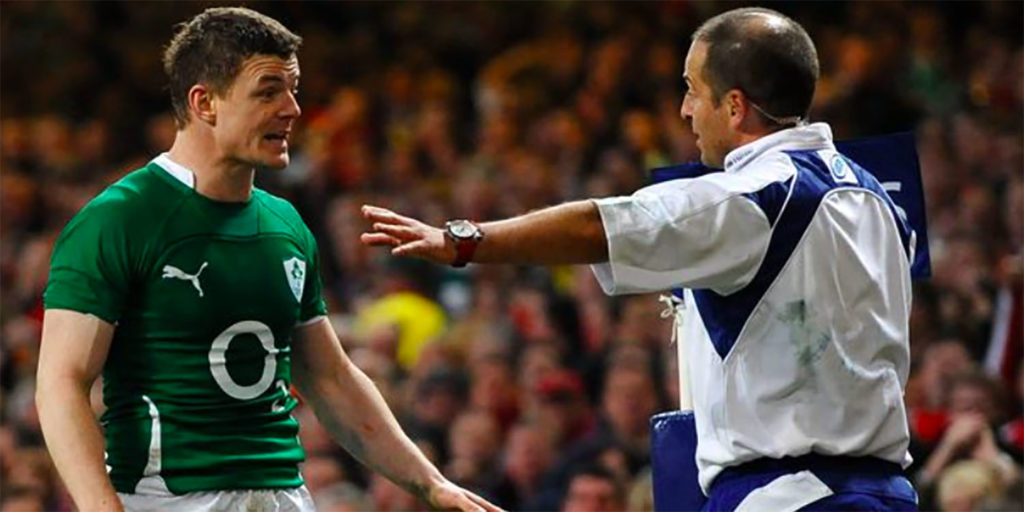 In the aftermath, Phillips' hotly-disputed try resulted in a bitter row between match officials and the Ireland side.
O'Driscoll said after the match: "So I stood there and before anything else could be said, he [Kaplan] awarded the try.
"I did mention it to him a few minutes later after I had seen it on the TV and I told him that it was a massive momentum swinger and that it had had a huge bearing on the game, but he just shrugged that off."
Instead of celebrating Mike Phillips' 50th cap and O'Driscoll's record of 24 career tries in the Championship, everyone was left inspecting the rulebook.
And to top it off, the illegal try was awarded by the world's most experienced international referee at the time. 
Paddy O'Brien, the International Rugby Board's referee manager, would later offer an apology on behalf of the entire officiating team and it was accepted by Ireland.
Wales: L Byrne; L Halfpenny, J Roberts, J Davies, S Williams; J Hook, M Phillips; P James, M Rees (capt; R Hibbard, 72), C Mitchell (J Yapp, 12), B Davies, AW Jones, D Lydiate, R Jones (J Thomas, 59), S Warburton.
Ireland: L Fitzgerald (P Wallace, 72); T Bowe, B O'Driscoll (capt), G D'Arcy, K Earls; R O'Gara (J Sexton, 49), E Reddan (P Stringer, 1); C Healy, R Best (S Cronin, 75), M Ross (T Court, 69), D O'Callaghan (L Cullen, 75), P O'Connell, S O'Brien, J Heaslip (D Leamy, 70), D Wallace.
Referee: J Kaplan (South Africa).