Group is holding events for both competitive and relaxed cyclists online
STAYING fit and being sociable are two things that have been made a lot more difficult during lockdown, but a Cardiff cycling group has found a solution to both issues.
Cardiff Social Cycling is holding regular events on Zwift, an online multiplayer cycling program, to keep its members together during lockdown.
Sales of virtual cycling programs have risen in Wales during lockdown.
Steve Gabriel, one of the founders of Cardiff Social Cycling, says: "A lot of people tended to use it on the winter months before but it's absolutely gone mental during lockdown. Particularly with certain travel and exercise restrictions in the pandemic, a lot of people saw this technology and thought it looked a lot more appealing."
Current government lockdown laws state that all exercise must be done locally and can only be done alongside one other household.
The Zwift platform uses a stationary bike, just as you see in many gyms and living rooms across the country, but transfers your live performance to a virtual world where you can team up with fellow riders and compete in a variety of challenges and locations.
Riders can do things that would normally be impossible in the outside world, like racing against professional cyclists or riding up Mount Everest.
According to Cycling Industry News, Zwift now has over 2.5 million users across 190 countries worldwide.
The platform has been supported by, among others, former Tour de France champion Geraint Thomas, who used the platform for his "Zwift Shifts" campaign, riding 1,200km in three days last April, which raised £375,000 for the NHS.
Mr Gabriel says: "You could just use a normal exercise bike but you're still in your living room or in the spare room just staring at the wall or out your window. What's good about a lot of these training platforms is there is other people around that you can chat to and compete with.
"I like to say I'm not competitive but when I'm surrounded by others, I realise I really am. It just gives you something extra to aim for."
Cardiff Social Cycling has now increased its virtual events to twice a week, a competitive race night on Tuesdays and a more relaxed, social ride on Thursday nights.
The group has been unable to ride as a group outside in over a year and Gabriel says that the platform is great for keeping the group together and giving each other a bit of extra motivation.
"It keeps that community and social vibe together, just so people don't feel like they are stuck on their own. You get a lot of people who might not have a lot of people they can be close to during lockdown but cycling gives them a group of friends."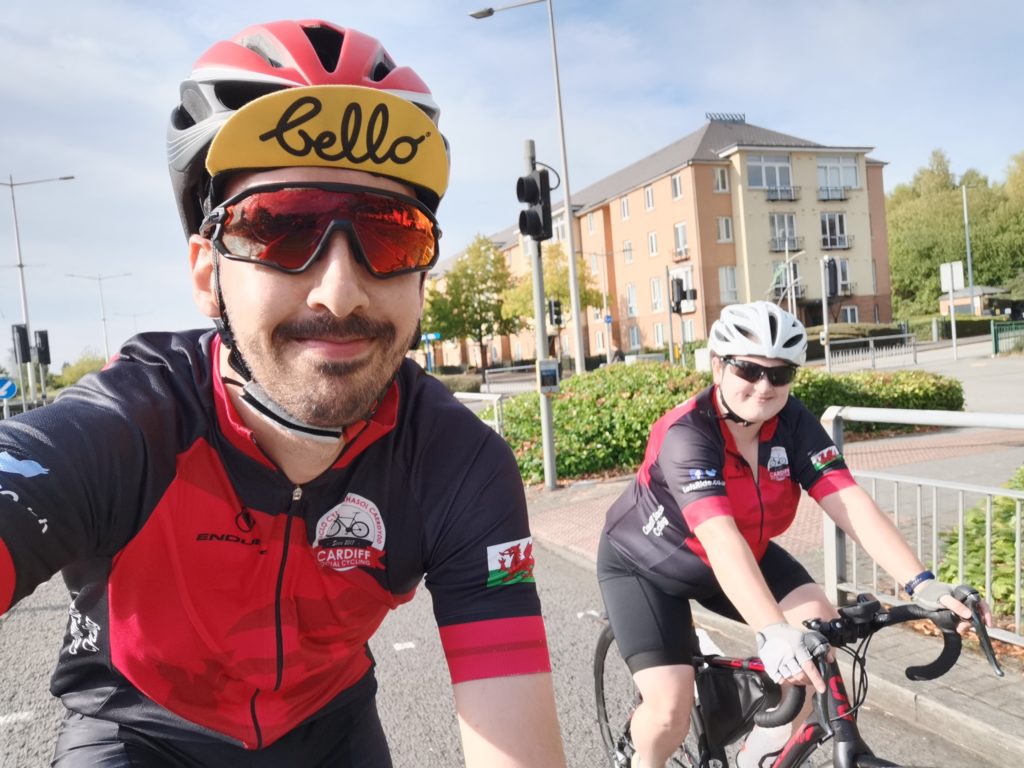 Steve Gabriel and his partner Victoria Pritchard started the group in 2017 after being unable to find the kind of cycling group they were looking for:
"We started training as ride leaders but after finishing the training we found that we weren't given any rides to do. For months and months we were looking for something but there was nothing social in Cardiff. There were the big cycling clubs like Cardiff Ajax club but they have the reputation of being a bit more serious and competitive and that put a lot of people off, so we thought 'let's set something up'."
Starting from just five or six members four years ago, Cardiff Social Cycling now has 1,300 people in its Facebook group and is only growing in numbers. Mr Gabriel and Ms Pritchard have both been nominated for Welsh Cycling in the last two years for their volunteering in the community.
"There's definitely a need for this type of group in the area. We have people that have started with us, not thinking that they were fit enough for a cycling group but realised very quickly they were wrong. It's great to be able to dip in and out whenever you want."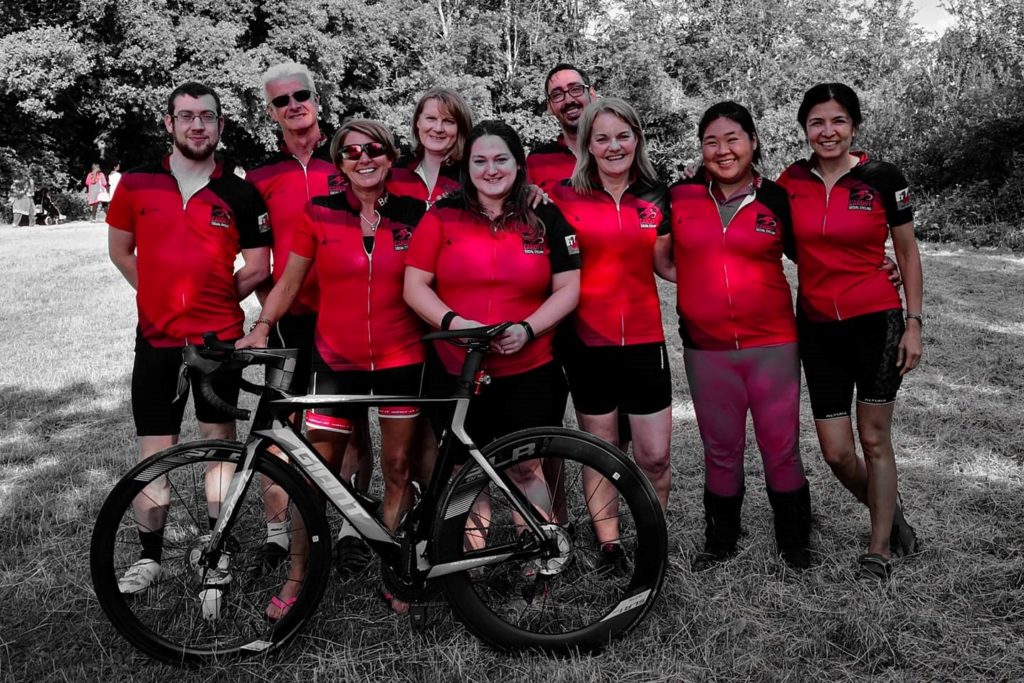 Mr Gabriel adds that inclusivity is one of his biggest priorities: "We try to put on things that are challenging for people and some that are more chilled out. We've got a core group of volunteers that are happy to put rides on and give us some more flexibility.

"We've got 18-year-olds all the way up to pensioners, so there's something for everyone really. Hopefully we will have more chance to put on some more challenging rides and more relaxed events over the next year."
Getting involved in Zwift may seem intimidating at first, but setups are now increasingly adaptable to match your level of investment in cycling.
Gabriel says: "It can be as easy to set up as you want depending on what level you ride at. You can use a standard £50-60 trainer with a couple of sensors and you can have everything you need to get on to Zwift and chat with everyone else."
You can view a beginner's guide to getting involved in indoor cycling HERE.
Cardiff Social Cycling's Facebook group page can be found HERE.
You can view a selection of the Cardiffian's cycling stories here: