Coronavirus restrictions have closed the Bute Park bridge for almost a year
RESIDENTS have been left confused by Cardiff Council and Cardiff University, after the reopening of Blackweir Bridge was delayed once again.
A spokesperson for Cardiff University has confirmed that the work is now due to be completed by Friday, March 5.
Councillor Ashley Wood revealed that he was emailed by Cardiff Council on February 22, stating that the bridge would be reopened today, February 26, before being told yesterday that more repair work is needed.
"The council confirming the reopening before the inspections were complete is unfortunate by itself, but the messaging has appeared confused throughout the closure," said the Gabalfa councillor.
Further confusion has arisen, with both the council and the university stating that the other organisation is responsible for setting the reopening date.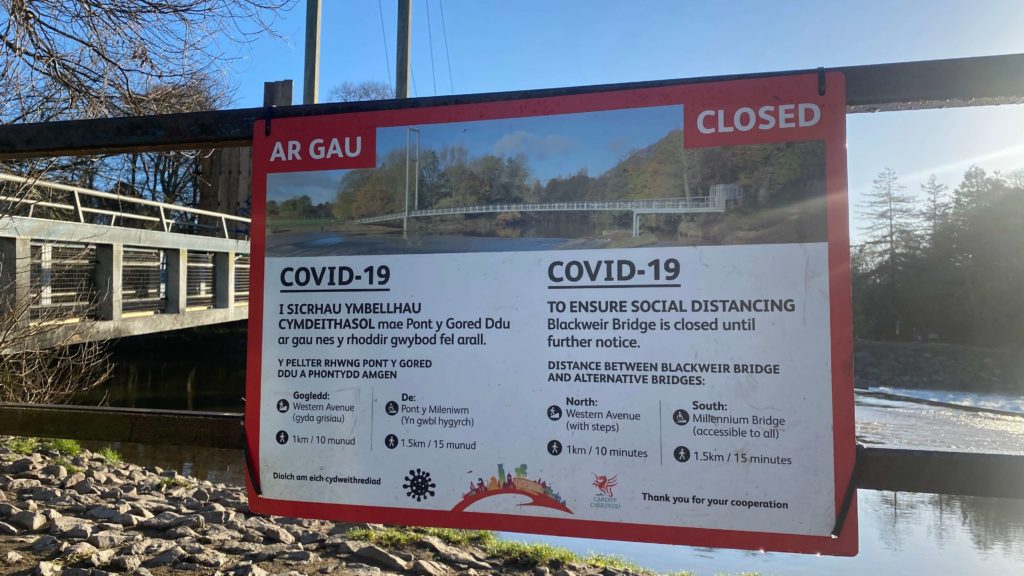 After being asked when the bridge would reopen, a Cardiff Council spokesperson said that the bridge is "owned by the university so you'll need to speak to them about a date".
However, a Cardiff University spokesperson said: "The decision on when the bridge can be opened for public use is a matter for Cardiff Council."
Members of the community say they are frustrated by the delays and lack of information, with residents having to walk to alternative bridges 1km away to the north and, to the south, 1.5km away.
Pedestrians and cyclists are in close contact on the footpath, which carries the A48 Western Avenue, and is situated next to a busy four-lane road.
The Millennium Bridge has proved to be busy, with many people taking up running and walking around their local parks to get outside during the pandemic.
"The council said the original closure decision was necessary on social distancing grounds, that the bridge was too narrow.
"Yet after a year we are now told the bridge can be reopened despite currently being in the top tier of Covid restrictions, with the state of repair being given as the reason for why it is not open," said Councillor Wood.
The council decided to close the bridge over the River Taff in Bute Park last April, after people failed to follow social distancing guidelines.
Storm damage last year meant that significant structural repairs would be needed, including fixing some of the mesh panels.
More issues were then uncovered due to fire damage after the original condition survey, with poor weather delaying the reopening date further.
Plans are also in place for additional work to be done on the bridge, including the removal of graffiti.
Earlier this month, a Cardiff University spokesperson said: "We had hoped these repairs would be completed by the end of January however, due to high levels of water in the river the repairs have been delayed. The fast flowing water remains a risk to the health and safety of our contractors."