A Covid-free Cardiff game-day can't come quick enough
CARDIFF is different this year. As the Wales team enter the Principality Stadium on Saturday there will be no roaring crowd or waving flags to greet them.
Despite the absence, living rooms across the capital will be filled with cheers at 4.45pm.
For Wales, rugby is the sport of the people and the people's home is the Principality Stadium.
On a typical game day, the atmosphere of the capital is unexplainable, there's just something in the air.
Beginning in the 19th Century, rugby is now ingrained in Welsh culture
It has become more than a sporting event to the people of Wales. Supporting the team, whether they win or lose, is now an innate part of "Welshness".
It's men dressed as daffodils on St Mary Street, it's tearing up as you sing Mae Hen Wlad Fy Nhadau, it's parents patiently explaining the rules to their children meanwhile missing a try, it's post-match pints in the Prince of Wales and it's the shared love of our home country.
Even for those who don't fully grasp the rules of the game, a Cardiff game is a highlight in any Welsh person's calendar.
Lee Llewellyn from Neath is missing the Cardiff day out.
"Normally I'm up at seven, breakfast and a Guinness by eight. Get the costume on. Head to the train station. Then as soon as you leave the station you're in the heart of Cardiff," he says.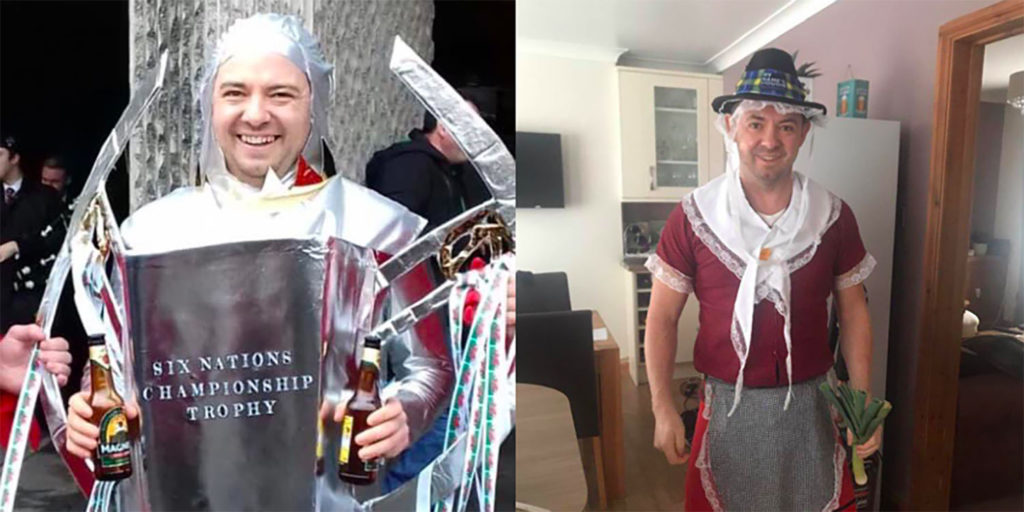 "Cardiff is electric on any game day, but especially on Wales v England," he said.
This weekend Wales take on arguably their biggest rival: England
A victory against England is more than just a sporting achievement for Wales.
For some, the rivalry is light-hearted banter. For others, the history between the two countries is embedded in the fire that fuels the desire to beat England.
When it comes to England, David's urge to beat Goliath is ignited. The match against England is arguably the biggest date in the Six Nations calendar for Welsh fans.
"The rivalry is what makes the game. I've met countless friends through the rivalry. You're able to have that banter with each other," said Lee.
Lee believes his love of dressing up in garish costumes makes him approachable and sparks opportunities to connect with other rugby fans from both sides.
Much like Lee, many of us are missing the tradition of trekking through the streets of Caerdydd, wearing the red jersey with pride, hoping for a celebratory pint when the final whistle blows.
Sometime soon we'll be back. Cheering on the boys. Come on Cymru.