The New Cardiff People's Paper features community contributions on topics such as planning, the environment and social issues
THE Cardiff People's Paper is being relaunched 45 years after its initial demise in 1976.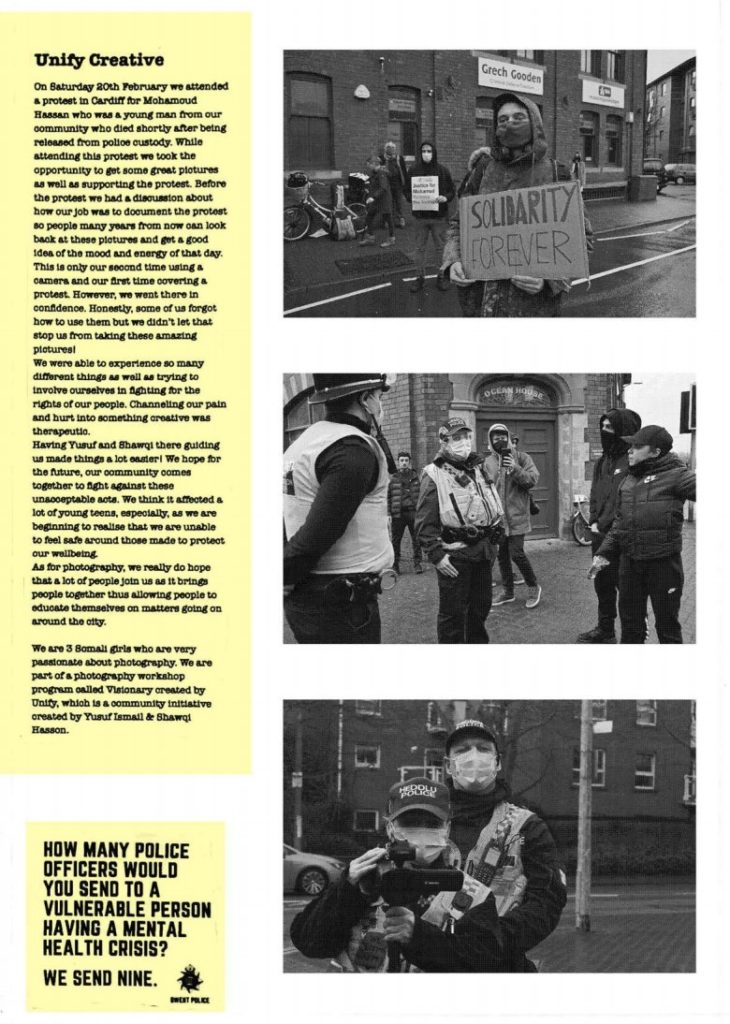 The, one-off, March 2021 edition of the paper features 14 pages of articles and letters from community members focused on social and community issues around Cardiff.
Cat Lewis, who designed the new project, said: "This is an opportunity to do something that brings everything together.
"We're kind of getting back to the 1970s punk attitude of doing it yourself, getting out there and having your voice heard."
The project was started by Ms Lewis in collaboration with Made in Roath, a local community arts group on Inverness Place, and Alex Bird, a member of the original collective that ran the Cardiff People's Paper.
Alex Bird recalls that the paper was created entirely by volunteers for five years between 1969 and 1974, producing around 1,500 copies a month. A copy would cost you 6p to purchase at the time.
"We would spend a whole weekend in one person's house or another, crawling all over the living room floor, pasting stuff together and furiously writing it. We just bashed it out, it was 48 hours of continuous hard work before rushing it out to the printers."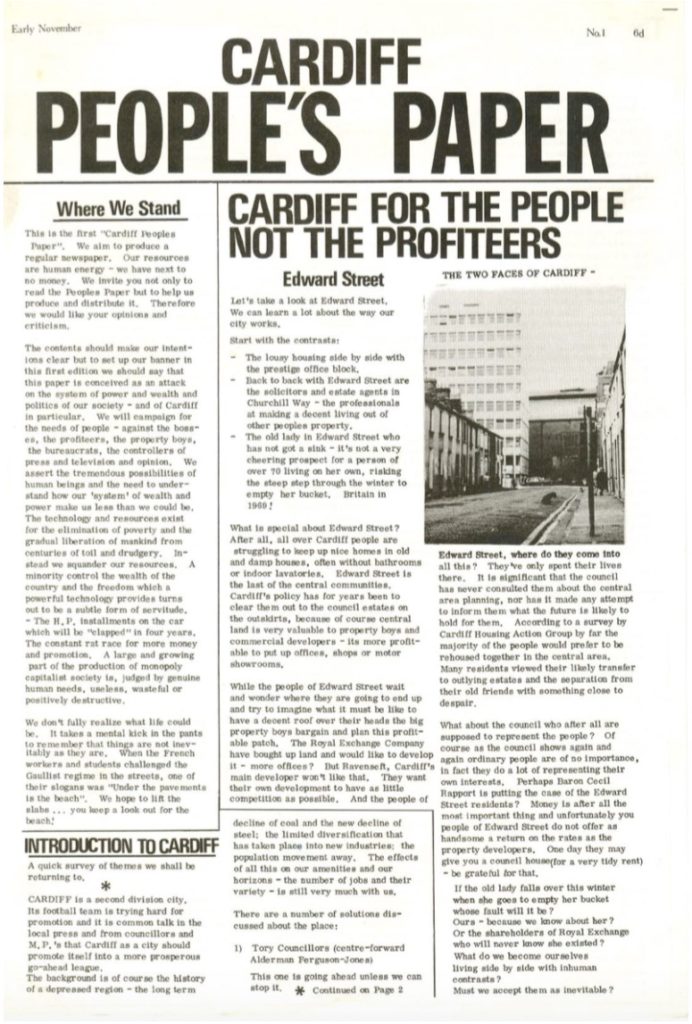 Mr Bird credits the Cardiff People's Paper with making sizeable change in the local area, particularly in countering the "Hook Road" scheme of city centre development during the 1970s.
The March 2021 edition, renamed as the New Cardiff People's Paper, is a much smaller operation but has created 100 physical copies as well as an online PDF version, all of which are free to read.
Because of the relatively low number of copies, it is hoped that people will pass the paper on to somebody else after reading it.
Ms Lewis said: "It will help it become more sustainable and let it get it to the people that matter."
The New Cardiff People's Paper features contributions from social and community groups in the area such as Save the Northern Meadows, Cardiff Civic Society and Reclaim Cardiff who voice their discontent about recent decisions made by Cardiff Council, particularly about loss of green space in Cardiff.
Ms Lewis said: "I hope people reading will see how convoluted and difficult the planning process is in Cardiff. There's so many things going on and so many groups there feel as if they are being ignored.
"But I hope they can also see that we are not NIMBYs and that we have really good factual information behind our protests. I want people to get a bit more insight and understand our concerns."
She also added that she was happy to see young people getting involved in the movement and as part of local communities.
"I think younger people are getting much more involved and they want to have a voice that is currently not being heard.
"Maybe the difficulties of lockdown and COVID have shown people that there are other ways to do things.
"In a way it's made people stronger, defiant and more resilient."
Copies of the physical edition of the New Cardiff People's Paper can be found in The Made in Roath shop on Inverness Place as well as some independent shops around Cardiff.
The March 2021 is currently planned as a one-off with no future editions planned.
You can view a PDF version of the March 2021 edition of the New Cardiff People's Paper here