How independent traders have coped – and moved forward – through lockdown
THE Covid-19 pandemic has had a detrimental impact on businesses across the UK. But despite the challenges, 2020 also saw a record number of new ones being set up – 772,002 according to Companies House.
Some see this surge in business start-ups as a fundamental restructuring of the economy, others as a symptom of recession. Andrew Peters visited Tudor Lane, Cardiff, home to many small industrial units, to hear the stories of the people riding out the storm.
The bicycle repair man
Dave Hann, 51, set up his own bicycle repair business, Motorlegs Cycle Workshop in 2017. An occupational therapy technician for Cardiff and Vale University Health Board Trust, he was disenchanted by the effects of austerity on the NHS, and on work-related stress leave when a friend suggested he turn his love of cycling into a full-time job.
"It was the right time in my life to start a small business. It took me all of five minutes to realise I should be working with bikes," he said.
Now Motorlegs is thriving in lockdown. Dave's proud that he's been able to take on staff – three engineers, each one guaranteed at least 16 hours work per week. Typically, they'll do 24.
"Lockdown means that lots of bikes have come out of sheds," Mr Hann explains.
"People wanting to work on health and wellbeing – that's become a more significant portion of our customer base. Because it's one of the few things that people can actually do."
His competitors are spread across the city, including Cyclopedia, a long-established shop set up by semi-pro road cyclists; a mountain bike vendor, Sunset Cycles; Don Skene Cycles; and Damian Harris Cycles.The bike industry is booming.
On average, the team repair around 30 per week, and always have a small stock of second-hand refurbished bikes. Functional, commuting hybrids are popular in Cardiff, as are fancy road models.
If your bike is in need of some serious TLC, a full service could set you back as much as £170 for new brake pads, chain, cables, etc. Puncture repair is a standard £14.
But lockdown has brought challenges.
Mr Hann says that the street is no longer attracting his key demographic in the way that it did before the pandemic. With the coffee shop on Tudor Lane open only for takeaways, footfall is down. Customers don't wander past, they come straight from their homes.
"We used to get a lot of people who work at the BBC and the banks. But they're all working from home now."
So, what are his plans going forward? A one-stop shop around bicycle repair, complete with café, showroom and social space.
"We've got this following where people are actually choosing their bikes from us. So, we're lining up to do that. But those are the plans for 2021."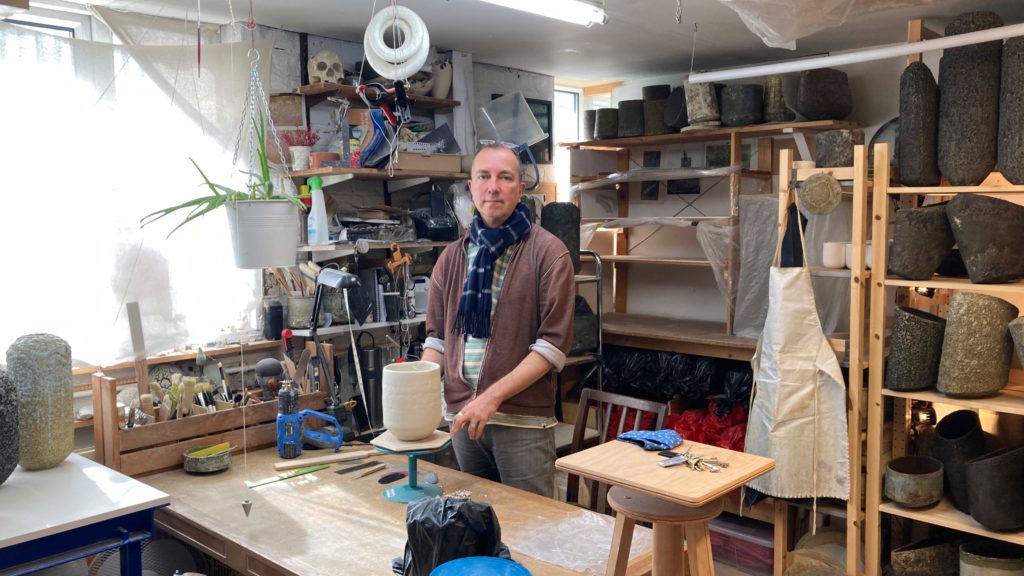 The ceramicist
For Paul Wearing, 53, a ceramicist running his own business (Paul Wearing Ceramics), the impact of the coronavirus pandemic was swift.
"The pandemic has put a kybosh on all sorts of things and arts has been hit particularly hard," he says.
Ceramicists often sell direct through ceramic and craft fairs. A hundred artists under one marquee might sell directly to the public over three or four days. But with annual events such as Ceramic Art London cancelled, "there's been a drop in sales, massively".
Then his own solo exhibition, Material Matters, was postponed. Originally due to open last July, it's been moved back to May this year.
It's the result of a two-year production grant awarded by the Arts Council of Wales in 2019 and will tour four galleries – Ruthin Crafts Centre, Aberystwyth Arts Centre, Llantarnam Grange Arts Centre and Mission Gallery in Swansea. Fortunately, the funding has protected him financially.
"I was in a very lucky position. Artists have had to be very creative by teaching online or selling their work through Facebook, Twitter and Instagram."
But micro businesses like Paul's may be key to rebuilding the economy and social ties after lockdown, according to the Federation of Small Businesses in Wales. Micro businesses account for 33% of employment across the UK, with growing interest among councils and communities in sustainability and hyper-localism.
The council-funded Tudor Lane Environmental Improvement Scheme has already issued grants to local artists, including for new signs to promote businesses and a mural on the side of the Transport Club.
We're talking in a small communal kitchen in Fireworks Clay Studios, a hive of artists' rooms that lies behind the blue door of number 24, Tudor Lane, Riverside. It's a cooperative, with 16 full-time artists each paying for space individually. Not all run businesses but Paul has been trading here since 2007.
"In my own practice it's just me. But there's a lot of connective networks. Other people work collaboratively.
"It's indicative of how a lot of ceramicists work – not necessarily working together but alongside each other."
He makes sculptural vessels. Their highly textured surfaces are glazed with natural materials such as metal oxides, so they resemble geological strata. Prices start at £100 while the most expensive, £2,000, might take three or four weeks to produce.
"The vessel is a symbol of society and civilisation," Paul explains.
"But by using very natural, organic-looking surfaces in the glazes that I apply to the vessel it strikes that human relationship between nature and culture. We're nature ourselves."
The pandemic has brought its problems.
"It's been really difficult at times. You look at art and think, what does it contribute at a time like this?
But I know the value of art for me, when I look at other people's work and how that enhances my life. So, I've just got to believe that mine does the same somewhere to someone else."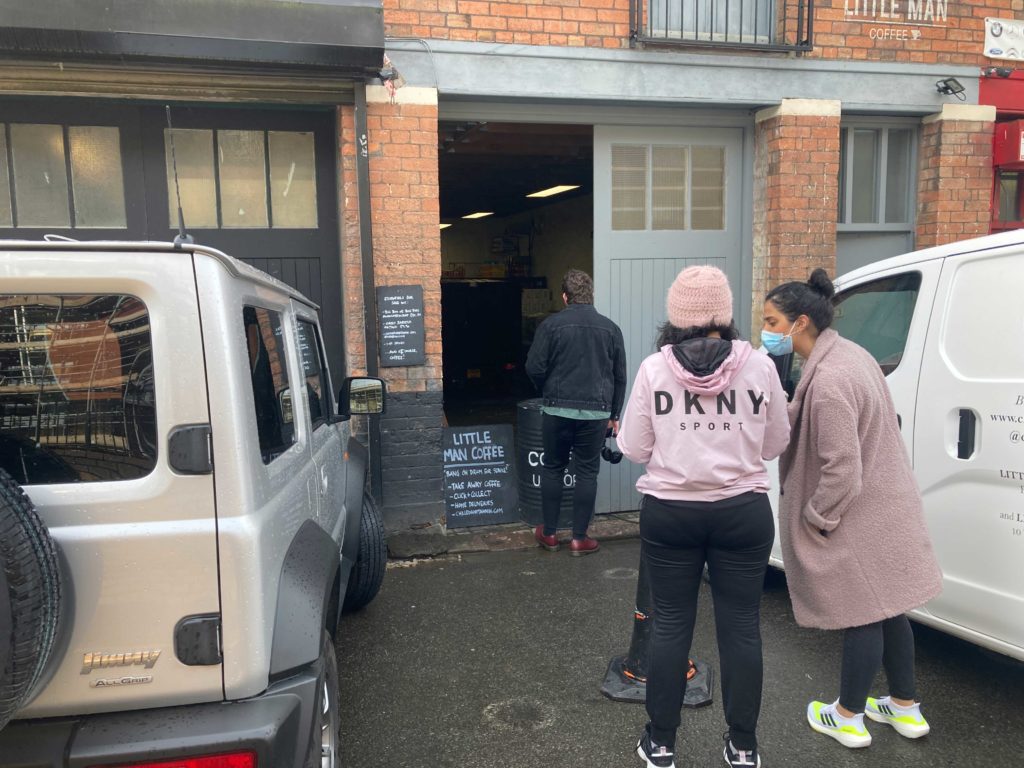 The barista
Rob Cooper is sitting upstairs in the small industrial unit owned by Little Man Coffee, a popular independent coffee company, with shops on Tudor Lane and Bridge Street.
Previously a late-night bar manager, he set up the coffee shop after deciding that he preferred early mornings to late nights.
Established seven years ago, the shop has run a takeaway service throughout lockdown and carries out deliveries all over Cardiff. When the pandemic hit, Rob diversified into wine, creating Chilled and Tannin.
"At the start of lockdown, I wanted to drink a little bit more, so I thought it would be beneficial to start a wine company."
The company now has 104 organic, sustainable, low-interventionist biodynamic wines on its list, delivering locally and shipping nationwide.
Rob says he's also agreed a lease on an acre of land near Cowbridge, which he plans to turn into a vineyard. "It's a long-term project but also a good bit of physical activity outside in the sunshine."
But today, the Little Man Coffee shop on Tudor Lane is quiet.
Most of the 18 full and part-time staff have been furloughed, and the shop is only open for takeaways and deliveries.
"Our customers are usually young, energetic people," Rob explains. "I like to walk into the coffee shop and see everyone on their computer – doing something productive, chatting, meeting. To lose that is very difficult."
Rob was in the process of buying a third site in Roath when the pandemic hit. "Solicitors had been paid, mortgage agreed, payments made and the bank stopped it. You feel like you've missed out but also like you've gone backwards as a business. Painful. You can't plan for anything."
Now, he say he'll have to be more brutal with how he makes decisions, including looking to build a bigger cash reserve in case of further lockdowns next winter.
"Deliveries will be a continuing and ongoing part of the business. But a delivery company doesn't need 19 staff. I'm already working tirelessly to stand still."