The Christmas celebrations begin at 4pm on Friday with the Christmas lights switch on
LLANDAFF North will be lighting up the streets for Christmas this Friday at 4pm, in what signals the start of weeks of festive activities in the community.
While there will not be a switch-on event due to the ongoing pandemic, the Indie Superstore Christmas Night Market will be held in The Railway Hotel car park from 5pm to 9pm on Friday. 
The market will include hot food and drink, mulled wine, and music, as well as attendance from local businesses across Cardiff North.
Jo Moggridge, treasurer of the Llandaff North Christmas lights committee, said: "We thought it would tie in nicely to turn on the lights on the same night as their market, because it would make it really festive with people doing their Christmas shopping."
The community is also encouraged to join in by putting up their outside lights and decorations so they can light the way for Santa Claus, who will be taking the same route as last year around town on his sleigh.
Ms Moggridge said: "Thank you to all residents of Llandaff North for your constant support. It's such an awesome community, and the appreciation that's shown when we organise events is what keeps us wanting to do more."
Along with the Night Market on Friday, the committee for the Christmas lights will also be promoting other festive events in Llandaff North.
This includes the Llandaff North Community Centre's Christmas Market on December 4, from 2pm to 5pm, which will feature stalls for personalised gifts, handmade greeting cards, Welsh stationery gifts and other homemade creations from local traders.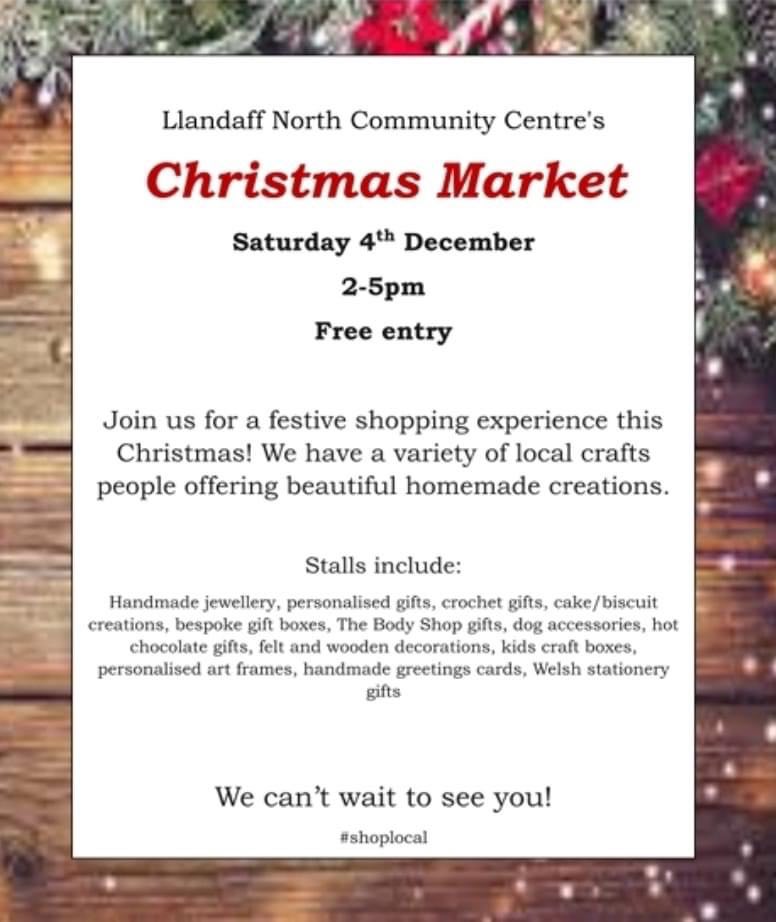 The centre will also be hosting a Christmas Family Bingo Night on December 10 at 6pm, and a movie night showing The Polar Express on December 11 at 6pm.
Ms Moggrridge said: "Whereas in the past the festival committee has used venues to organise our own events, local businesses are putting on their own events this year. We see the role of the festival committee this year as working to advertise and promote their events."
The committee have also offered support to Jaylo Miles' Step Into Christmas: Santa's Grotto event, which will be held on December 21. His initiative, Many Downs, Time To Get Up, works to raise awareness of mental health and suicide prevention while promoting Christmas spirit.
The event will take place at "the brightest house in Llandaff North" on Caldy Road and will include a visit from Santa Claus.
Online Agent Cardiff, located on Station Road, will also be holding their annual raffle to raise funds for the Christmas lights.
Children will be able to see Santa's sleigh around town on Friday from 6:30pm, where he will be taking the same route as last year to greet the community and see their Christmas lights and decorations.
The route is: Ty Mawr Road, Hawthorn Road West, Hazelhurst Road, Hilton Place, Chamberlain Road, Station Road (past James & Jenkins, Cow and Snuffers, and All Saints Church), Gabalfa Road, River View, Colwill Road, Heol Pencarreg, Gabalfa Avenue (up and down), College Road, Colwinstone Street, Hawthorn Road East, and back to Station Road ending at Coop.
Ms Moggridge thanked Paul from the Llandaff North Christian Centre for providing Santa's sleigh.
The committee decided to keep this year's festivities simple in case the Covid-19 pandemic worsened.
Ms Moggrridge said: "Normally we start talking about Christmas around July and that's when plans start going into place, but there was so much talk at the time that we might be going into another lockdown at the winter and a new wave.
"Even up until a couple of weeks ago, it was difficult to think about planning too much because you didn't know what might happen, without being too pessimistic.
"We thought it was best to play it safe this year and make it achievable, while also bringing something to the community."
The committee did not encounter fundraising issues like last year because the Christmas lights, which stay up year-round to lower costs, did not need any serious repairs.
"I guess the weather has been kinder to us this year because it was only about £600 to repair the lights, and we had enough money from last year's fundraising to fund that," said Ms Moggridge.