Surf therapy is making waves in the world of mental health treatment
IN the 1991 cult film Point Break, FBI agent Johnny Utah buys a surfboard to infiltrate a gang of surfers suspected of robbing banks.
The kid in the surf shop says to Utah: "Hey man, a lot of guys your age are learning to surf. I hope you stick with it. Surfing's the source. Can change your life. Swear to God."
What on earth was this skinny, Californian kid on about? It didn't have a name yet, but the kid was talking about "blue health".
Blue health is an overarching term concerning the sea's ability to treat various health conditions, both physical and mental.
A leading tenet of blue health is surf therapy; using surfing to boost people's mental health and restore their wellbeing. From my experience, it works.
Going surfing is like hitting my reset button. It clears my mind, exercises my body and makes me feel happy.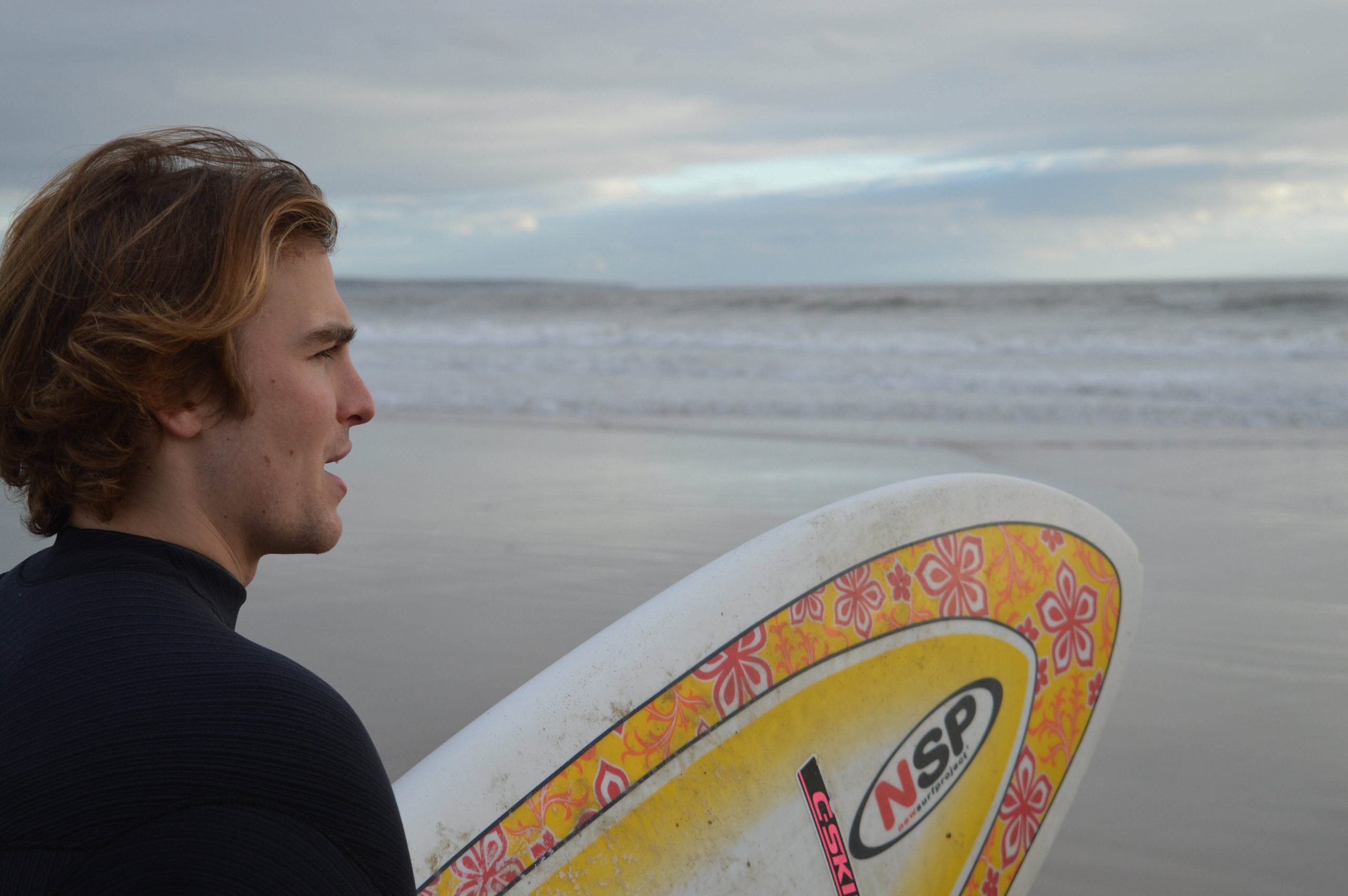 Yet surfing is both beautiful and brutal. In winter, we surfers choose to get battered by freezing, grey walls of water as they crash into Britain's coast. Is this blue health? Winter surfing is a hardy, unglamorous sport. Why do we bother?
I posed these questions to the surf community in South Wales, and their response was staggering. Anecdotes highlighting the therapeutic nature of surfing poured forward.
But these anecdotes have existed for years.
What's changed is that we can now support these anecdotes with a growing body of scientific research into blue health. Let me explain.
Sam Vasper, 30, from Llanelli says: "I surf because it makes me feel incredible. When I'm in the water I feel like I'm being flooded with endorphins.
"Surfing is important for my mental health. I recently had some bad news regarding not being able to have kids, and surfing has really helped me more than I thought it would.
"Whenever I get in the water and catch that first wave, everything just goes from my mind."
Whenever I get in the water and catch that first wave, everything just goes from my mind.
Sam was experiencing the power of blue health, and more specifically, surf therapy.
By surfing, Sam's brain was forced to focus on his immediate surroundings, while his body had to tune into the ocean and his nose was filled with the sea air.
Now for the science. Recent studies suggest natural environments directly affect our nervous system, triggering nerve impulses that make us feel more positive and less stressed.
In stressful situations, humans have a biological impulse to change locations in order to restore energy levels, renew positivity and dissipate stress. The same applies if we're anxious.
Studies suggest natural environments directly affect our nervous system, triggering nerve impulses that make us feel more positive and less stressed.
David TC Davies, MP for Monmouth and accomplished surfer, often eases the stress of Westminster by catching waves in Wales on the weekends.
David says: "Surfing is definitely important for my mental health; it means you always have something to look forward to.
"I have never come out of the sea and thought 'that was a waste of time'.
"You don't worry about anything else when you're out there."
As introduced earlier, natural environments can trigger positive feelings and decrease stress. But why?
Firstly, the sea has far less stress-causing irritants found in urban environments, such as traffic, pollution and noise. Psychologists Rachel and Steven Kaplan argue we take more notice of things and respond more positively to them in natural settings than urban ones.
These can be incredibly simple things, like the sound of waves breaking, light reflecting on the water or the smell of seawater.
Anecdotes confirmed this. Beth Wallace, who's on Cardiff University's Surf Club Committee, says: "Ever since I started struggling with my mental health I have used surfing as an outlet.
"Paddling out and sitting beyond the waves, looking out as far as you can see really does have a calming effect.
"It makes me feel relaxed and takes me away from whatever I am feeling."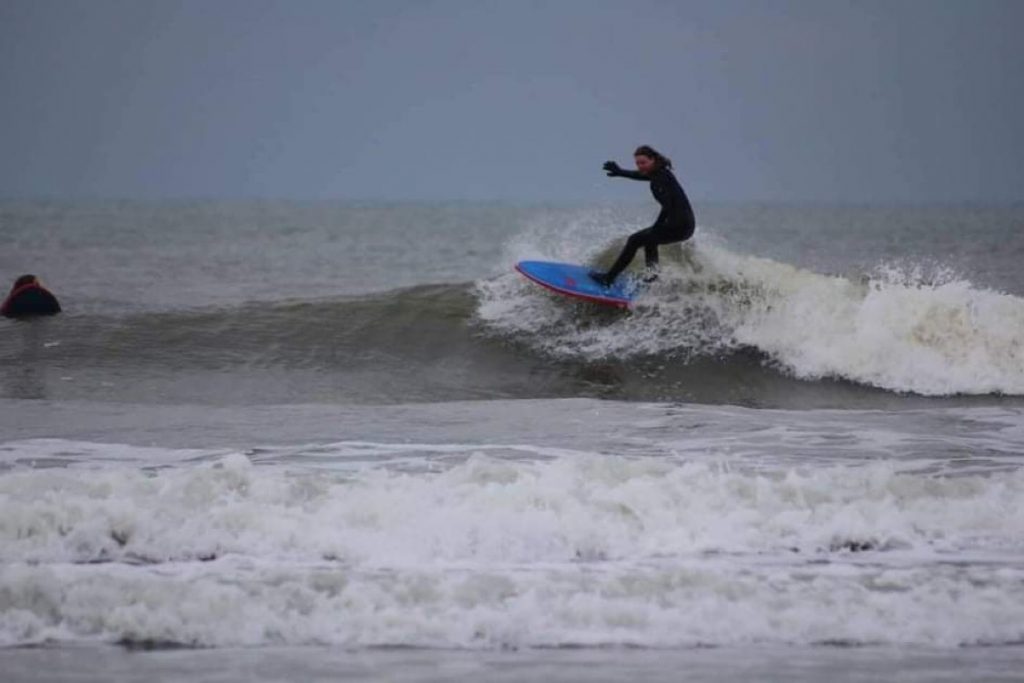 It is these feelings that compel surfers to brave the UK's wintery waters. As David Davies says: "There's no glamour to going surfing at Porthcawl in the winter.
"You're standing half naked in a car park in a freezing wind and you might be lucky to get a coffee afterwards.
"People do it for the love of it."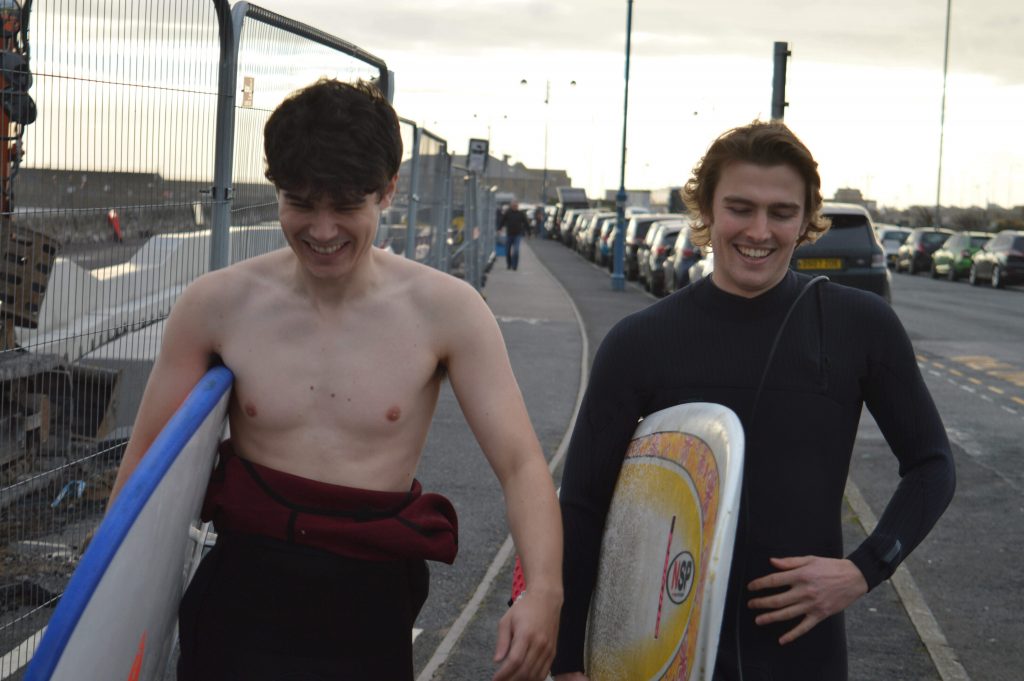 Several charities and companies have already began harnessing the restorative powers of surfing.
In Britain for example, The Wave Project has used surf therapy to help young people experiencing physical and mental health issues, social deprivation, and social isolation.
Central to this has been the opening of The Wave in 2019, an inland surfing lake north of Bristol.
Abby Richardson, who helped set up The Wave, says: "Blue health has always been at the heart of The Wave.
"Our founder Nick Hounsfield has always had the vision of creating a space to get people active and healthy."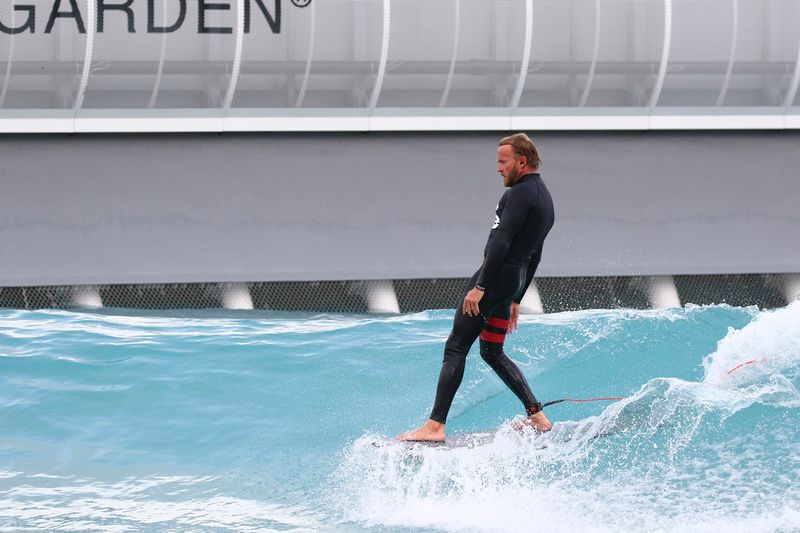 In 2020, The Wave hosted two pilot schemes, one helping vulnerable children in Bristol and one helping people in the NHS's Recovery Through Sport programme.
Abby says: "We have had really positive feedback from these pilots and we'll be looking to build on this.
"The Wave creates a slice of the ocean inland for people who don't have access to the coast, which hopefully gives them a dose of blue health they would not otherwise experience.
"Nick Hounsfield could have opened an attraction for profit, but he made sure his vision of helping people's physical and mental health through surfing came true."
The Wave has hosted six six-week projects so far, and another five are planned. They are also setting up a surf club for people who've completed the project to join after they've finished their six weeks.
These are only some of the key developments happening in this blue health revolution. If you're not surfing yet, why not head down to the beach and hop on a board. Your brain will thank you.
Edward Wilson, one of the earliest proponents of blue health, hypothesised that because we spent most of our evolutionary history in nature, we have an instinctive physical, cognitive and emotional attachment to natural environments.
Wilson called his hypothesis biophilia, and it is difficult to reject his argument. When the skinny kid in the surf shop said "surfing's the source", perhaps this is what he meant.