Retro fashion and music are making a comeback in the capital
THE rise in popularity of retro clothes and music is worldwide, undeniable, and only gathering speed.
Driven by a rejection of fast fashion, a yearning nostalgia for days gone by, or a simple desire for cool and unique old styles, more and more people are turning to vintage clothing.
Historically popular among student-majority areas, it's no surprise that Cardiff boasts a handful of vintage clothing shops.
But as Jake Knight of Cardiff Market's Knight Vintage tells me, his customers are not just teenagers and twentysomethings with deadlines.
"The students are a big clientele of mine of course, but the rest of the Cardiff crew are definitely getting onto this sort of vintage now," says Jake.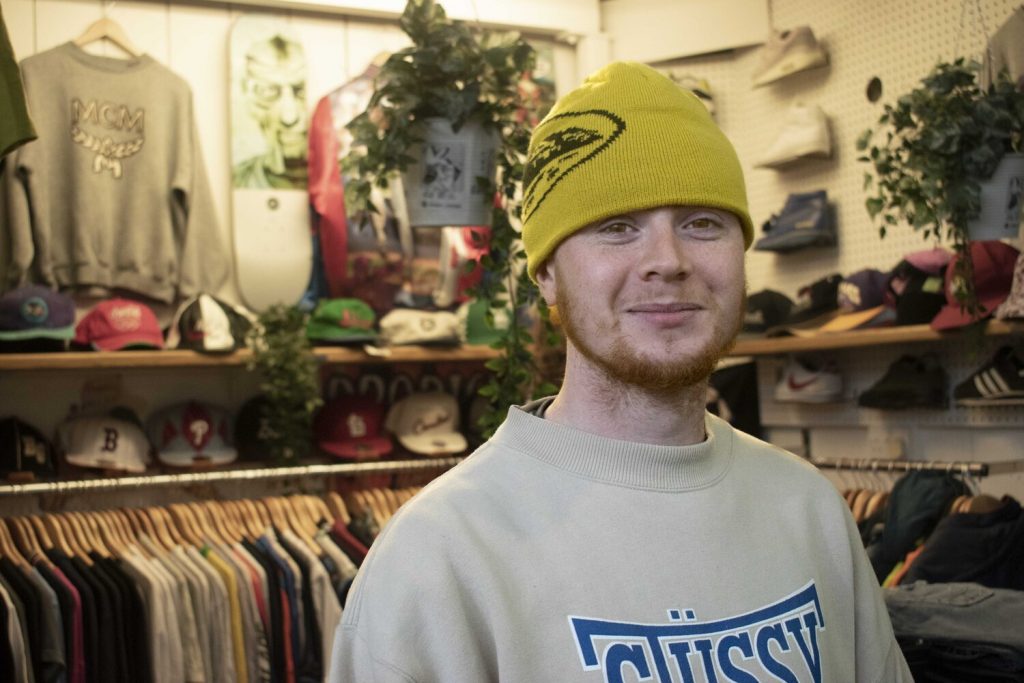 Knight Vintage, which Jake describes as his "baby" has been in business for just over a year now. While he has set up the shop in the centre of Cardiff, he says the idea came to him while he was travelling in Thailand before the pandemic.
"I planned on staying there for four months, but when I was in north Thailand, I found this vintage shop and found some crazy pieces.
"I ended up thrifting there for five hours."

Jake Knight
Instead of staying the whole four months he had planned, Jake cut the journey short, bought 25kg of clothing, and took off back to Cardiff.
While he'd bought and sold vintage clothing before, setting up a one-man business to pursue his passion was another story.
"It's a full-time job, and it's a hard grind. I basically work every day, and even when I finish in the shop, I'm looking online researching products. It takes up 100% of my life now."
A typical day for Jake involves waking up at eight, but constantly refreshing his stock means early mornings trawling car boot sales and other thrift shops.
"On a thrifting day I wake up at five in the morning, be thrifting by six, and get into the market at half eight or nine."
Despite the tough early mornings and the pressures of running a shop by himself, Jake is happy to be pursuing his passion, and he's particularly happy that the mainstream fashion audience has recently taken an interest in retro fashion.
"People have realised now that they can't keep buying everything 100% brand-new. We don't live in that kind of climate anymore, it's not good for the environment.
"People are going down the retro route to play their part, so to speak. Buying vintage clothing is a huge, huge way to tackle climate change, as opposed to harmful contributors like fast fashion."
"Retro clothing was built to last, too."

Jake Knight
Nostalgia has played a key role in retro's return.
This has been exacerbated by the depressing presence of coronavirus and repeated lockdowns have left many harking back to the 'better days' of the past.
Jake agrees. "People look back on the 80s, 90s, and 00s as the golden era."
---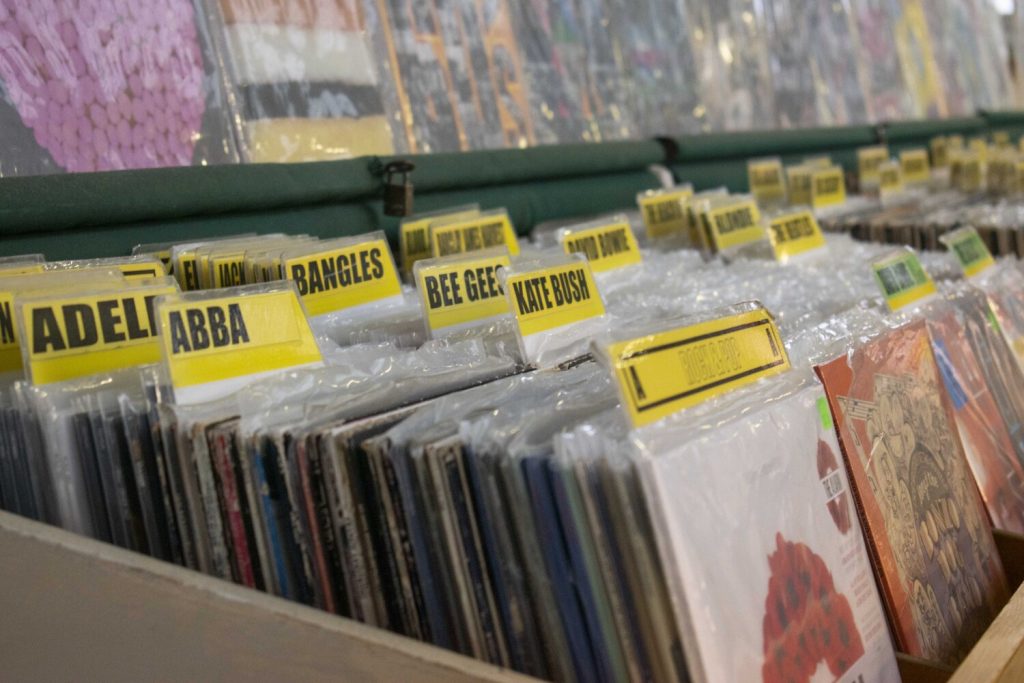 Another reason for retro's return to popularity has been the re-emergence of vinyl records.
Vinyl sales in the UK last year were the highest since the early 1990s, despite the readily available streaming services like Spotify and Apple Music.
To capitalise on this newfound popularity, modern pop and hip-hop megastars like Taylor Swift and Kendrick Lamar have released albums in the format.
Tom Williams is a music writer from Cardiff, and in his words "became a 'proper' music fan during lockdown" when he started collecting vinyl records.
"I was drawn to vinyl collecting due to the supposed improved sound quality, and thought that having physical copies of albums would make me appreciate them more."
Tom is a big indie rock fan, and while streaming services boast thousands of artists at the touch of a search bar, he hasn't had much trouble finding records he enjoys on vinyl.
"If I struggle to find a vinyl I usually check charity shops and second-hand seller sites like Discogs.com," Tom tells me.
"Sometimes though, even second hand vinyls are still too expensive.
"I've been unable recently to find any copies of St Vincent's 'Masseduction' or Marina's 'Froot' for under £100."
Both Tom and Billy Edwards, an English language student at Cardiff University, agree that the ritual aspect of researching, buying, taking home and putting on a vinyl record enhances their listening experience.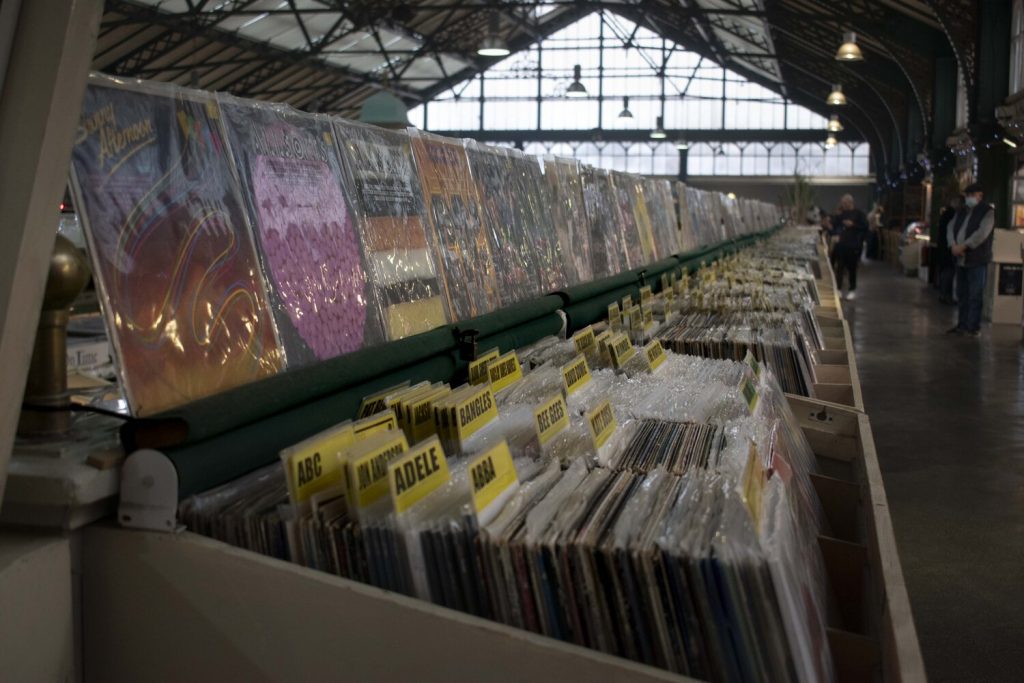 "It's actually therapeutic and gives the record you're playing a lot of importance. You have to respect and honour it, like a piece of art," says Billy.
The collectability of vinyl also lends to its rediscovered popularity. While a song on Spotify lights up when you press it to play it, owning a physical single can be anything from a tangible reminder of appreciation for an artist, or a status symbol, depending on the song.
"Collecting records has definitely enhanced my appreciation of music. Vinyl records often afford a richer, fuller sound, unaffected by streaming capabilities and all those limits, and I definitely appreciate the playing of a band when listening on vinyl."
Rare vinyl records that had a limited physical release or with famous owners regularly sell for hundreds of thousands of pounds. Beatles drummer Ringo Starr's personal copy of The White Album sold for a world record $790,000 in 2015.
Collecting records has definitely enhanced my appreciation of music

Billy Edwards
While the budding collector is unlikely to have the financial power to purchase items like this, trawling for hidden gems in record shops is a common pastime for vinyl enthusiasts, and a notable draw to the hobby is the prospect of striking gold.
Billy is undeterred by the scarcity of particularly rare records.
"There are many records I'd really like to own but are just difficult to come by. Sometimes I might buy a re-issue [where labels re-release an album], or console myself by streaming the album and enjoy the thrill of hunting for a holy grail!"
Tom thinks that it's great to see popular modern artists publishing vinyl records.
"Popular artists publishing vinyls really helps casual music listeners get into vinyl collecting. People online were making fun of Taylor Swift for not understanding how to play her album 'Red' on 45 rpm, which I thought was disappointing.
"People should really be supportive of new vinyl collectors. Everyone has to start somewhere!"
Photos by Ben Summer.