A Cardiff street with high crime rates is experiencing a facelift as part of a multi-million regeneration plan.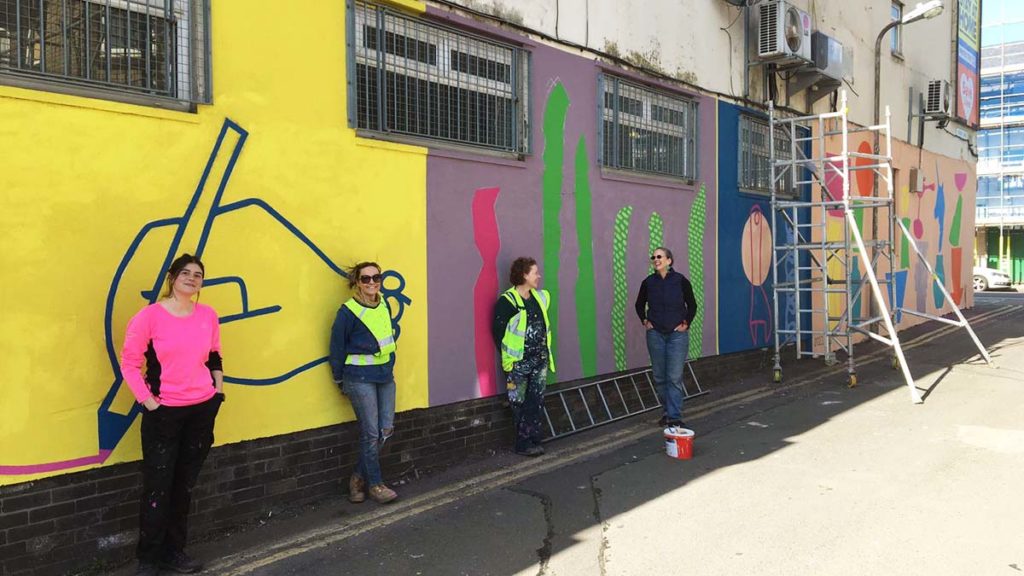 New artwork in Riverside could help regenerate the area, according to Cardiff artist.
Lowri Davies, a ceramic artist, designed and painted the majority of the art project down Tudor Lane. With the help of other artists from the lane, she has created a mural that aims to change the area's reputation.
Lowri hopes that this project helps the street: "Hopefully, these kinds of developments on Tudor Street and Tudor Lane will improve the lives of the people who live close by, families, and people who want to live in a nice and safe place. Because it's not an easy period to live in."
"There's a lot of issues around here," said Lowri. "People are living quite difficult lives, especially during this period, where people have been placed in the hotels and flats around here. It's maybe an area that has been forgotten about. And that's quite sad, and it will be really interesting to see what happens when all of the development happens over here."
A third of crimes that happened within half a mile of Cardiff City Centre happened in Riverside, especially on Tudor Street, according to research done by Street Check for the month of February 2021.
There is also a high proportion of alcohol-related anti-social behaviour on Tudor Street, according to another 2020 Cardiff Council report.
The street is located down the road from the BBC, which Lowri thinks is one of the main reasons why the Council wants to regenerate the area.
The council is aiming to transform Tudor Street into an attractive and vibrant shopping area via major investment in commercial and environmental improvements. It also aims to add environmental enhancements to Tudor Lane, starting with the mural on the side of an old transport club.
"The new mural and other environmental improvements have made such a difference to the appearance of Tudor Lane," a council spokesperson said. "And we hope businesses and visitors will see the benefit of these changes. The much-welcomed improvements will be completed at the end of this month and we hope that further funding can be secured in partnership with the businesses to provide additional improvements in the future."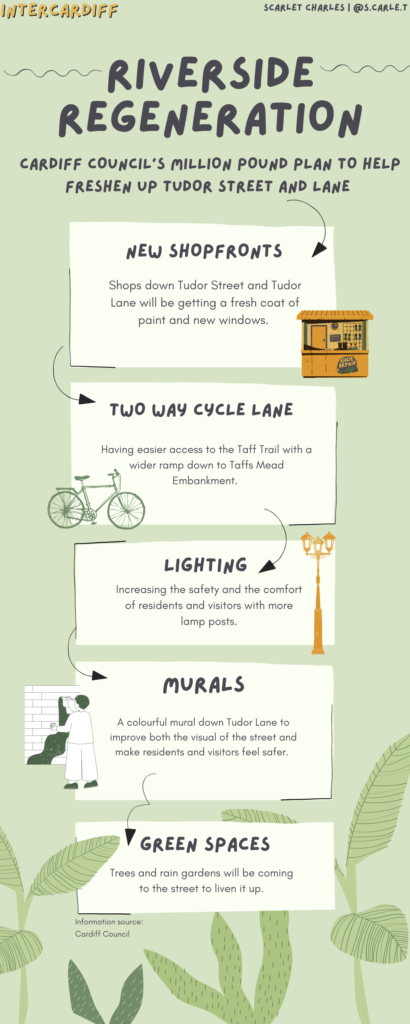 More developments include news signage at the entrance, made by Fresh Graphics, featuring all the businesses from Tudor Lane, as well as planters and painted speed bumps.
Other local artists, Cecile Johnson Soliz, Molly Sinclair-Thomson, Rachel Humphreys and Gweni Llwyd, painted the mural with Lowri Davies.
"It wasn't intentional," Lowri said. "But the wall was painted by myself and four other women. It's been really nice to kind of all work together. This project means a lot to me because I work here. Because I see the people here, and I know how it works. Hopefully, it will make a difference."