With rugby being a large part of Welsh culture and community, why are clubs struggling to recruit local, young men?
After a cold, muddy training session, at the foot of the valleys, the men of Taff's Well rugby team sit at the bar and socialise. It's a typical Thursday night at the club which has been around for 135 years. As the men engage in frivolous banter, Andrew Chown, the director of rugby, studies the twenty years of statistics that indicate a sign of the times that Welsh rugby is facing; there are just not enough players anymore.
Roger Watkins, the groundsman at Taff's Well said, "When I played, you went out for a game of rugby and enjoyed it, had a good couple of pints with your mates." He believes that the game has changed. "You're striving to keep above that drop zone, and when you start dropping, it's hard to get back."
Despite rugby being the national sport of Wales, the challenges faced by the grassroots game are difficult to gauge as participation figures are elusive. But statistics from England and Scotland suggest the bleak decline noticed by Welsh rugby clubs.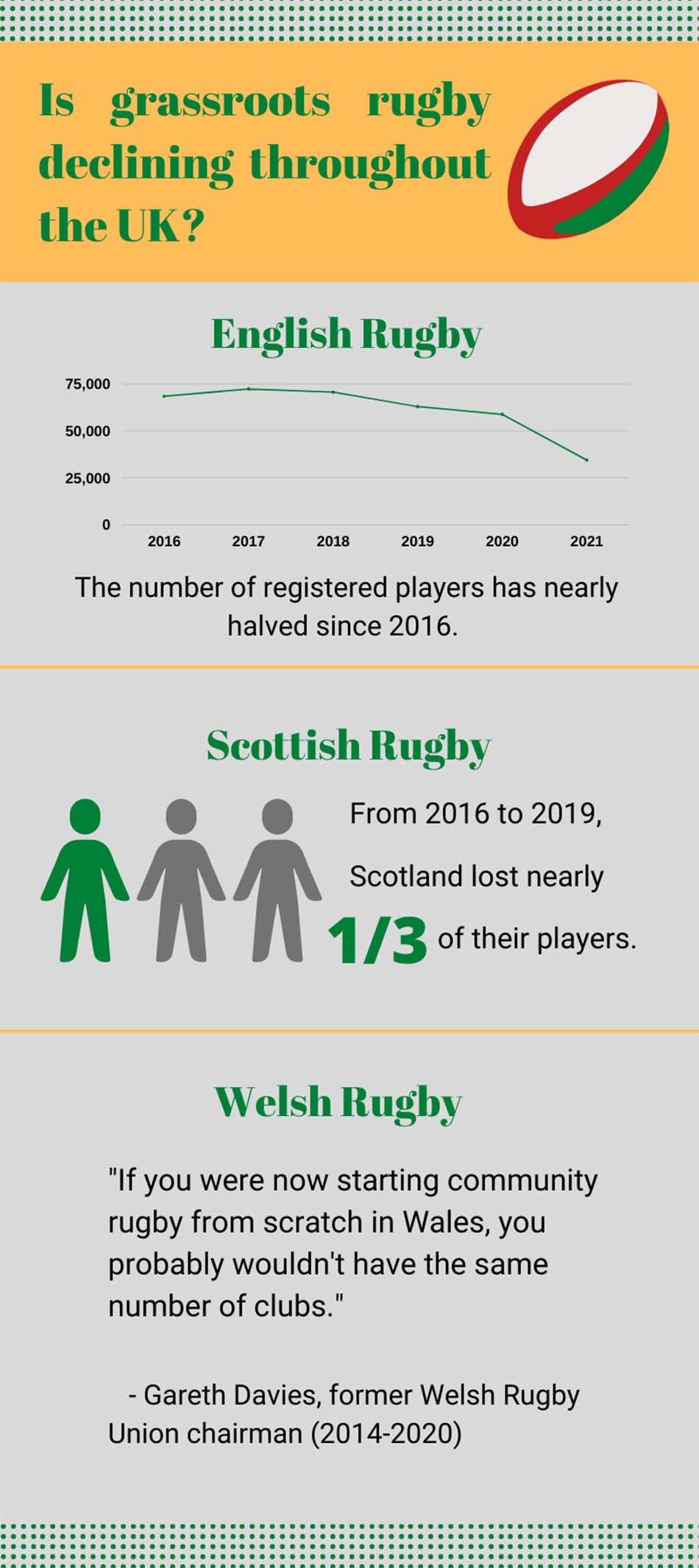 "We've been in existence for about 100 years; 20 years ago, we were running four senior sides, whereas now we hardly get two," said Rob Crimp secretary of Old Penarthians, who believes that the lack of commitment from the players is what is holding them back.
One of the reasons for the decline is believed to be the sheer lack of interest in the sport shown by teens who eventually go on to find new passions, pursue further education or simply fall out of love with the game, resulting in a vacuum in adult rugby.
However, this slump has not affected the women's teams and walking rugby, which is for players of all ages and abilities. According to Gareth Reese, chairman at Taff's Well RFC, women's rugby is on the rise.
"The women's team are more proactive than the men's. The men just assume that all the players are going to turn up. There has always been rugby and there have always been men. They have realised after Covid, that you have to go out and recruit, "said Teri Knight, the women's team manager at Taff's Well.
"Within Welsh rugby there is such a big onus on getting the first team playing, winning in the next village… Its killing rugby really," said Sean O'Sullivan, chairperson of Penarth RFC, who calls for the need for clubs to attract more players with the element of enjoyment rather than just winning.
The pandemic further led to grim turnouts, yet Penarth was able to recover and introduce a second team. "It is clubs that are going back to the grassroots community attitude that are thriving," said O'Sullivan.
Today, with exposure to diverse kinds of sport, the Welsh game of rugby is battling heavy competition. Nevertheless, there are clubs that are trying to engage with the community by embracing more inclusive, non-traditional forms of the game.