On UN Anti-Racism Day, hundreds of activists, protesters and workers marched from the City Hall to the Senedd, calling out police brutality and welcoming refugees from all parts of the world.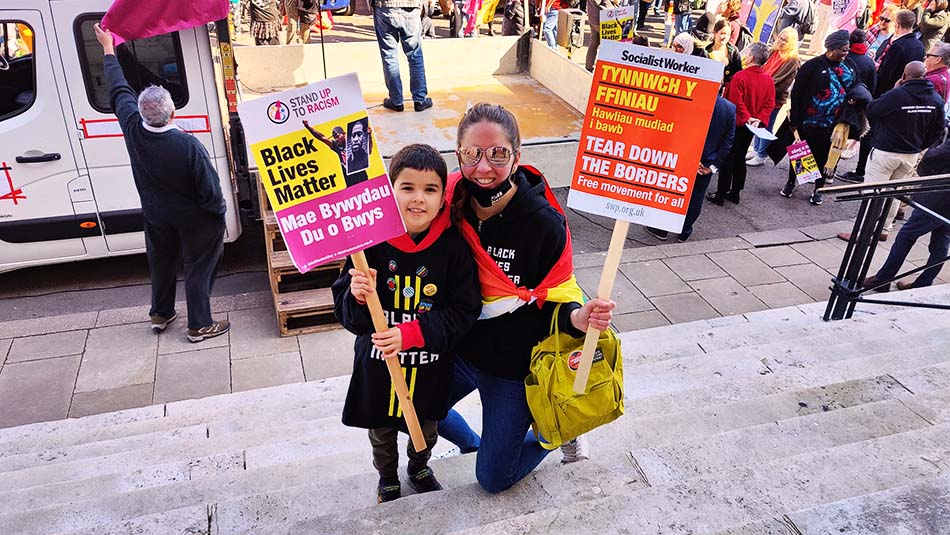 With the conflict between Russia and Ukraine raging in Eastern Europe, discussions and debates surrounding welcoming refugees into Wales have brought the long-standing race issues in the country to the forefront.
On UN Anti Racism Day this year, Stand Up to Racism Wales organised a rally to remember the victims of racism, and to protest institutional discrimination and anti-refugee laws. Several organisations, including workers' unions, political parties and students assembled at the City Hall to march to the Senedd to demand change.
Nimisha Trivedi, a member of Stand Up to Racism Wales and one of the organizers of the event, says that the government can do a lot more to counter racism. "Wales is classed as the sanctuary of the nation and many cities in Wales are also classed as sanctuaries… we are not just born with this racism. The ideology comes from the top of society, it comes from people like Boris Johnson, who has compared Muslim women to terrorists and calls them letterboxes; he is a racist," says Nimisha.
Hellana Hetfield, an activist from Pembroke Dock, expressed her concerns about racism when it comes to the refugee crisis: "Everyone is so focused on what's happening in Ukraine right now, and personally I sympathize with them. But what about the people from Palestine, what about the people from Afghanistan, from Yemen, Iraq, Syria? But no one cares about these people. Its racism."
"We just need to open the borders, make it fair. You can't say one race of people deserves to be here more than another race of people. It's bang out of order… where's the sympathy for them?" says Hellana.
Racism in Wales: The four names that echoed through the streets of Cardiff
On 25 May 2019, Siyanda Mngaza, a 4'10", 20-year-old disabled black woman became the target of racist abuse and assault in Brecon Beacons by two white men. As she lay defenceless on the ground, they shouted racial abuses while stomping on her face.
The institutions that were meant to protect Siyanda instead prosecuted her, as the Dyfed Powys police arrested her and she was sentenced to four and a half years in prison for grievous bodily harm with intent.
"These are 40-year-old men, big 40 odd-year-old men that battered my child and stamped on her whole body and damaged the left side of her face," says Cammilla Mngaza, Siyanda's mother. Cammilla decided to start a campaign to free her daughter on the one-year anniversary of her assault when she heard about the murder of George Floyd across the Atlantic on the same day.
"We started protesting in the Welsh communities, we joined rallies and started promoting Siyanda's version of events online," says Cammilla. Cammilla decided to leave Wales to protest her daughter's prosecution and has vowed never to move back until she receives justice: "They are just as bad as the Met Police in London… when they accept that the Welsh Police Constabularies here have serious institutional racist issues and accept that they failed the black community, I might consider moving back."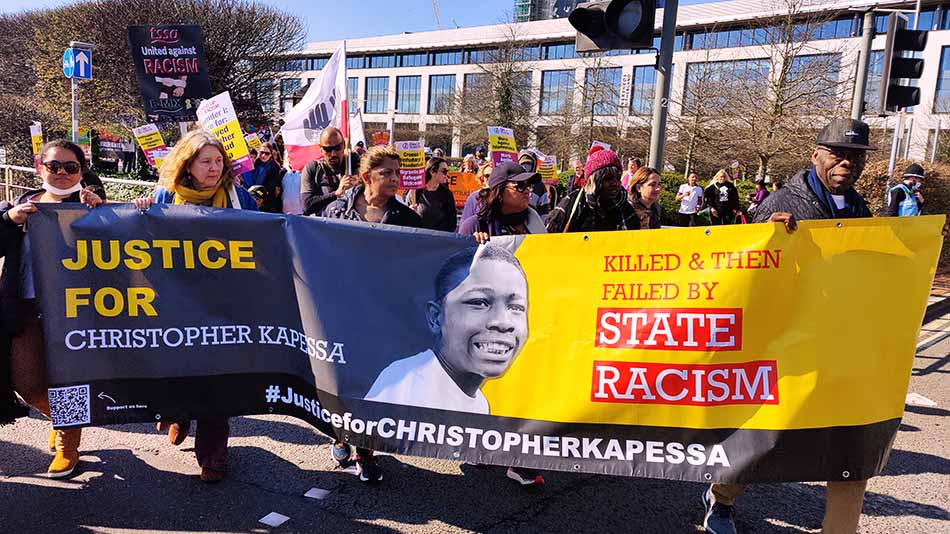 Over the last three years, incidents of racial discrimination and abuse by police in Wales have become more common. In January 2021, Mohamud Hassan, a 24-year-old Somali man succumbed to the injuries caused by the beatings and abuse of Cardiff police, as he died in his bed covered with bruises and blood.
The following month, Mouayed Bashir, a 29-year-old Welsh-Sudanese man died while being restrained by multiple policemen in Gwent. In July 2019, a 19-year-old black boy, Christopher Kapessa, was denied justice when the police and the courts refused to prosecute the 14-year-old boy who pushed him into the Cynon River in Rhondda Cynon Taf, causing him to drown. Christopher's family and anti-racism groups believe the attack on him was racially motivated.
"I understand that there have been discussions about street names, statues and even museums to include black history in their exhibits… If this administration has been chanting to deal with racism and discrimination since the death of George Floyd, then shame on you," said Cammilla in her speech to the protestors. "If this administration has been working on dealing with racism, why has the administration allowed South Wales Police to get away with racism in relation to the death of Christopher Kapessa? Why has the administration allied South Wales Police with racism and discrimination with the death of Mohamud Hassan? Why?"
Cammilla's words were met with the crowd roaring in agreement. "If you are now teaching people about black history and colonialism, for me, the administration is still exercising colonialism," said Cammilla.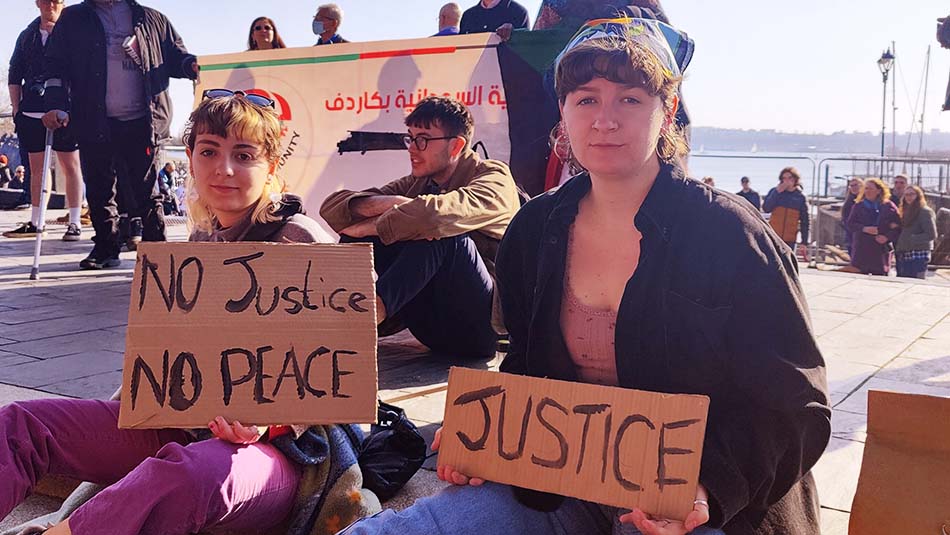 What has the government done, and what should it do?
"Racism affects our whole society," says Adam Johannes, a member of People's Assembly Wales. "It is a way of keeping everyone down… if we divide, if we fight each other, then we are not strong enough to really achieve the kind of society where everyone has a stake," says Adam.
"We have never really seen any statement by the Welsh Government or recognition that the police of Wales are institutionally racist at the level of oppression that particularly young black people are facing from the police… There should be a Welsh public inquiry into the policing of racialized communities in Wales, it'll be important that the Welsh Government can amplify the voices on what's going on," says Adam.
As the march towards the Senedd started, roads were blocked by the police to let the protesters pass unhindered. The protest marched through the Cardiff Castle and City Center, as several onlookers joined the ranks of the protesters while powerful chants of "Black Lives Matter" and "We want justice" echoed through the Victorian colonial-era buildings of Queen Street.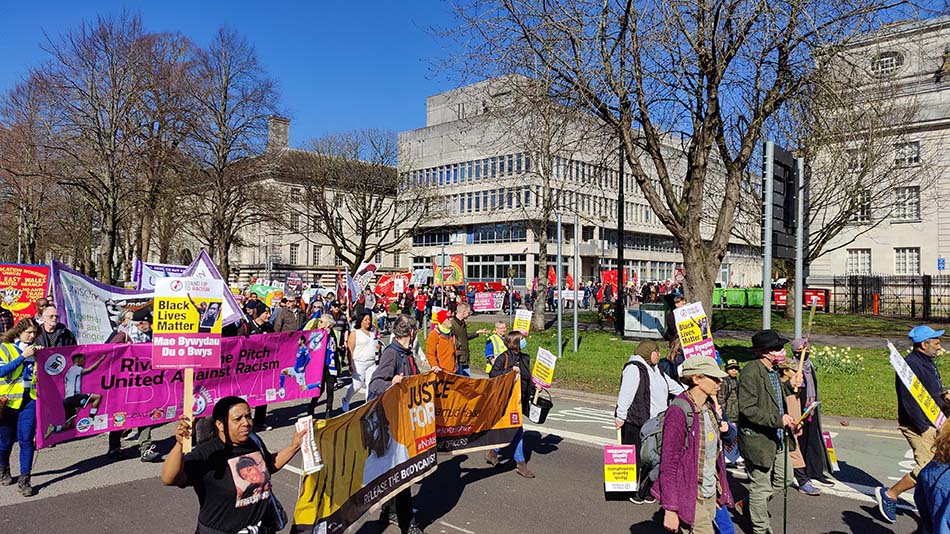 "We are seeing the rise of the far-right and we have to stay united… we have to support our brothers and sisters in solidarity with the Gypsy Roma and Traveller communities," said Nimisha in her speech, drawing attention to the Police, Crime, Sentencing and Courts bill that criminalizes these communities' way of life.
Workers and political groups – the people calling for change
Trade and Workers' Unions also formed a massive part of the protest. John Daff, a retired member of Unison, a public service union, was at the rally to protest racism in public services. "There are quite certainly patches of quite nasty racism in Swansea, we have had a long programme of resisting the fascists… politicians use racism to divide ordinary people, to deflect attention from their failures. Our imperial past leads to a very fundamental level of racist superiority," says John.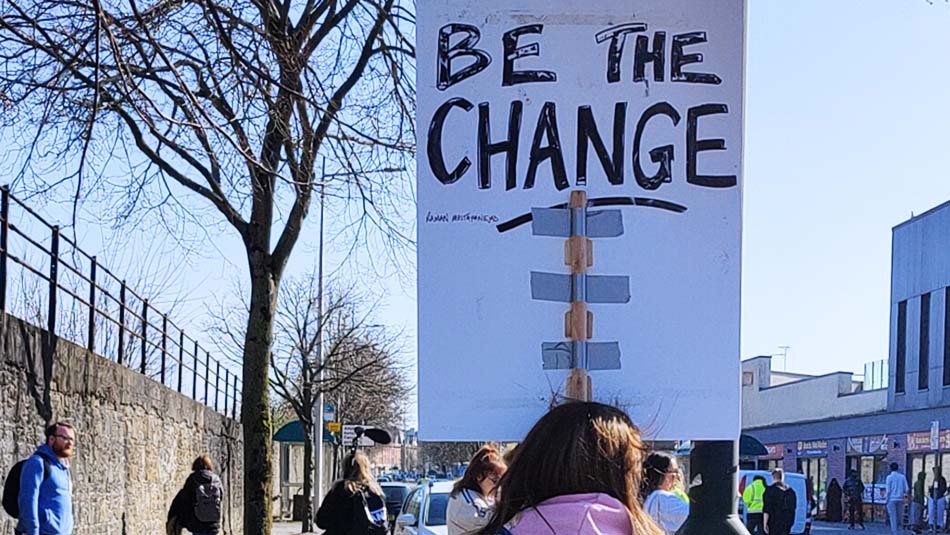 "They (the workers' organizations) are probably the largest organizations around. They have the moral imperative of opposing racism. You know, the strength of working people is proportional to the degree of unity that they can achieve; and racism divides people," says John.
Val Hampshire, a representative for the South Wales Fire Brigades Union was representing firefighters across the country at the protest. "From the union perspective, we do not accept racism at all in the fire service… I think they need to accept there is racism and adopt strategies to eradicate it and we are certainly doing that within the fire brigades union," says Val. "The British government we've got now is the most racist government we have come across. They need to be replaced… they need to start concentrating on what we've got wrong, and they should never stop any refugees coming into this country."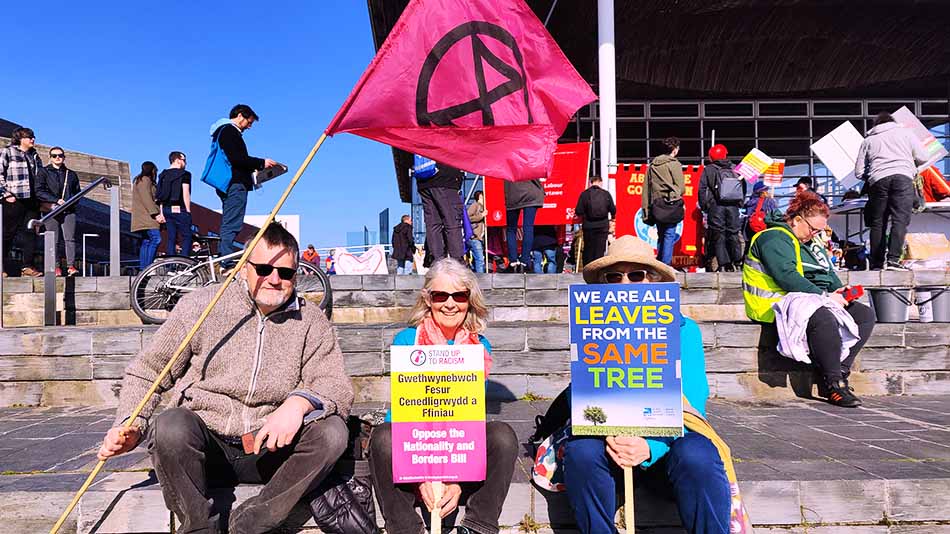 Political organizations, especially the socialists and the communists, also gathered en-masse to protest racism. Noah Russel, a representative of the Young Communist League thinks economic equality is the backbone of racial equality. "We've got incredible inequality in Britain in every sense… any issues of the justice system affects people of colour way more than they do to white men and women. Ultimately, capitalism in our opinion is fundamental to racism. And you can't fix that inequality without removing the capitalist tendencies of Britain," says Noah.
Ross Saunders, a member of the Socialist Party, thinks that big businesses support racism. "We think capitalist politicians and big businesses prop up racism, to weaken our opposition to them. Its easier for them to exploit us when we are divided," says Ross.
"We want to build the confidence of the working class so they can fight back. We don't want just the crumbs; we want the bakery. We think that ordinary people should run society, and if we did that, then you could eliminate racism; turn the poison tap off," says Ross.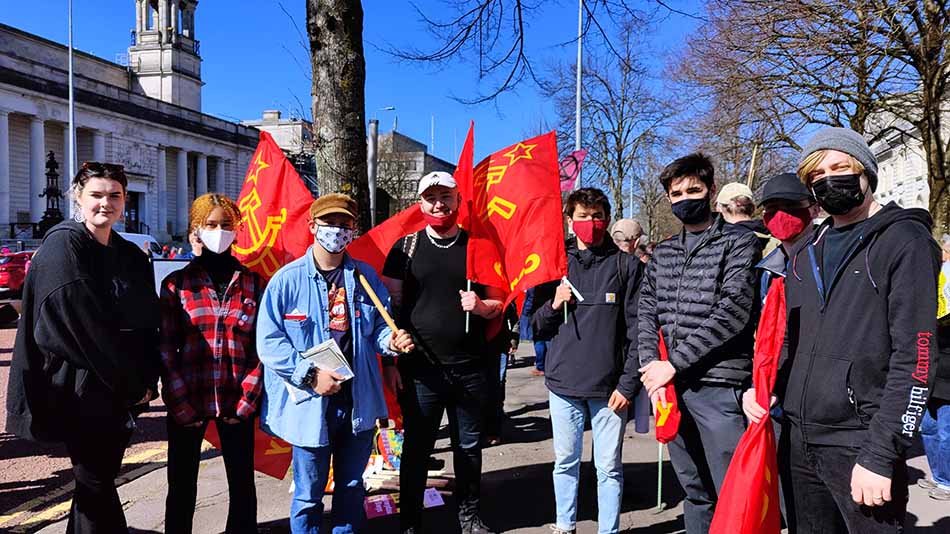 As the bill to stop Roma and Traveller communities goes through the finalizing stages and the Welsh government debates Westminster on allowing refugees into Wales, police brutality against BAME individuals continues. According to a study by Cardiff University, 58 black individuals were stopped and searched for every 1000 black people in Wales, as compared to just 8 white individuals for every 1000 white people. This means that black individuals are eight times more likely to be stopped and searched by Welsh police than white residents.
While South Wales Police has commented on the matter by accepting that stop searches are more likely for black individuals, no plans to curb the discrimination have been announced.