The Amnesty International Society is raising money for the 'My Body My Rights' campaign.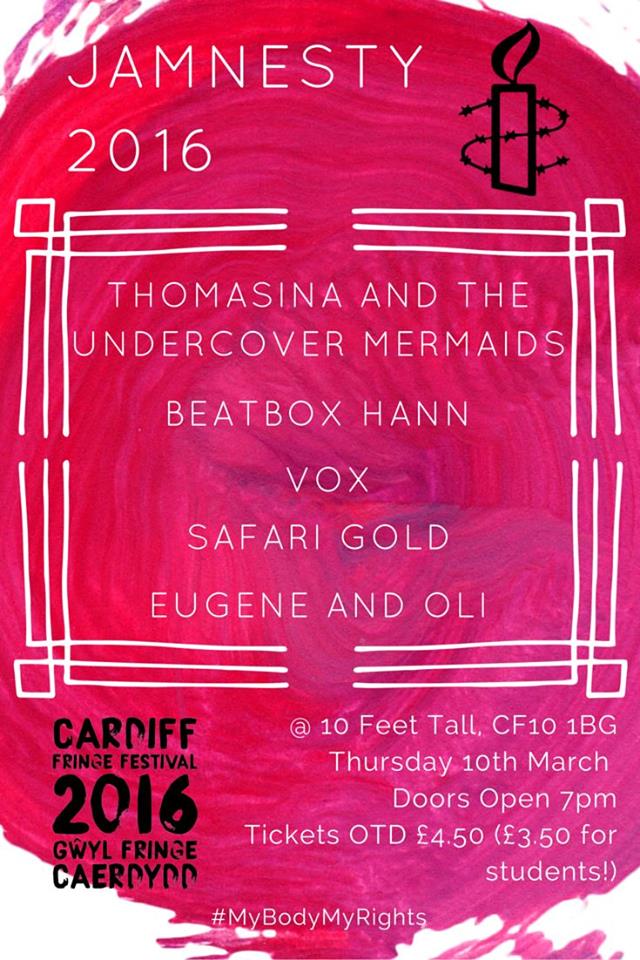 Amnesty International Society is running their annual jam night fundraiser this week in Cardiff, raising money for the 'My Body My Rights' campaign.
There will be five different performances on Thursday night between 7.30 pm and 10.00 pm: Thomasina and the Undercover Mermaids (Cardiff Uni-based acoustic/hip hop), Beatbox Hann (Beatbox), Vox (Acapella group from Cardiff University Acapella Society), Safari Gold (an indie/pop four-piece) and Eugene and Oli (jazz-pop duo from Cardiff Music School).
Amnesty International Society explains, "This year the main campaign is called My Body My Rights. The campaign defends our sexual and reproductive human rights. The freedom to make decisions about our own health, body, sexual life and identity is a fundamental human right."
The organization, which is non-governmental and not-for-profit, is campaigning for the decriminalization of abortion, freedom of gender and sexuality and against female mutilation.
The fight against human right abuses is worldwide explains the Amnesty International Society, "The women are denied access to safe abortion services, in El Salvador and often in Ireland.  Women are denied the right to choose their sexual partner and the law in the Maghreb does not protect survivors of sexual violence.  Women's health surrounding pregnancy is ignored, particularly concerning the issue of uterine prolapse, in Nepal.  And also women are denied information and contraception, in Burkina Faso."
The event entirely organised by the Amnesty student committee of Cardiff University mostly found the artists online. Ellie Jarvis, treasurer of the society says, "I got involved as I have known about Amnesty since being at school and I am a law student so the charity is important to me."
Amnesty International Society explains further "Hopefully many people will come to raise a lot of money for Amnesty but also very importantly we want everyone to have a good night and celebrate human rights."
Jamnesty this year is set to take place on Thursday, the 10th of March at 10 Feet Tall in Cardiff.  Tickets can be bought at the door and be ready for different evening, supporting human rights.
5 Bands playing tonight
More details please check the Facebook Page and  the Map