A mural has appeared on a building in Butetown. The man behind the project talks about it and his aspirations for the black community in Cardiff.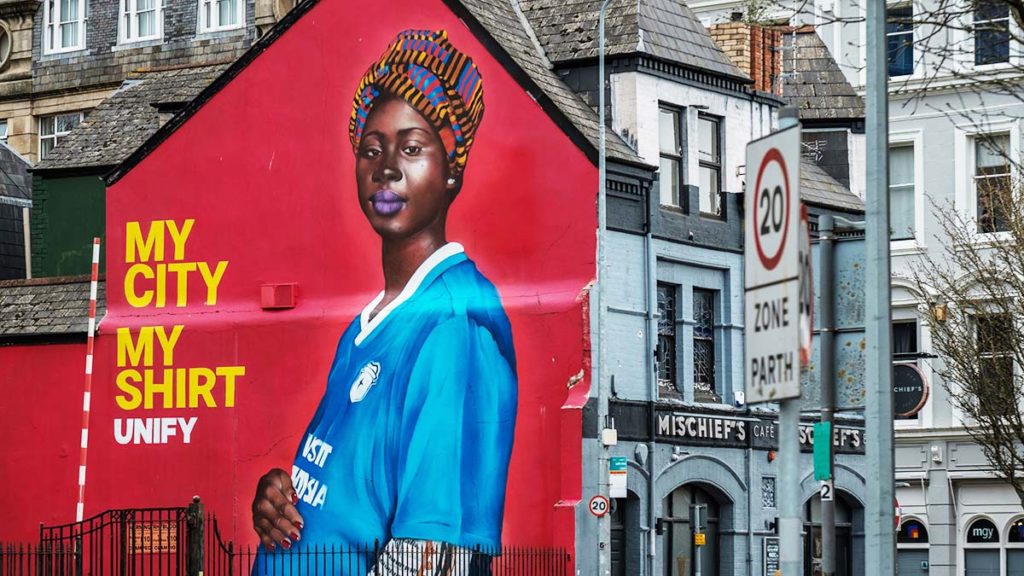 It was a rainy, grey day in Cardiff, when Yusuf Ismail saw Maimuna Yoncana, a black woman with glowing skin.
"I had to stop her in the streets," Yusuf says.
"It was unbelievable. For a black person, for someone like me, it's so amazing to see black excellence. It's so beautiful, I can't even explain. And the fact that it's a woman, and she's pregnant, there's so much poetry to it."
The mural, painted by Bradley Rmer One, replicates a photograph of Maimuna Yoncana from the 'My City, My Shirt' exhibition.
This project as well as the mural was organised by Yusuf Ismail, a creative from Cardiff. It uses photography to talk about race and identity in football, but also to celebrating its Cardiff background. The idea for this initiative originally emerged in the summer of 2019, when Yusuf Ismail and his partner, Shawqi Hasson, went to a Cardiff City football game. Despite being guests of honour, they felt alienated, like they didn't belong.
"I'm extremely confident," Yusuf Ismail says. "I'm 6'4" in height, I talk a lot, I laugh a lot, and I've never felt conscious of my skin the way I felt within that stadium.
"After the game, I had a conversation with my friends, who were all white. And I jokingly said: 'You know what I want to do? I'm going to take pictures of people of colour wearing that Cardiff City shirt', they laughed, I laughed. And then I knew I was going to do it."
Yusuf Ismail and Shawqi Hasson started the initiative with an exhibition of 23 photos of people from around Cardiff, wearing the jersey, who are contributing on a certain level in a positive way. The photography was all shot on film by Shawqi. Yusuf Ismail explains: "I believe that people of colour, if you shoot them on film, their skin tones come out a lot more true to life than if you shoot digitally."
For him, this project had four main goals: highlighting the systemic racism in Wales, helping communities around Cardiff, inspiring others to help in whichever way they can, and to get people to engage with the art and environment.
"It's important because it puts spotlight on the problems that we have here in Wales," Yusef explains. "This systemic racism is prevalent. The community that I'm in, there's a lot going on – like in June 2020.
"I think this is a direct byproduct of my frustrations around that time, where as a black man, as a black person, I felt so much pain and agony. Ever since then, I've had to really reflect on what I'm doing right and create what I believe will inspire other black people to contribute as best they can, in whatever way they can."
The exhibition happened during Black History Month, in October 2020, and while loved and appreciated by the people, especially people of colour, who attended, it wasn't well-received by all.
Yusuf Ismail explained that the Cardiff Arts Council refused to fund the exhibition (later on, they also refused to fund the mural), and that Cardiff City also refused to show their official support, claiming the project might encourage 'reverse racism'. To him, this is a clear representation of systemic racism within the football world.
What happened to Yusuf Ismail during the game in September 2019 wasn't a singular experience, however. He explains feeling alienated and singled out when going to Gareth Bale's Elevens pub after a game, being the only black person wearing a jersey, or not being able to wear a jersey at all as a person of colour.
"The number of heads that got turned," he says. "Just from me wearing that shirt, it highlighted the fact that, for white people, seeing a black person wearing that shirt was something quite weird."
It's no secret that football in the UK has a problem with racism. Reports from the Home Office show that there has been a 50% increase in arrests at football games this season compared to last's related to race crime incidents, despite hundreds of games being cancelled because of the pandemic.
More research by Run Repeat shows that there is a bias in reporting people of colour playing on the field. For example, when talking about intelligence, 62.60% of praise was aimed at players with lighter skin tones, whereas 63.33% of criticism was aimed at players with darker skin tones.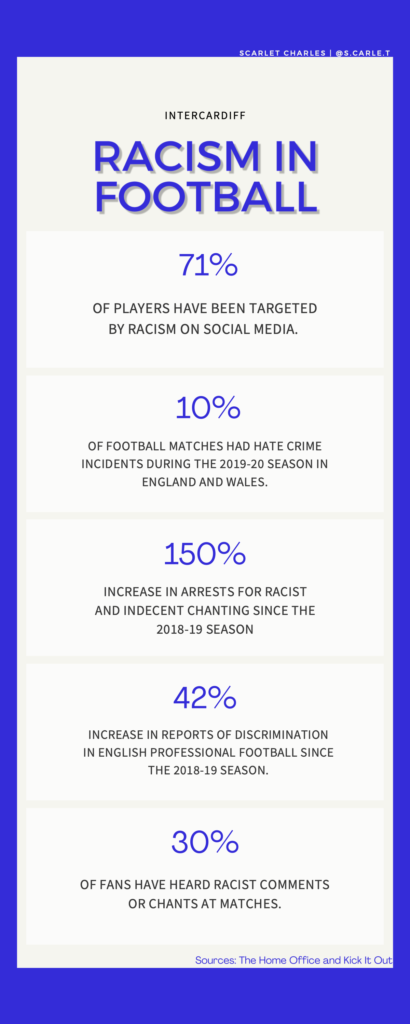 Yusuf Ismail especially highlighted the importance of portraying black people in a positive light. Many harmful stereotypes surround them and to him, it's important to challenge them.
He says: "As a black person, in the media, you either see yourself as a slave, or in a negative way. And to have made Maimuna on a wall, looking regal, looking like a queen, it's empowering on so many levels."
As he says this, gazing up proudly towards the mural, he sees a couple walking by and stop in their tracks. They look up towards the bright red wall in awe.
"I can't help myself from looking up, it's so gorgeous," he hears them say.
And before approaching them to talk about it, he concludes with a grin: "This is a time for black excellence, celebration of our culture, celebration of our identity. Not saying we're better than anyone, just saying 'we're a part of your society too'."