A van will rent and bring a new lease of life to people's beloved items around Cardiff this summer. How does fixing old toasters and sewing machines help build community spirit?
A 'fixer' appears from another room carrying an old toaster. You hear the sudden scrape of a chair across the Repair Cafe floor. A lady rushes to get her item which broke after years of use.
It's about more than toasters, it's about building communities explained researcher Ben Holder. He witnessed how the Repair Cafe filled both the owner of the item and the fixer with immense joy.
"It's about someone doing something for someone else for free," said Ben. "It's not something people are used to."
People young and old natter away with tea and cake whilst they wait for their items to be fixed. An old lady talks about her job as a seamstress to a teenage boy, whilst two single mothers laugh about their items. Both of which were broken by their children.
A collaboration of two local repair and borrowing initiatives, the Repair Café Wales and Benthyg Cymru are set to travel around Cardiff this summer to encourage local communities to repair and borrow their household items. In their specially-adapted electric van, they will run joint pop-up events at a range of different locations across the city.
Cardiff residents will be able to reserve and collect items, bring along broken items to be fixed, and donate items to be borrowed by others. "It's a great opportunity to contribute to the sharing economy whilst helping to sustain the planet," said Jane Booty, Director of Benthyg Cymru.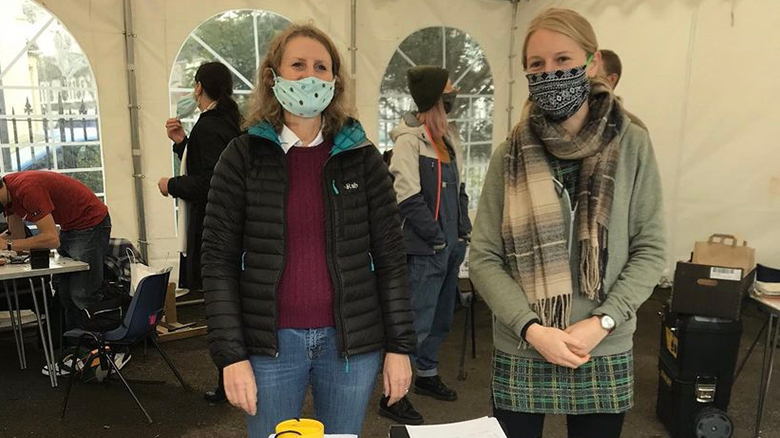 The first Repair Café was organised by Martine Postma in Amsterdam in October 2009. Repair Cafes are pop-up events where communities can get their household items fixed by volunteers for free. Benthyg is a place where you can borrow items, donate items, and share knowledge and skills
Although Repair Cafe were primarily to fix items and stop them going to landfill, to those involved they have become little community hubs that are supportive and inclusive of all.
"They've become a space that really tackles social isolation, that brings people together and makes people feel that much closer to their own community," said Phoebe Brown, director at Repair Cafe Wales.
Across the UK, 22 million pieces of furniture, 11,000 bikes and over 28 million toys are thrown away each year. Often when they are damaged but still fixable. Only one in 10 people attempt to repair or restore broken items. Research has shown however that 42% wish to learn the skills in order to do so. For Ben, Repair Cafe's could be the answer to this.
"We use this thing that is about the environment (Repair Cafes), to educate people on how to fix their own things," said Ben.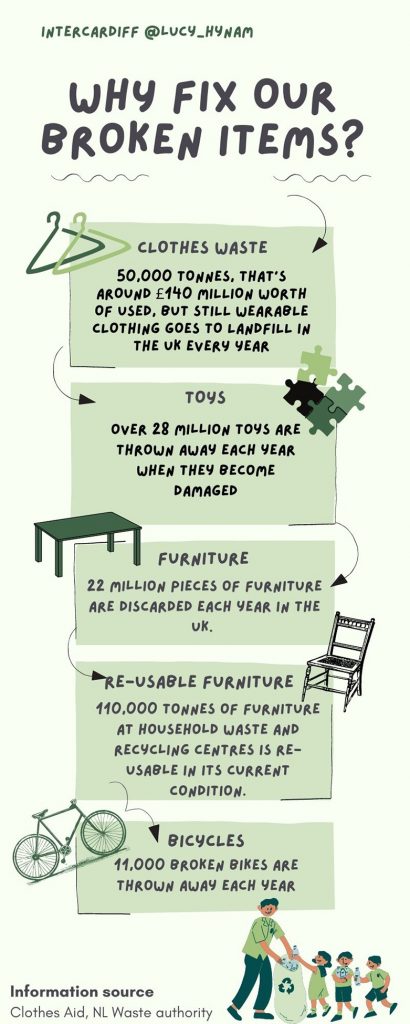 The issue has arisen as a result of a growing 'throwaway society' or 'throwaway culture'. This can be traced back to an idea born in the US during the 1930s depression as a way to encourage people to buy more stuff. With millions of unemployed, people couldn't afford to buy things they already had, so companies marketed product's people didn't know they 'needed'. This was how consumerism was born.
It is now having a huge impact on the environment and household waste resources in the UK. Since 2009/2010 the UK has had to double its residual waste treatment capacity. Increasing from 6.3 million tonnes to 13.5 million tonnes.
"Particularly with the library of things aspects of the mobile van, we all have those items that we buy, we use one time and they've been sitting in the cupboard for five years," said Phoebe.
Phoebe explained there was no need for us to all have those items, especially when it's estimated that a power drill is only used for 13 minutes in its lifetime. Which Phoebe says is ridiculous when you consider the price of a drill.
"If you have libraries of things, you can have one drill that a range of people across a community can use as and when they need it, for a much lower price than it would be to buy that drill in the first place," said Phoebe. "Then we can all share those resources."
Ben believes that throwing things away is not a good way to live. The UN found that the extraction and procession of material, fuels, and food for consumption contributes for half of greenhouse emissions. Responsible for over 90% of biodiversity loss and water stress. Reusing our things could help tackle this.
"Repair cafés foster a sense of care about things," said Ben.
To him, the time you spend fixing things gives the item a history and story making it worth more than before. He told a story of a lady who felt such love towards a jumper that had been darned and fixed multiple times by a friend. Each time it was fixed a story that gave the jumper more value and meaning.
Much like the Japanese art of kintsugi (golden repair) or kintsukuroi (golden joinery), a type of repair which emphasises the break instead of hiding it. Honouring the item's history.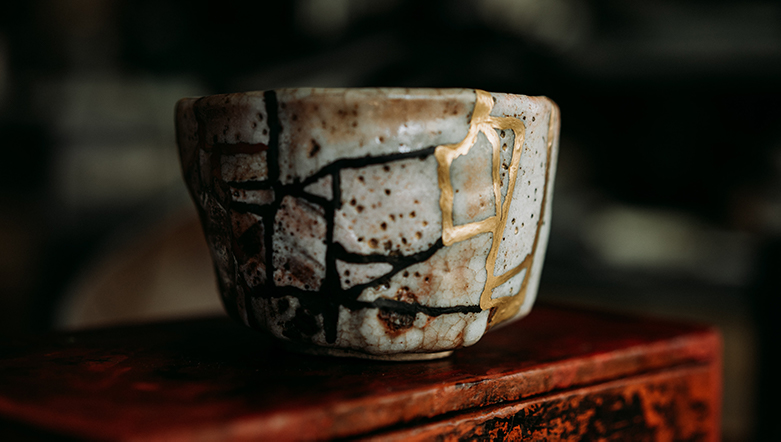 As well as doing good for the environment, repairing items also builds a sense of community. "A strong community is a more ecologically aware community," said Ben.
Ben witnessed how the work of the Repair Café was positive for both parties involved. It filled both the owner of the item and the fixer with joy. Creating a feedback of happiness which he wasn't expecting.
"It's not just about things, it's about people," said Ben.
It's good for the community to see people doing something for free, the person getting that thing done for nothing is happy, which makes them consider doing something for others.
"What's unique to repair Cafés is you get a really diverse range of people coming through the doors, there are so many reasons why a person might come into a repair café," said Phoebe.
"They might just want their toaster fixed, they might not want to throw it away and contribute to landfill, and be very environmentally driven," she said. "Or it might be that they can't afford to have the toaster fixed and if they didn't come to a Repair Café they would just lose access to that item."
Repair Cafe Wales are launching another cafe at the Railway Gardens in Splott on 19th June.
"The mobile van allows us to visit lots more communities and it allows us to enable more people to have access to the services available as well," said Phoebe. "But also we're looking at Covid restrictions and the van will have an additional power source, and gazebos, tables and chairs."
It will allow them to pop-up and have outdoor events as well. So should there be more covid restrictions they will still be able to offer those services to the community.
The full programme of events will launch in the next few weeks. Cardiff residents who want to get involved can find more information on their website or email them at mobilecardiff@benthyg-cymru.org.