More and more elderly people are using it to calm their emotions and strengthen their bodies during the pandemic. What's so fascinating about it?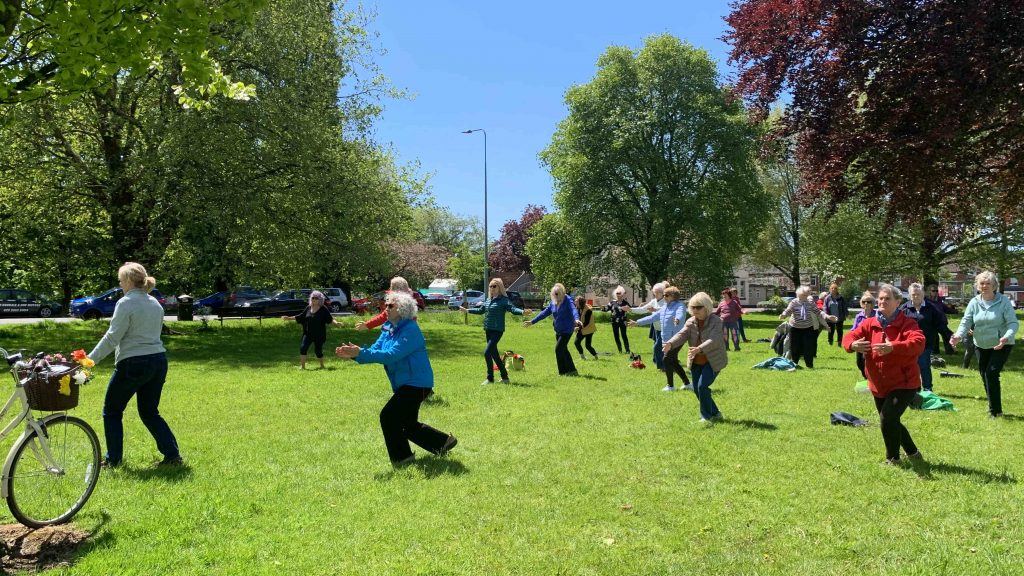 Lower the gravity and bend the knees slightly, a group of people are rising and falling their arms slowly, as if they were holding a ball. They move in slow rhythm on the grass, like waves of wheat formed by the breeze.
Not yoga, not meditation, they are practising Tai Chi, a martial art developed from the traditional Chinese Taoist philosophy.
"I was never good at sport of any kind, so it was wonderful for me to find something where you didn't have to be the fastest or best, just be you and not struggle to achieve," said Corina, the Tai Chi teacher.
As the Operations Director for the YMCA in Cardiff, Corina had the opportunity to initiate a Health at Work programme and offered Tai Chi at a weekly session. This ran for a few years until she retired 4 years ago and joined an Age Cymru programme to train and deliver Shibashi (the 18 movements Tai Chi) to over 50's.
"I now have 50 students with my oldest being 91," she said, "and the feedback they have given formally and informally to me and Age Cymru is uplifting. The benefits to physical and mental health are astonishing."
June Edwards, 91, Corina's eldest student, a former reflexologist, usually comes on Wednesday in the Whitchurch Common, practicing Tai Chi with scores of ladies over fifty years of age.
"Just one thing: it's really good." This is the phrase that is always being said by her students when the workout is finished. They take the opportunity to keep in touch and talk about their new changes, all in a positive and energetic way.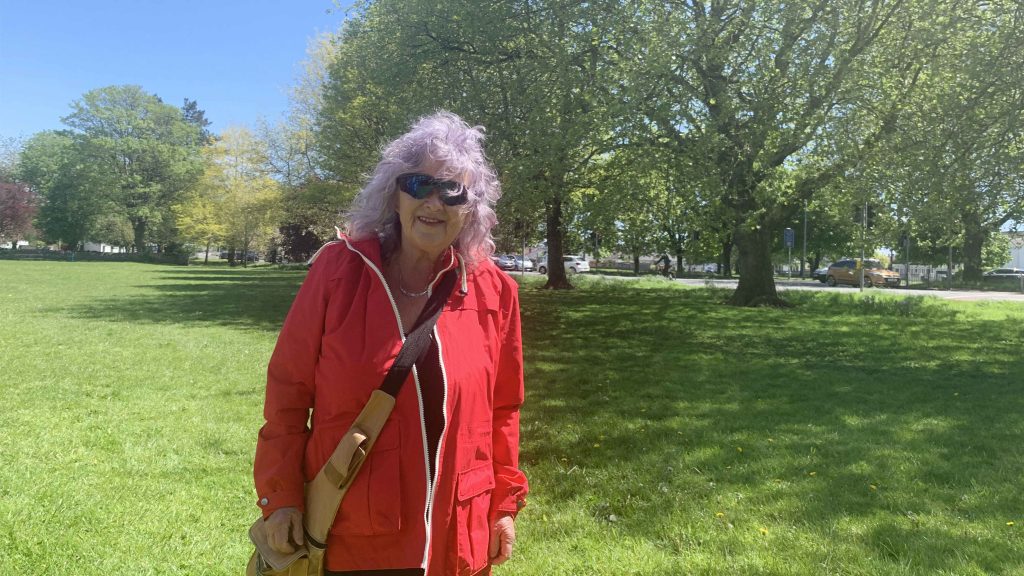 Like some Chinese kung fu such as Wing Chun, Tai Chi also emphasizes the use of softness to overcome strength. But it is softer, slower, and less prone to injury.
Corina learnt the traditional Yang style Tai Chi over 25 years ago from Rob, a former Karate champion who had turned to Tai Chi after seeing a Chinese man practising in a local city park. Rob himself learnt by copying and repeating, but with no academic input. On the advice of him, she began teaching Tai Chi at her place of work.
"Teaching Tai Chi has not really changed my life…it is practising it that has done so," said Corina, as she has a unique understanding of Tai Chi's spirit of not seeking victory but seeking self-harmony, "I do know that it is becoming more and more in favour of the multiple benefits to physical, mental, and spiritual wellbeing."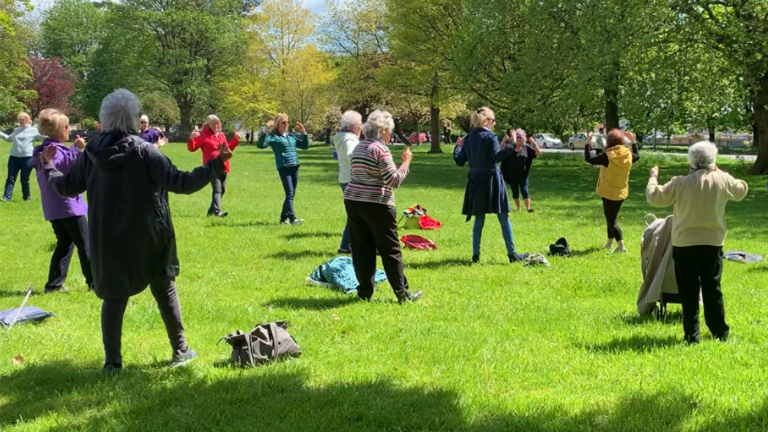 Julia, a counsellor and a Zumba teacher, has also been a student of Corina. Last summer, when Julia and her friends planned to hold some outdoor activities to draw more attention to Whitchurch Northern Meadows, she had a dynamic Zumba workshop in her mind.
She also thought of Tai Chi. The end of the film Notting Hill has a brief but tender shot of people playing Tai Chi in the park, which triggered the urge for her and her friends to have a go. She put out feelers on a Facebook group and a lot of people said yes please to Tai Chi and Corina volunteered to teach the class.
"Not many people fancied shaking their Zumba stuff on the Meadow," Julia admitted.
"The visible advantage of Tai Chi in this pandemic is that it is a non-contact activity. In fact, the first thing you learn is to stand well away from each other, so it is perfectly suited to social distancing," Corina described.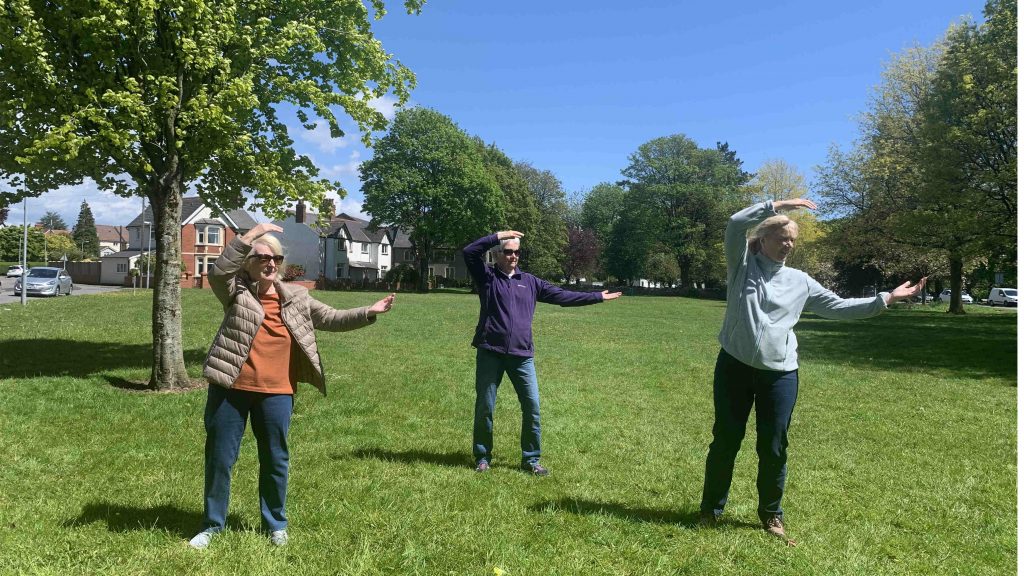 For Julia, the benefits of Tai Chi extend beyond that. She witnessed people "often looked scared, worried or angry, jumping out the way nervously or ploughing through regardless of guidelines" during the pandemic.
She borrowed a few moves from Tai Chi at the end of her stretching after finishing her Zumba class. "They just feel good to do," she said.
Corina now usually goes to Whitchurch Northern Meadows on Saturdays to give free Tai Chi class which is open to all. In the meantime, she also goes to the Whitchurch Common on Wednesdays to practice with her students until the restrictions on indoor multiplayer activities are further relaxed.
Click to watch the Tai Chi workout with Corina and her students: