As Black Friday-Cyber Monday online sales break records in the UK, are we living well beyond our means? Nikhil Sreekandan meets the people taking a radically different approach to consumption.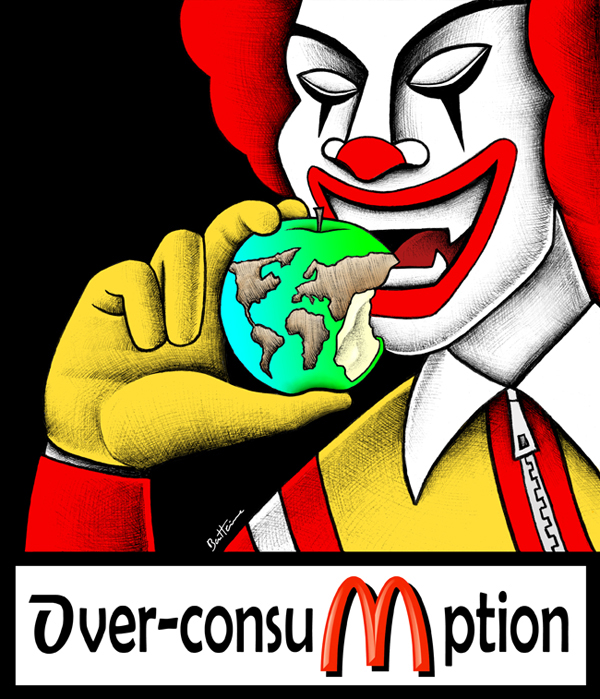 On 11th November, e-commerce giant Alibaba broke its own record on China's Singles day, with online sales worth of 91.2bn yuan (£9.4bn; $14.3bn.) Held every year on 11 November, it is a shopping festival widespread among young Chinese people, to celebrate the fact that they are proud of being single.
The day which is also referred to as Double Eleven, saw a 60 per cent increase from last year, according to the BBC.  In comparison, sales on Cyber Monday, which is the biggest online shopping day in the US, hit $3.07bn, a 16 per cent increase over last year as per data analytics firm Adobe Digital Index, clearly making Singles day the world's biggest online shopping event.  Whereas in the UK, Black Friday cracked the £1bn sales mark for the first time ever as shoppers spent £1.1bn, according to IMRG and Experian.  That number comes in ahead of expectation (£1.07bn) and is up 35 per cent on 2014.  And the one thing that visibly stands out, be it Beijing, New York or London, splurging is in and has gone up in leaps and bounds all over the world.
But, in an age where we live like monarchs with self-belief that 'We can have it all', there soon will come a time when we realize our planet is not enough.  Incidentally, out there are a few, who already have…
When UK retailers broke online sales records this Thanksgiving, with an epic four-day consumer splurge of more than £3bn, there was a small bunch of people calling on consumers to buy nothing.  Be it a personal experiment or a public statement, the website www.buynothingday.co.uk urged people to "switch off from shopping and tune into life" on Black Friday.  A lot of people heard their pleas and Michelle McGagh was one of them.
Michelle McGagh who leads the life of a minimalist, spent the past 18 months getting rid of 'stuff' after she and her husband had an epiphany at a storage unit that was housing boxes of stuff they didn't need.  "It is a way of life where you don't buy more than you need. One where you make room in your life for experiences, instead of cluttering it up with things." explains Michelle.
"They're All Just a Bunch of Hippies!"  is a certain sentiment that is often expressed by people who hear about minimalism the first time.  "And it's an odd sentiment—it's as if they're offended by our "radically different" lifestyle, as if they think we are questioning their lifestyle. But we're not." Joshua Fields Millburn & Ryan Nicodemus (the pioneers of the minimalist movement in the US) explain in their world-famous blog read by over 4 million readers.
When Michelle heard about the Buy Nothing Day through the rapidly growing online community of minimalists, she decided to challenge herself and to take it a step further, by buying nothing for a whole year.  Started on Black Friday, Michelle will be spending the next year buying nothing except food, for which she has a set-weekly budget of £30.  'This means no meals out, no cinema trips, no holidays, no gigs unless they're free, no rounds down the pub, no new clothes, no coffee(£400 on takeaway coffee alone in the past year) – you get the idea.' she explains in her blog.  Not the first person to attempt such a feat, Michelle says that "There is a growing community of people who are turning their back on consumerism and purchasing possessions in favour of buying experiences and travelling the world."
Cait Flanders known for 'Blonde with a Budget', initially started her blog to document her debt repayment journey.  Since then Cait has become a minimalist phenomenon, currently in her 17th month of shopping ban which ends on July 6, 2016.
"I think one of the biggest takeaways from my first year was just realizing that nothing I could buy at a store would make my life better in any way.  While I was doing the shopping ban, I also got rid of 75% of my belongings. By combining the two, I was able to accept myself for who I am and now I feel like the best version of myself." explains Cait who can no longer justify any of the purchases she wants (rather than needs.)
Like the burgeoning online community of minimalists, communities on the ground too have taken a strong stand against over-consumption.  Bristol Repair Café is one such an example, who celebrate their second birthday this coming weekend.  The repair café which meets every first Saturday of the month at the All Saints Church in Bristol, get together to repair 'anything you can carry really' – from electronics to clothes.  Kate Jerrold who stumbled across an article about repair cafes in Holland while googling for a fix for her broken dishwasher is the pioneer of Bristol Repair Café.
"Two years ago, explaining that we would fix stuff and for free was a hard sell, but more people get it now. They know that we can't just keep chucking stuff away and they want to do more than recycling, they know that's not enough." says Kate who believes that 60 per cent of our carbon footprint is from 'stuff.'  After having lived in Bristol for 10 years, she now knows more of her neighbours than ever before.  "I think people want community, and a resilient community helps each other, shares values and skills." says Kate.  There are also companies out there like Patagonia who have teamed up with ifixit.org to publish an open source repair manual for Patagonia garments. The information is free online and the goal is 'to teach the world to repair on their own.'
My feelings are mixed, as I tap away on my five-year-old 'back from the dead' Vaio, sipping on my £2 takeaway coffee – trying to wage an early war against an oncoming cold.  Maybe with a little bit of guilt, but as Michelle McGagh would say to any aspiring minimalist "You don't need to live with just 100 things or be able to carry all your possessions in a backpack. It's about being mindful of your purchasing and putting the things you want to do, before physical possession."