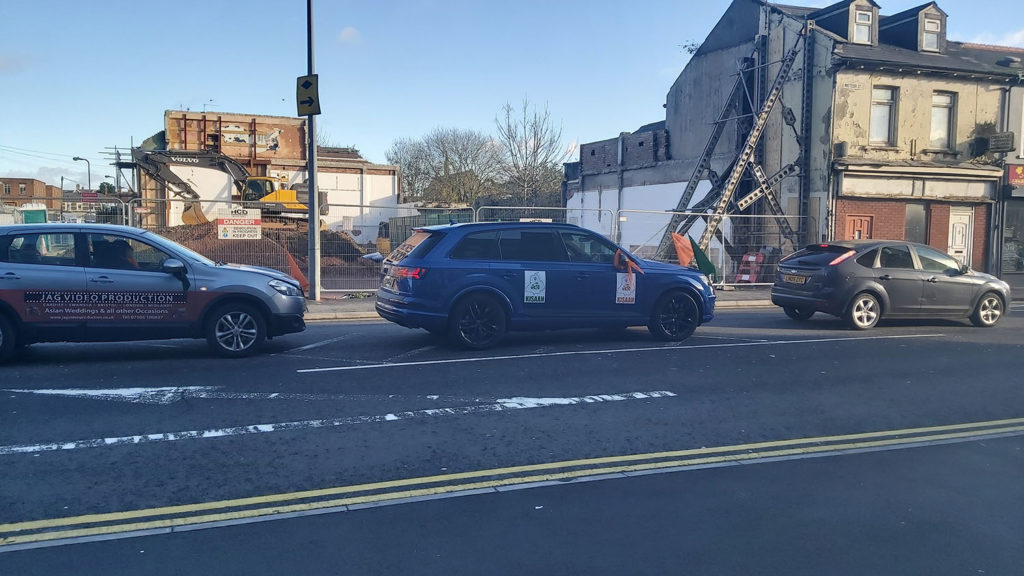 Attendees plan to write to MPs and Senedd members to press UK Government for support
ORGANISERS of a rally held in support of striking farmers in India are planning to contact MPs and Senedd members to raise awareness of violence against the farmers.
The event took place alongside others in major cities throughout the UK to support farmers striking in India against new legislation brought in by the Indian government.
"We're writing a letter to Mark Drakeford to write to Westminster and say you need to intervene," said rally organiser Amerpreet Singh.
"Hopefully Mark Drakeford will bring this up with Boris Johnson," he added.
The issue has already been raised by MP Tanmanjeet Singh Dhesi in Prime Minister's Questions last week but the PM did not address the issue as he misheard the question. The Cardiff rally in support of Indian farmers began on Saturday at 10.30am at the Costco car park in Leckwith and drove near Cardiff Central station, up City Road and then through Roath and Adamsdown before ending at County Hall.
"We were expecting 70 [cars] but then 100 to 150 cars turned up," said event organiser Amarjite Singh Chobdar.
A variety of speakers including human rights activists and trade unions gave speeches at County Hall and The Senedd after the rally.
"I created a whatsapp group to say we've got to wake up and do something" said original organiser of the rally Mr Singh. "Although we're a small capital city in Cardiff we need to make sure our voice is heard."
Attendees were supporting farmers in their strike against the legislation, which they believe will be detrimental financially to farmers in the future.
However, they also hope that the UK government will put pressure on the Indian government to allow peaceful protest after tear gas and water cannons were used against protesting farmers, many of whom are elderly.
"We had to wait until Wednesday to see if we would go ahead or not" said Mr Singh Chobdar, which he said was due to a meeting between farmers and politicians taking place in India on December 9 that would determine if the legislation would continue as planned.
Mr Singh Chobdar explained that they do have political support in Wales. He said that Swansea West MP Geraint Davies was one of 36 MPs to sign a letter by Tanmanjeet Singh Dhesi, MP for Slough, asking Foreign Secretary Domic Raab to raise the issue with Indian officials.
Mr Raab is on an official visit to India from December 14-17 and will meet the Indian Prime Minister on the 15th.
Asked about whether Mr Raab will discuss the issue with Indian officials during his official trip this week, Mr Singh Chobdar said: "Personally I don't think he will – we fear he won't raise the issue.
"I believe this is because it could impact a trade deal when Prime Minister Boris Johnson visits in January.
"Every Sikh in the UK has bombarded Raab's email, but I won't hold my breath. Does trade matter more than human lives?" Said Mr Singh.
Covid restrictions meant that the end of the rally was switched from the Senedd to County Hall for most attendees, with only 30 people allowed to gather outside the Senedd where attendees were provided with masks and hand sanitiser.
What is happening to farmers in India?
Three new farm reform bills have recently been passed in India.
This new legislation is controversial as currently farmers can sell their produce through government-run wholesale markets, also known as the mandi system, which allows farmers to receive a minimum price for their produce. However, the new laws give private buyers more power, which many farmers believe will eventually result in farmers being exploited and receiving less than the minimum price for their crops. The government argues that as farmers will have a wider market they will receive higher incomes.
Thousands of farmers have gone on strike in New Delhi, forcing the closure of many major roads. Although their protest is said to be peaceful they have faced tear gas, water cannons and brute force.