Following its launch in 2016, TikTok has become a huge social media hit.
The app, which allows users to post short videos, has swept the UK, with 17 million people using it for at least an hour a day. 
On #WelshTikTok. Welsh creators have proven to be very popular, rapidly gaining likes and making money from videos.
ELLIS LLOYD JONES
@xellis_lloyd_jonesx
Ellis Lloyd Jones, 22, from Treorchy, earned his name as the king of Welsh TikTok through his comedy sketches and relatable stories.
After making his first video in October 2019, Ellis now has over 120,000 followers and nearly five million likes on TikTok.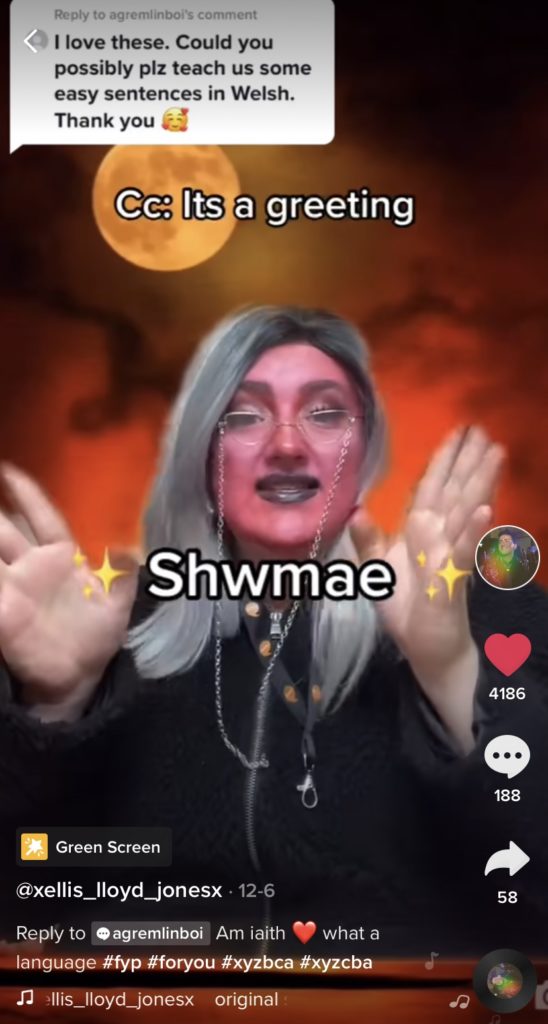 "I remember someone coming up to me when I was working in Greggs and saying 'what are you doing working here?', and I was like 'I've got to pay the bills' and they replied 'but you're famous!'"
It's easy to see why Ellis has been a success on TikTok with his contagious laugh and strong Rhondda accent. He is mostly known for his Welsh TikTok tollbooth sketch which now has over 150,500 likes.
"When I started getting in to the Welsh niche sort of stuff, at that point I decided right this is what people want to see.
"Recently I've thought it's my TikTok, I'm going to do whatever I want on it. I got my wigs out, I got my dresses and drag and just made videos. And people love the videos."
Ellis unapologetically embraces his feminine side and enjoys wearing make-up. He hopes that young people will see his videos and become more accepting of others and themselves. He is often contacted by younger followers asking for advice about 'coming out'.
When others reach out with their experiences, I just love it.
As a Welsh speaker, Ellis is heard speaking the language in many of his videos.
"I like having the community of Welsh speakers on there. They comment on my videos in Welsh and I'll reply to them in Welsh. But I'm also trying to make everyone feel included. I don't want anyone to feel left out. So, when I do Welsh videos I do have English subtitles.
"I'm trying to be more inclusive and using closed captions. This is helpful for deaf people, individuals who find it hard to hear or for those who just don't understand my accent."
Following his TikTok popularity, the Cardiff University student has been working with S4C and BBC to create social media content.
"The opportunities I've had have made me realise that entertainment is the industry I want to go into. I've always wanted to do it, but I repressed it because I always thought, what are the chances of me getting on telly?"
ABI HAYWOOD
@abihasbigjugs
Abi Haywood's TikTok account focuses on her small business. Her studio, based in Cardigan, is where she films most of her content and sculpts her homeware.
The 20-year-old Fine Art student is currently taking a year out of university due to the pandemic. Resulting in more time to concentrate on creating content and painting her clay jugs and mugs.
The brightly coloured 'WAP: Welsh and Proud' mugs have caught the eyes of many, the next launch of Big Jugs is much anticipated by its followers. Abi's TikTok following has reassured her that when she does launch her new collection, it will be successful.
"Before TikTok I was scared I wasn't going to sell enough. I was investing all this money and I was worried it wouldn't work out."
TikTok has provided small business' like Big Jugs with a free platform to promote and market their work. The behind-the-scenes videos of running a business are especially popular.
Abi has gained 23,400 TikTok followers in six weeks, in addition to a growth in Instagram followers.
Abi's advice for other small business' who want to grow their following on TikTok is to use hashtags, pick popular songs that are trending and to invest in a ring light.
"If I have good lighting, my content looks better and my videos end up being more successful."
LAURA ORGILL
@lauraorgill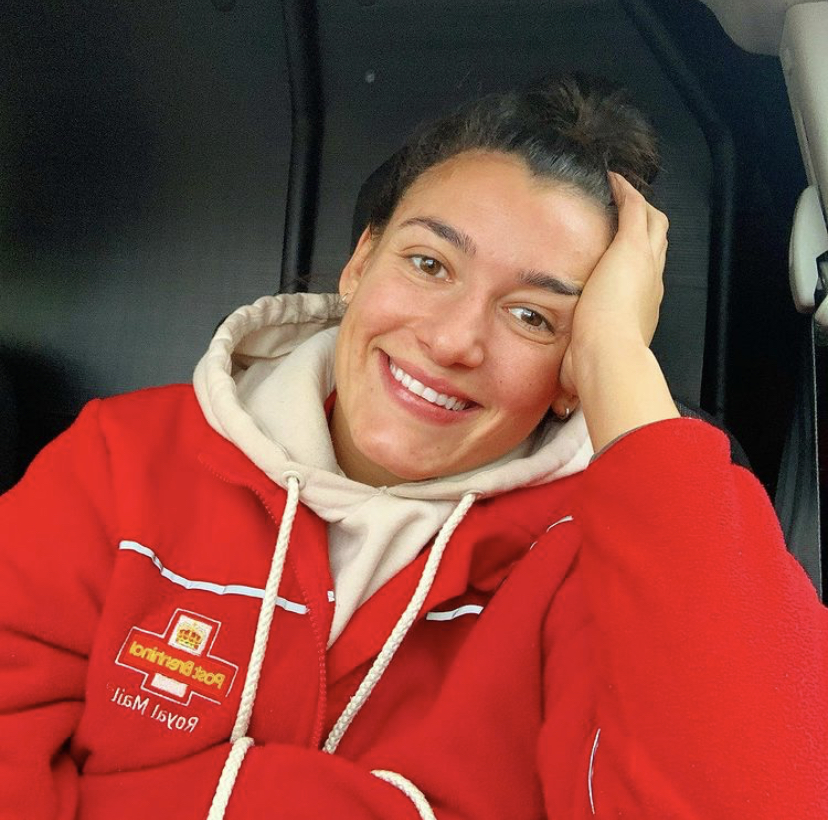 Living with her girlfriend in the Rhondda Valley, Laura Orgill, 26, didn't have a big social media following prior to TikTok, now she's known as the TikTok Postie.
Laura has over 530,000 followers and 17.3 million likes on the app.
Laura's videos focus on her work with the Royal Mail, who are happy for her to represent them in videos. Her upbeat personality and strong accent is what keeps her followers coming back.
"It is very overwhelming knowing that nearly half a million people follow me and know who I am, but I absolutely love it and wouldn't change it for the world.
"I always like to compare it to how many times I could fill the Cardiff Principality stadium, for some reason this makes me realise just how many people it is."
Similarly to other creators, Laura started making videos on TikTok during the pandemic.
"Whilst on my postal round a little girl asked me to do one of the viral dances and post it on my TikTok and it all started from there."
Laura admits that #WelshTikTok is often on her For You Page (FYP), "because us Welshies have the same unique sense of humour."
With everything going on in the world right now, everyone needs a little pick me up throughout the day from the TikTok postie.
"The next step is to definitely get another charity event lined up, I have got an idea of what I would like to do next which is all in the pipeline, so stay tuned for that."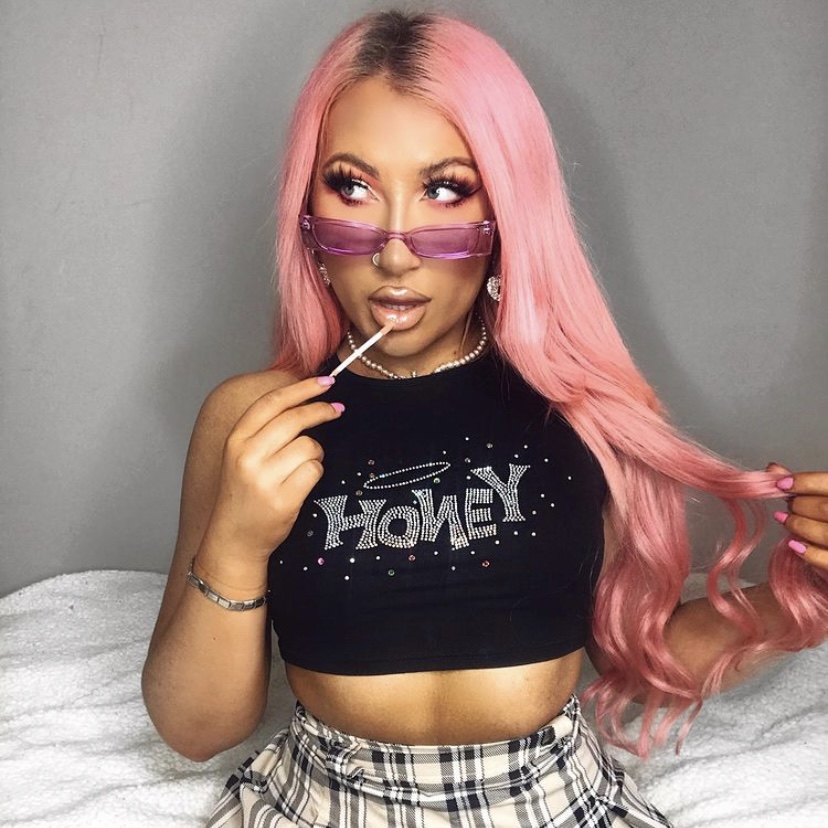 RACHEL BENNETT
@raekaybennett
Known on TikTok as @raekaybennett, Rachel Bennett's content is dominated by hilarious stories, fashion advice and beauty tutorials.
As a result of her TikTok following, Rachel, 22, has collaborated with the online fashion brand, Boohoo and she has been approached by Channel 4 and ITV for reality TV castings.
"The first few [videos] I posted I thought nobody will know who I am, perfect I can chat about whatever."
This didn't last very long as Rachel shot to TikTok fame and now has over 111,000 followers and 3.2 million likes.
"The comedy style videos do the best. Anything with me talking about something relatable or telling a story or doing a character, they perform better than my fashion and make up videos. The fashion and make up ones I do still do because they're just fun to make."
Rachel's audience is predominantly young females, she is the Welsh older sister of TikTok.
It really does feel like my own little community.
"It's like I've got imaginary friends that I feel really connected to.
"When you're younger there is such a pressure to fit in and if you see someone on the internet being completely themselves it could make you feel comfortable to do the same."
Rachel is a Bath Spa University drama graduate, she now lives with her family in Neath.
"My family believe in me more than I do. They're so supportive. My dad has a TikTok account just to follow me, and my Nan is always up for being in videos."
IEUAN COOKE
@ieucooke
Originally from Cwmbran, Ieuan Cooke, 21, began his TikTok journey in April during lockdown. Alongside TikTok, Ieuan is currently studying for a Masters in Marketing at Exeter University.
His dramatic telling of stories, that everyone in their early twenties can relate to, have gained him over 100,000 followers.
"It is crazy. I remember when I started doing it in lockdown, I thought this is just a fun thing to do for now, the days were so long, and I was so bored."
Ieuan isn't only popular in the UK, his self-deprecating humour has proven to have global appeal.
"What I've found really interesting is that I have more followers in the US than in the UK. Over 45% of my audience are American. Honestly, I would prefer loads of people in America to know who I am than anyone in my hometown to recognise me."
After speaking to Ieuan, it is clear that his sudden popularity on the social media app hasn't sunk in.
"I had a weird moment the other day where I was like I don't get why people follow me. I can't put it into words. When I think about it, it scares me to think hundreds of thousands of people could see my videos."
Ieuan has expressed an interest in pursuing TikTok as a career if the opportunity arose but admits, "I just don't know if there's a platform for it."
All five of the creators in this article have access to the creator fund on TikTok, therefore they are able to make money by posting videos on the app.
It isn't clear how TikTok determine the amount of money creators receive, but it's believed to be based on engagement; number of likes on a video, how quickly it gains views or the number of comments.
The future is definitely bright for Welsh creators on TikTok.