Charity warns that patients in Wales face barriers to receiving quick and appropriate support
PEOPLE in Wales who self-harm struggle to access early intervention, despite nine in 10 adults agreeing that self-harm was a serious issue, say Samaritans Cymru.
The charity also reports that callers have spoken about increasing levels of loneliness, anxiety and distress due to the Covid lockdown.
In 2019, Samaritans' 24-hour helpline received over 272,000 calls relating to self-harm, one every two minutes. In Wales alone, there are about 5,500 hospital admissions for self-harm each year, although Samaritans warns that most people who self-harm do not seek medical attention.
Its latest report, The Right Support at the Right Time?, brings together people who have self-harmed, service providers, experts and the public to understand the needs of those who self-harm and improve the quality of support available.
In a survey of over 900 Welsh adults, less than half of respondents said they would know how to support someone close to them if they were self-harming. For those who self-harm, the report found that the "overall usefulness for all types of support was low", whether from family, friends or healthcare professionals.
The report highlights the stringent requirements faced by people who self-harm when trying to access mental health support in Wales.
As a result, they are not being offered early intervention, often resulting in more serious levels of distress and self-harming behaviours.
"I have an ongoing struggle with self-harm," said one survey respondent. "However, I'm not eligible for treatment because I don't meet the criteria.
"They shouldn't be pushing people to meet that level of ill-health before they get help – this is a firefighting approach."
Reluctance to seek support particularly acute in Wales
According to the report, self-harm remains "an issue that is often hidden and poorly understood", with the majority of sufferers unlikely to seek help.
This problem may be especially prevalent in Wales, where there appears to be a particular reluctance to seek help among those who self-harm.
A greater proportion of Welsh survey respondents said they had not sought support for their most recent self-harm than compared to the UK and Ireland overall.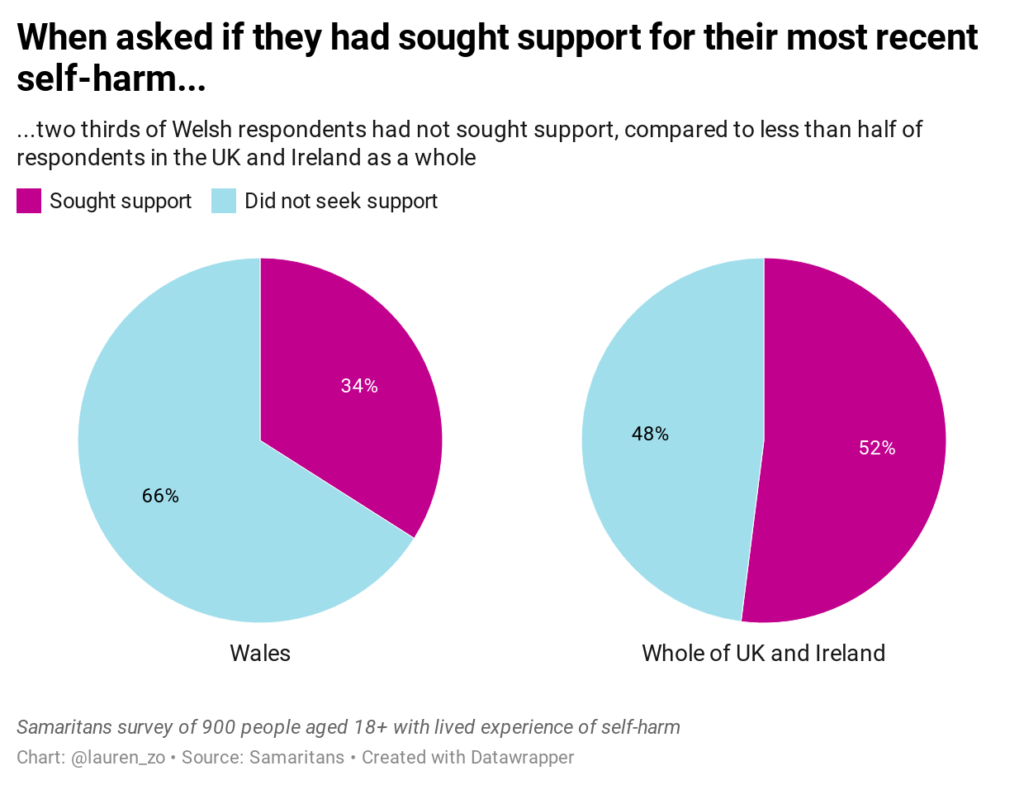 Sarah Stone, executive director for Samaritans Cymru, said: "Our research highlights that people in Wales are facing barriers to receiving the right support at the right time.
"Access to timely interventions from appropriate services are often difficult to secure and thresholds for secondary care are high.
"People are not being offered help at an early enough stage, which in turn leads to them experiencing more serious levels of distress and self-harming behaviours."
The research also revealed that the stigma surrounding self-harm remains deeply ingrained, and can prevent sufferers to seek help from friends, family or healthcare professionals.
Nearly a third of respondents said they would not feel comfortable talking to their partner or family about self-harm, while nearly two in five would not feel comfortable talking about it with friends.
Rising rates of self-harm among women and young people
Generally, rates of self-harm are higher among women than among men, although it can affect people of all ages and genders.
The most recent data from the Welsh Government's suicide and self-harm prevention strategy, Time to Talk 2, found that the highest age specific rate of self-harm is among females aged 15-19. The rates among 10 to 7-year-olds in Wales is also on the rise.
The upwards trend for rates of self-harm among women and young people is reflected across the UK.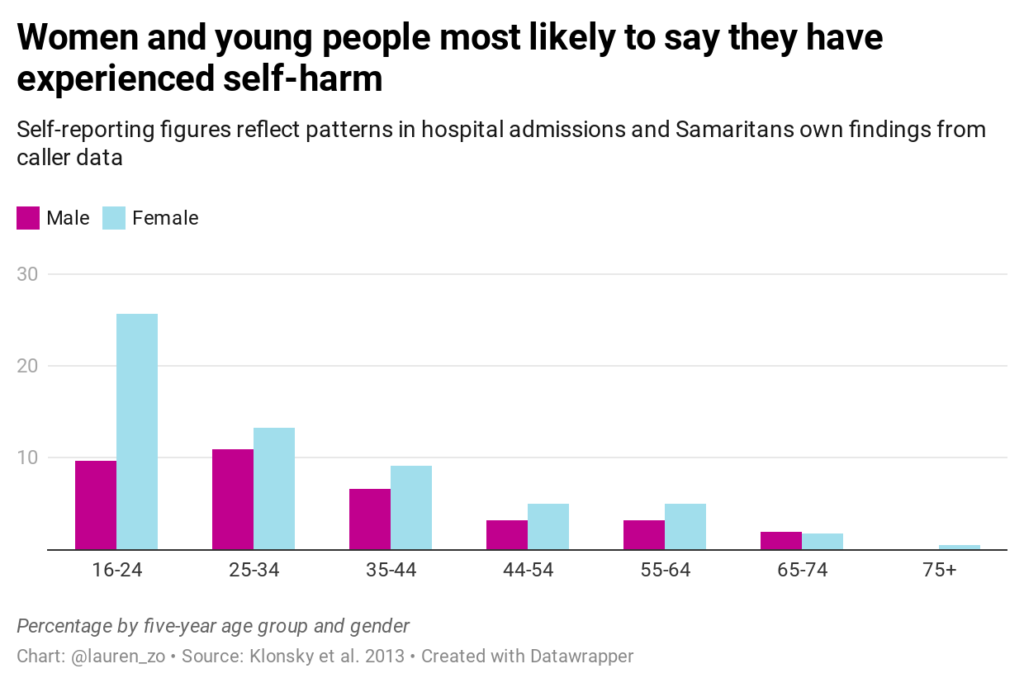 Although the rising rates may partly be due to a reduced stigma surrounding self-harm among young people, Samaritans warn that this is unlikely to explain the full increase.
The report also highlighted the need for a deeper understanding of how to support certain demographics, including BAME communities, LGBTQ+ communities and people from lower-income households in Wales.
Key recommendations from the report
The Samaritans report makes 12 key recommendations with the aim of better understanding and supporting those who self-harm, and improving the quality of support available.
It calls for the threshold for therapies and support to be lowered to enable early intervention, rather than depending on the level of self-harm itself. There is also a focus on the need for a more compassionate response to self-harm and a more proactive follow-up of people discharged from A&E following self-harm.
The report also recommends that GPs receive enhanced training, and that the Welsh Government invests more in evidence-based interventions and support services, as well as in improving the collection, presentation and accessibility of data on self-harm.
Other recommendations focus on the need to improve emotional resilience and knowledge, including developing self-care tools and providing support and resources via schools.
Potential impact of Covid
It is too early to know the impact of the Covid pandemic, but Samaritans has reported that callers have spoken about increasing levels of loneliness, anxiety and distress.
Glenn Page, senior policy and campaigns officer at Mind Cymru, said: "Covid has had a significant impact on people's mental health, particularly people with existing mental health problems, and some groups have been disproportionately impacted.
"At the same time, many people have found it increasingly difficult to access the support they need due to restrictions and limited access to face-to-face support.
"It is vital that the Welsh Government and NHS Wales prioritise access to quality mental health services, ensuring genuine choice in treatment and that help and support is available to anyone experiencing a mental health problem".
A Welsh Government spokesperson said: "We welcome this latest report from Samaritans Cymru and will consider it as we take forward our 'Talk to me 2' suicide and self-harm prevention action plan for Wales.
"We have recently strengthened national and regional co-ordination arrangements, as well as refreshing our Together for Mental Health Delivery Plan, as we understand coronavirus is having a huge impact on the emotional and mental health and wellbeing of people in Wales.
"We will continue to monitor the impacts of the pandemic on self-harm and suicide and have invested nearly £10 million in additional resources in 2020/2021 to increase access to support, focusing on easy-to-access support and would encourage anyone who needs help to reach out.
"A dedicated mental health Minister has also been appointed, underlining our determination to do everything we can to ensure people can access the right support and treatment when they need it".
If you or someone you know is struggling with self-harm, contact Samaritans:

Email – jo@samaritans.org
Visit the website – www.samaritans.org