Levels of some pollutants above safe limit set by World Health Organisation
CARDIFF has more fine particulate matter in its air than London, with an annual average of 11.5 µg/m3.
Only a few areas in Wales are above the World Health Organisation recommended maximum standard of 10 ug/m3 of PM2.5.
Cardiff ranked as the UK's 20th most polluted city for PM2.5 levels with an annual average concentration of 11.5 μg/m3. This ranks it as being slightly more polluted than London (11.4 μg/m3).
It is believed car-free zones and congestion charges have helped in London while Cardiff is still relatively car-friendly.
What is PM2.5?
Particulate Matter is comprised of solid and liquid particles suspended in the air. Exposure to these particles can cause symptoms of asthma to worsen and develop into an asthma attack. COPD symptoms are also worsened by these particles.
PM is split into two categories: coarse (PM10) and fine (PM2.5). PM2.5 is made up of combustion particles from industry and traffic, as well as particles created by cigarette smoke.
In Cardiff, most background PM2.5 comes from combustion of petrol and diesel engines on busy roads.
What does PM2.5 do to your body?
When you inhale these particles, they can get to your lungs, causing damage to cells and air sacs. Continued exposure can lead to serious health issues.
Beth Mansfield, a final year PhD student in Cardiff University's School of Biosciences, said: "When you inhale PM2.5, it bypasses filtration by the nose hairs and penetrates deep into the lungs. The presence of PM2.5throughout the lungs causes damage to the cells which line the airways and air sacs.
"Damage to the airway lining promotes the release of immune cells into the airways, to try and counteract the damage caused by PM2.5. However, sustained exposure to PM2.5 promotes a vicious cycle of airway cell lining and air sac damage and inflammation which contributes to the progression of asthma and COPD."
Exposure to these particles are also thought to cause diseases such as diabetes and dementia.
Ms Mansfield continued: "Molecules like oxygen cross over into the bloodstream via the air sacs in the lungs. As PM2.5 is small enough to cross into the blood in a similar manner to which oxygen does, PM2.5 can enter the blood stream and reach several different organs such as the heart and the brain.
"Sustained PM2.5exposure is thought to increase the risk of cardiovascular death, aggravate diabetes via its effects in the lungs and contributes to development of dementia, although there is more work to be done to look at the specific effects of PM2.5 exposure within the organs related to these diseases."
How much PM2.5 is safe?
Guidance from the World Health Organisation is that PM2.5 levels should not exceed an annual average of 10 µg/m3.
Many UK cities exceed this safe level. You can look at each local area on British Lung Foundation's interactive map.
"Wales has one of the poorest air qualities in the UK and this contributes to around 1,400 premature deaths every year. The main pollutant contained within Cardiff air pollution is PM2.5 which is worrying due to the detrimental effects of PM2.5 within the body" Ms Mansfield explained.
Cardiff and air pollution
Overall, Wales' record on air pollution is relatively good. Only a few areas in Wales are above the WHO maximum standard of 10 ug/m3 of PM2.5.
"Cardiff ranked as the UK's twentieth most polluted city for PM2.5 levels, and the 2nd most polluted city in Wales, with an annual average concentration of 11.5 μg/m3. This ranks the capital as being slightly more polluted than London (11.4 μg/m3)" said Ms Mansfield
"However, the most polluted place in Wales is Chepstow at 12.6 μg/m3. These figures are often surprising for residents of Wales as we assume dense, highly populated cities like London would be the most polluted in the UK. However, significant strides have been made to reduce pollution in London for example with car-free zones and congestion charges, whereas Cardiff still remains a city with an extremely high volume of traffic flowing 24 hours a day."
While there has been a recent move towards making the city more walkable and cyclable, Cardiff is still a city which relies on cars to get around.
Cardiff council's transport white paper set out the planned improvements to the city, such as a focus on expanding the public transport network and installing cycle lanes across the city.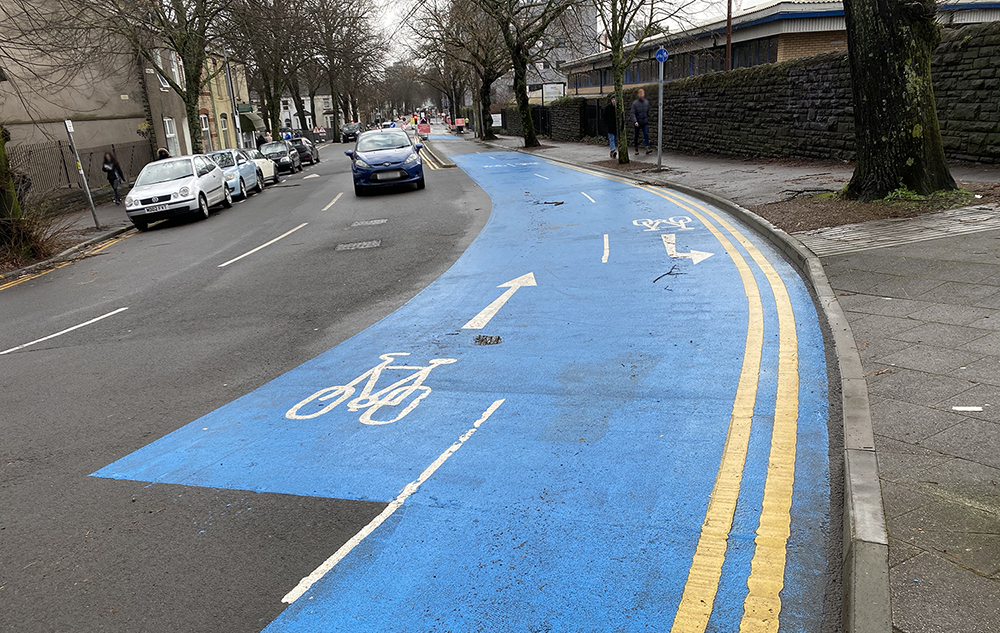 Nerys Lloyd-Pierce, chair of Cardiff Civic Society, said: "The Society believes that it is imperative that we improve air quality by reducing our dependence on cars. We also need to consider that 'cleaner' forms of transport, such as electric cars, are not the complete answer. Electric vehicles produce particulate pollution from brakes, tyres, and the road surface etc.
"Particulate pollution is just as damaging as exhaust or NOX pollution. A cultural shift is needed to deter people from making unnecessary journeys in their vehicles. With less traffic on the roads, many people would then feel safer cycling and walking. Cheaper train travel would also make leaving the car at home a more practical option for many journeys."
A recent study found that 18% of care homes 16% of GP surgeries in Cardiff are located in areas with dangerous levels of PM2.5. This could be particularly dangerous for patients and residents who already have respiratory problems such as asthma and COPD.
Above: Interactive maps show levels of fine particulate matter at care homes and GP surgeries in Cardiff.
Joseph Carter, head of Asthma UK and British Lung Foundation Wales, said: "We know that no level of air pollution is safe, especially for those with respiratory conditions who are much more susceptible to poor air quality. That's why it is very concerning to see a cluster of care homes and GPs in Cardiff and Newport being situated in areas with high levels of PM2.5 putting older people at unnecessary risk of harm.
"PM2.5 is a dangerous pollutant which invades the lungs and can lead to the development of many very serious conditions, including lung cancer. It is unacceptable that people are being exposed to toxic levels of air pollution in places where they are supposed to feel safe.
"The Welsh Government needs to act swiftly to address this issue. We are calling on the next government to pass a Clean Air Act within 100 days of the Senedd elections and give everyone the right to breathe clean air."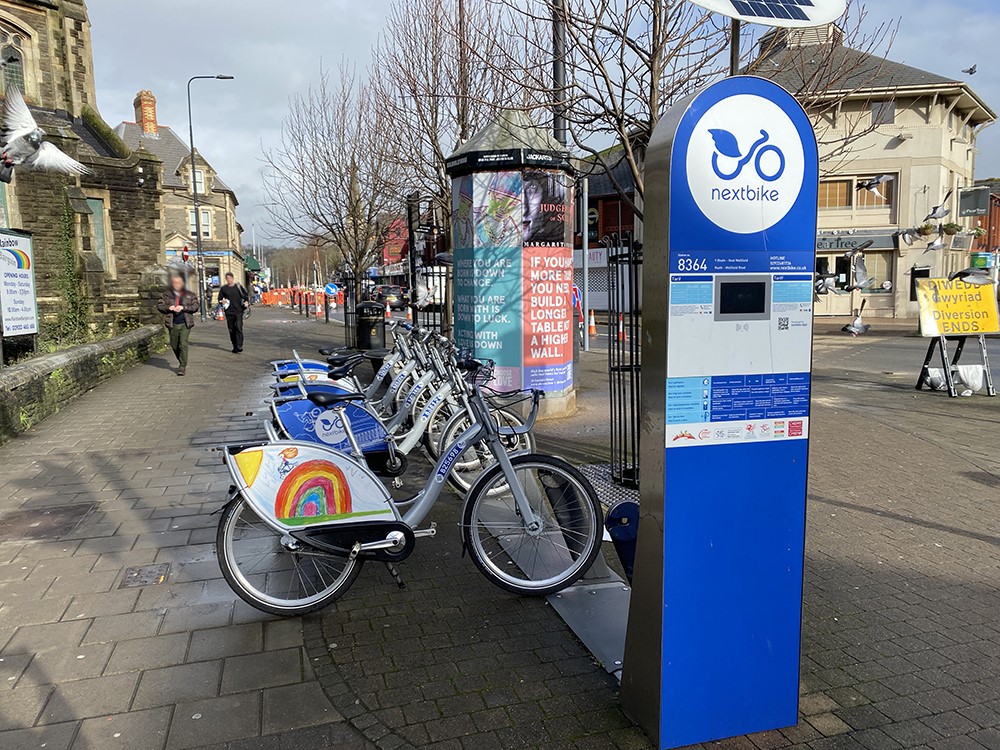 Cabinet Member for Social Care, Health and Wellbeing Susan Elsmore said: "Working with Welsh Government we have explored various schemes which we believe will work best to reduce pollution in the centre of Cardiff, helping to promote benefits to public health and wellbeing in and around the Welsh Capital.
"Successful measures to improve air quality in Cardiff have already included schemes such as Nextbike, Car Free Day and our support of the Healthy Travel Charter, to promote Active Travel, which have all been well received. I am confident that through collaborative working these proposals can be implemented efficiently to ensure is Cardiff a healthier city."
The impact of Covid-19
With less traffic on the roads, the pandemic has reduced the amount of air pollution in many major cities, but evidence suggests it is not all good news.
A Welsh Government report shows that public transport usage has reduced much more than private car use in the last year. The challenge of convincing the public to return to these greener transport methods is something the government hopes to do.
In a recent survey, 85% of respondents said that the pandemic has affected how much they use public transport. 55% of respondents also said that they would not feel safe using public transport.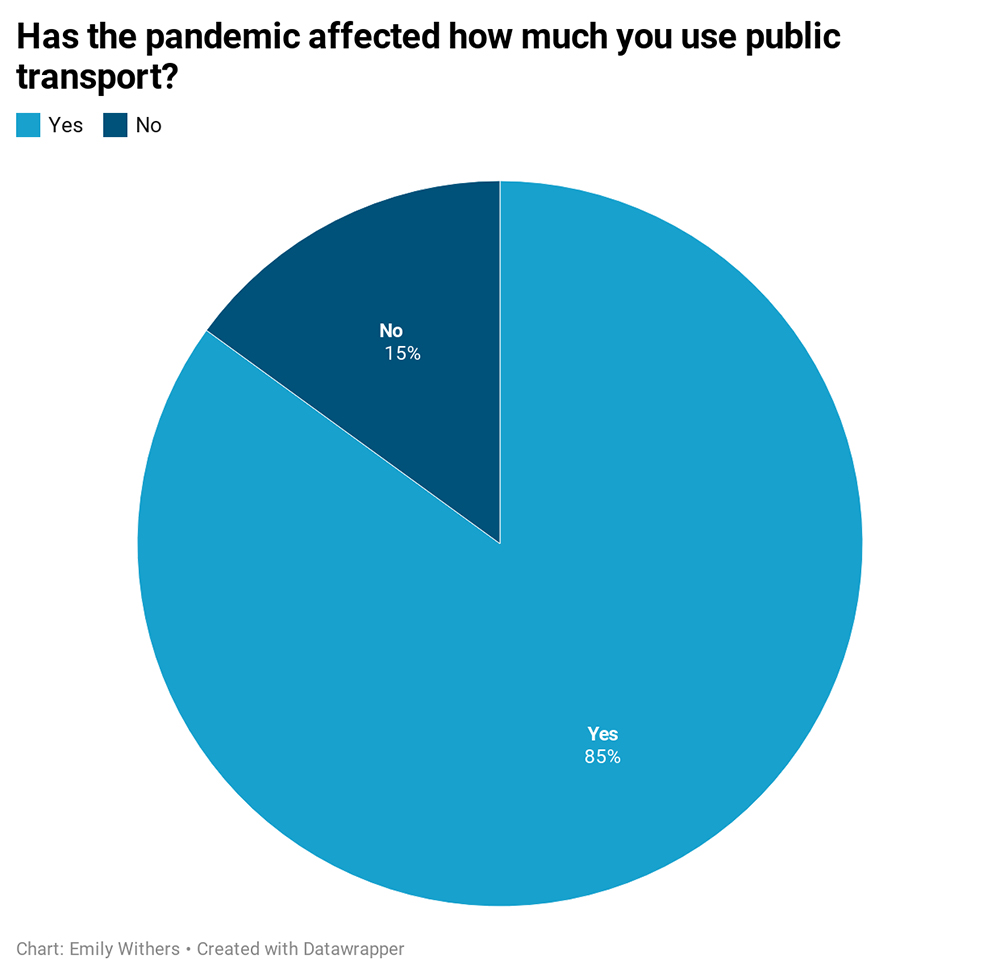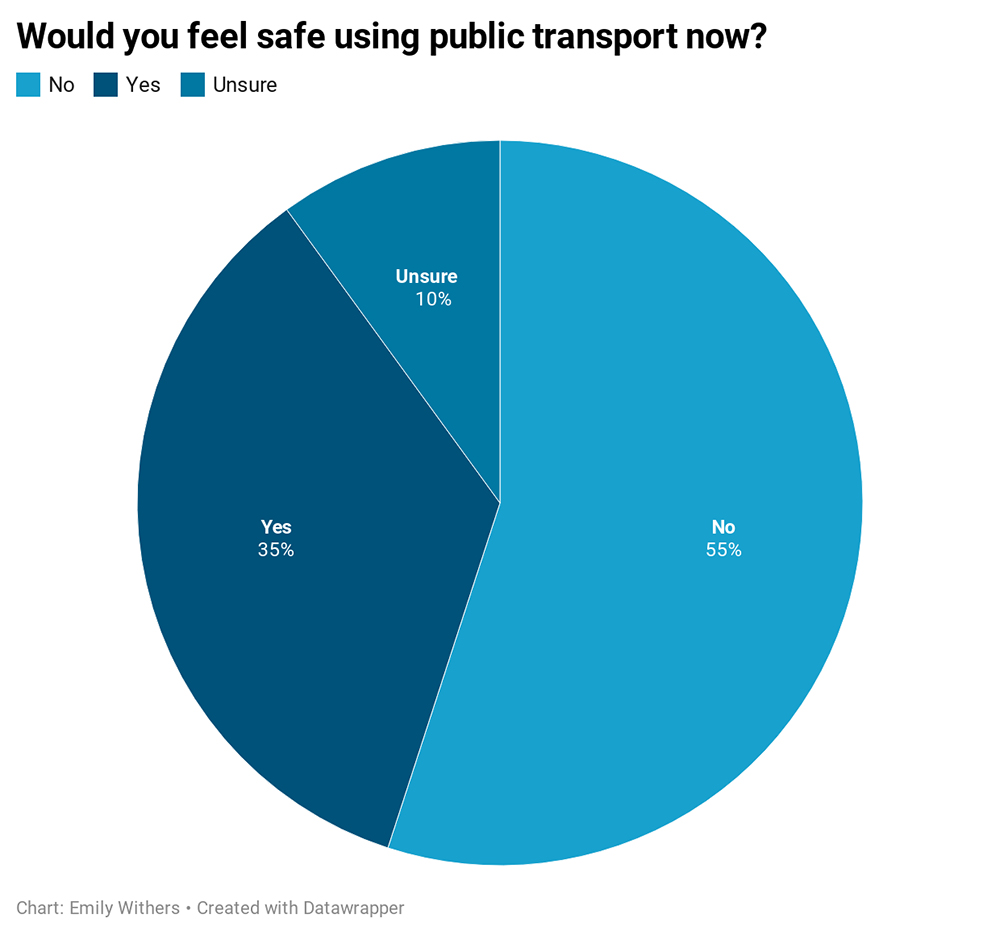 UK studies on how air pollution affects Coronavirus patients are so far inconclusive, but one US study found that a 3.4 ug/m3 increase in PM2.5 was associated with 10.8% increase in Covid-19 mortality.
Moving forward
Though air pollution levels across Wales have reduced due to the pandemic, not all areas of Wales are under the WHO safe threshold for fine particulate matter.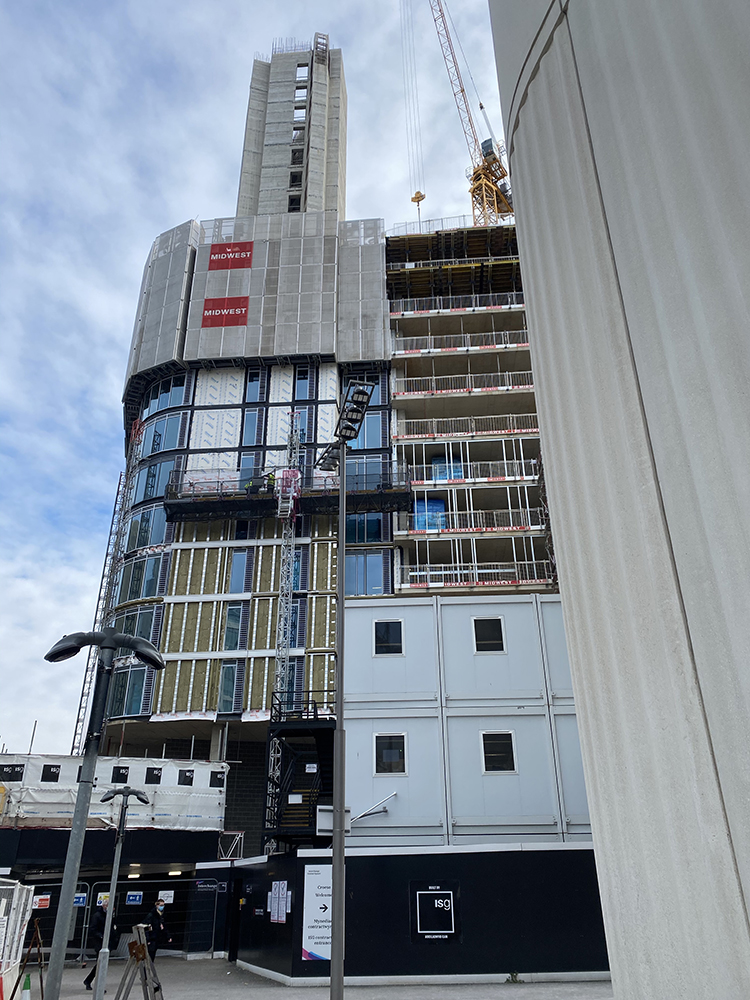 The Minister for Environment, Energy and Rural Affairs, Lesley Griffiths said: "Improving air quality across Wales is a Welsh Government priority. I am grateful to Cardiff Council for all of the work they have undertaken during this process and their clear commitment and dedication to delivering a solution to support air quality benefits for the city."
In Cardiff, the implementation of electric vehicle charging points, car free zones and 20mph speed limits will help to reduce levels for air pollution.
The council's transport white paper includes detailed plans to make the city greener by investing in cycle lanes, public transport and active travel. It is hoped that the fully integrated cycle network will be in place by 2026.
Ms Mansfield said: "Although the COVID-19 pandemic has resulted in an improvement of the air quality due to the reduction of movement of people in and out of Wales, we must ensure a safe air quality for the citizens of Wales and to future generations to reduce the burden of PM2.5 in society and associated diseases.
"Making the roads around the city centre car-free or introducing congestion charges could pave the way in reducing PM2.5 concentrations in Cardiff."
For more environmental stories, see below: