Investigation into claims that Propel leader Neil McEvoy had been handing out political leaflets in Cardiff
SENEDD member Neil McEvoy has been spoken to by police due to an alleged breach of Welsh lockdown regulations.
South Wales Police questioned Mr McEvoy at his home on Sunday evening (Feb 14) after receiving a complaint that he was seen delivering political leaflets to his constituents in Pentrebane and Caerau.
"I feel absolutely sickened to be living in a country where the police think it's acceptable to go and knock politicians out of bed for, shock horror, giving out leaflets to constituents," said Mr McEvoy in a Facebook video he posted.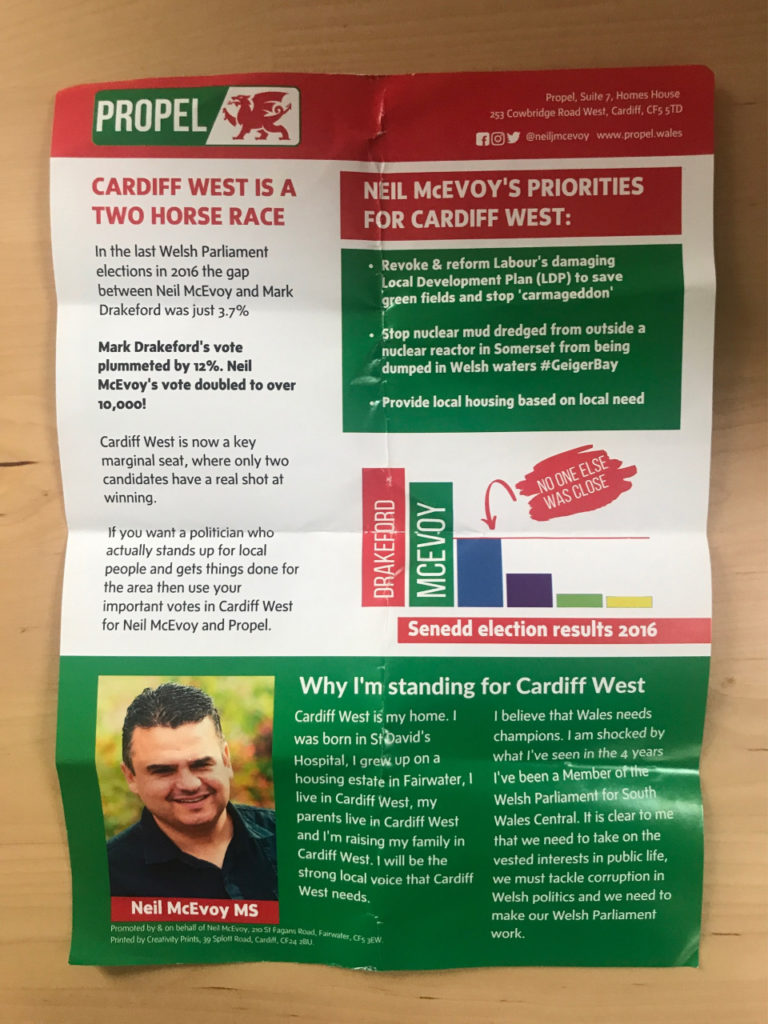 "Police told me that I had broken the law, apparently. I don't think I did because I actually voted on the law and nowhere in the legislation does it say that you're not allowed to give out political leaflets."
Mr McEvoy, who represents South Wales Central at the parliament and Fairwater on Cardiff Council, is partly correct – the legislation does not strictly prohibit leafleting in general.
However, candidates in the May 6 election were told by the Welsh Government that current lockdown rules prohibit traditional door-to-door campaigning. This includes distributing campaign leaflets.
A police spokesperson said: "We received a complaint from a member of the public regarding the door-to-door delivery of election leaflets in the Cardiff area at the weekend.
"As a result of this complaint, an officer attended an address in the Cardiff area and spoke to a 50-year-old man in relation to the matter. Following the identification of a potential offence, the man was reported for consideration of prosecution under the Health Protection (Coronavirus Restrictions) (No 5) (Wales) Regulations 2020.
"Welsh Government has published clear guidance which states that delivering election leaflets is not a reasonable excuse to leave home under Alert Level 4 restrictions.
"Throughout the pandemic the vast majority of the public have done the right thing by following the regulations to stay at home, protect the NHS and save lives. Our policing response has been consistent in explaining the rules, encouraging compliance and taking enforcement action when there are repeated or blatant breaches."
A Welsh Government spokesperson explained the background to the advice given to police regarding the distribution of election leaflets.
"Wales is currently at alert level 4, and the general rules are that people must stay at home, except for very limited purposes. This means people must not visit other households or meet other people they do not live with," they said.
"People can leave home if they have a reasonable excuse. This means leaving home only for a purpose that is reasonably necessary, and where there is no reasonably practicable alternative.
"In the current circumstances, distributing election leaflets door-to-door is not a reasonable excuse to leave home. Leaflets can of course be distributed safely by post, as mail delivery services continue to operate during the pandemic.
"Political parties, candidates and other campaigners are encouraged to consider the full range of means available to them, including social media, to provide information about the election to the electorate."
Following the visit from police Mr McEvoy said he had refused to accept a caution for an alleged breach of Covid regulations.
The case has been referred to one of South Wales Police's Joint Enforcement Teams, which have been set up between the police and local authorities to enforce Covid regulations.
They will now decide whether or not a breach has occurred and if it has, a Fixed Penalty Notice would be issued.
Mr McEvoy was campaigning on behalf of his political party, Propel, for whom he'll be standing in the upcoming Senedd election on May 6.
Speaking to The Cardiffian after police came to his home Mr McEvoy said: "I voted on the legislation and I don't recognise what they were talking about. It's abusing the system. Tonight, was an attempt at intimidation. Pure and simple."
Mr McEvoy claims he's not the only politician delivering campaign leaflets and is set to make a "formal complaint" to police about the matter.
"If I'm not allowed to deliver leaflets as part of my job, what I'm paid to do – to communicate with members of the public – then clearly people giving out paid leaflets is an offence as well," he added.
According to Mr McEvoy, Welsh Labour has also delivered campaign leaflets across Cardiff West but that has been strenuously denied.
"No. None whatsoever," said Welsh Labour Head of Communications, Luke Young. "I'm not aware that any leaflets with Mark Drakeford's name have gone out.
"Neil McEvoy been pushing this idea for the last few weeks that Welsh Labour has been out leafleting, in contravention of the rules, which is completely false.
"We've been quite clear with party members that there's no door to door knocking or leafleting, there's no street stalls. We follow the letter of the law and the spirit as well."
This isn't the first time Mr McEvoy has been in hot water due to campaign leaflets.
A report from the Senedd standards commissioner that was leaked to the BBC in January alleged that he had "caused or permitted" the printing of thousands of election leaflets in his office.
However, Mr McEvoy denied any breaches, labelling the investigation a "witch-hunt".
Mr McEvoy told The Cardiffian last night: "The report alleged I did the printing. I reject that."