The Cardiffian assesses the numbers behind the Bluebirds' recent form and their remaining fixtures
---
MICK McCarthy had been in the Cardiff City job for barely a fortnight when he was asked whether he thought the club were in a relegation battle.
The veteran boss batted the question away, but it was a fair one. McCarthy had drawn his first two games in charge and the Bluebirds were 16th, four points above the bottom three.
Since then however, Cardiff have gone on a five-game winning run and now find themselves in seventh, just three points behind the top six.
Suddenly, finishing in the playoff positions is a real possibility. The Cardiffian has crunched the numbers to see what the club's chances are of completing what seemed like mission impossible.
Recent form
How has Cardiff's season been so quickly transformed?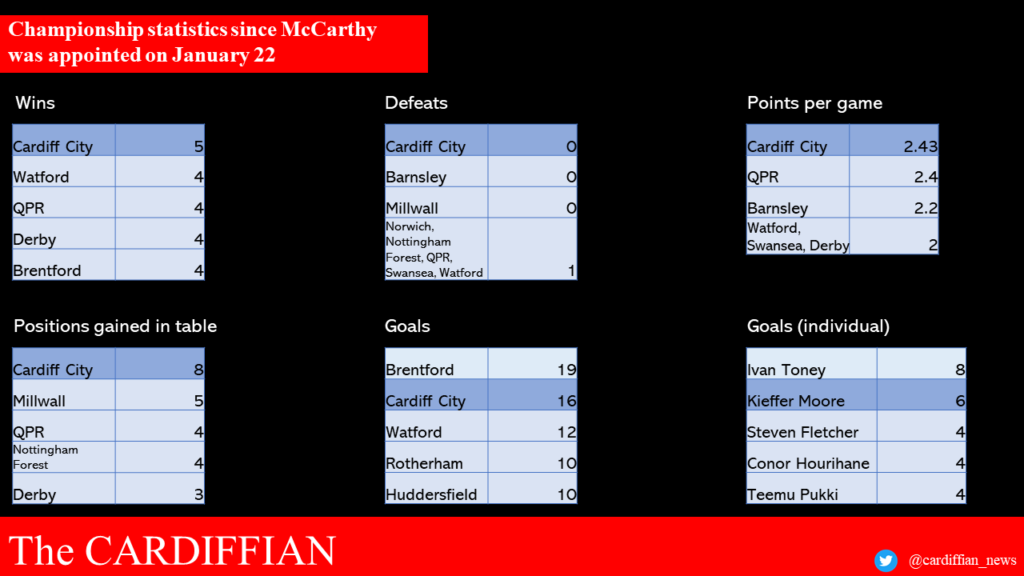 Since McCarthy was appointed on January 22, the Bluebirds have been the best side in the Championship.
No team has won more points, registered more wins, suffered fewer defeats or climbed the most places in the table. Only Brentford have scored more goals, and that statistic is swayed by the Bees' 7-2 win over Wycombe Wanderers.
A driving force behind Cardiff's revival has been Kieffer Moore, who has netted six goals in McCarthy's seven games. Only Brentford's Ivan Toney has netted more in that time.
In his first 20 games of the campaign, Moore scored eight times, so it's fair to say the Welsh international has loved playing under McCarthy, who he was also managed by at Ipswich Town.
Points needed to finish in the top six
So, are the playoffs an achievable aim?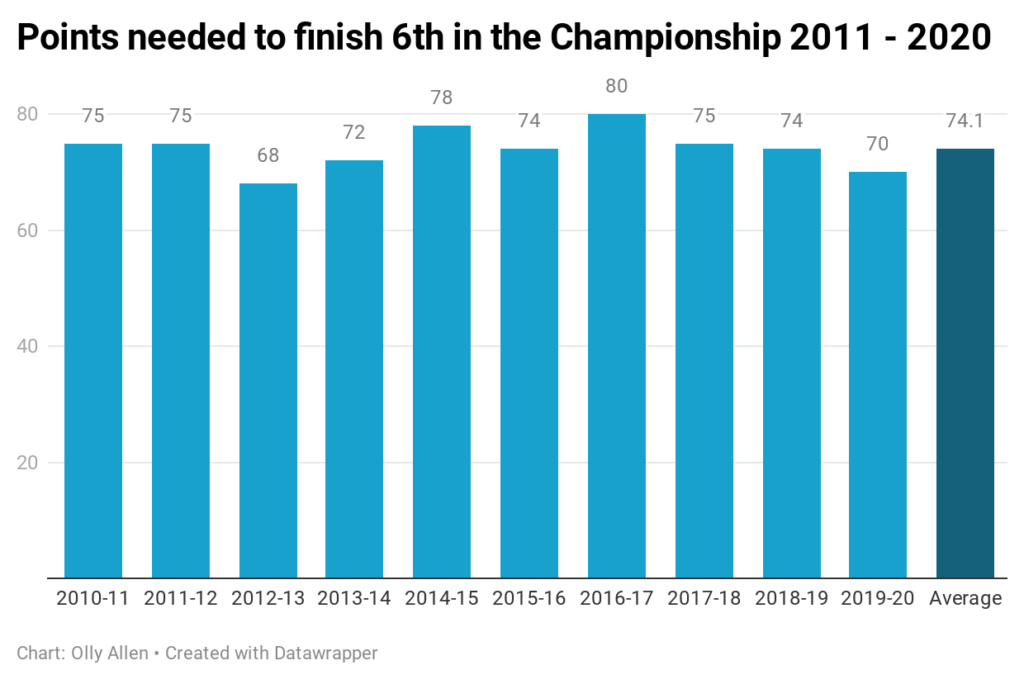 The last 10 years show that teams have needed anywhere between 68 and 80 points to finish in sixth position in the Championship. The average points needed to end the campaign in that final playoff spot over the last decade is 74.
The Bluebirds are currently on 46 points, meaning they would need 28 points from their final 15 games to reach that average. That calculates to 1.87 points per game.
That is an increase on their points per game rate across the season so far of 1.48, but they have averaged a superb 2.43 points per game under McCarthy. That would seem a difficult standard to maintain for the rest of the campaign, but even if they drop off slightly they will certainly be in contention.
Comparison to last season
This is where it gets slightly spooky.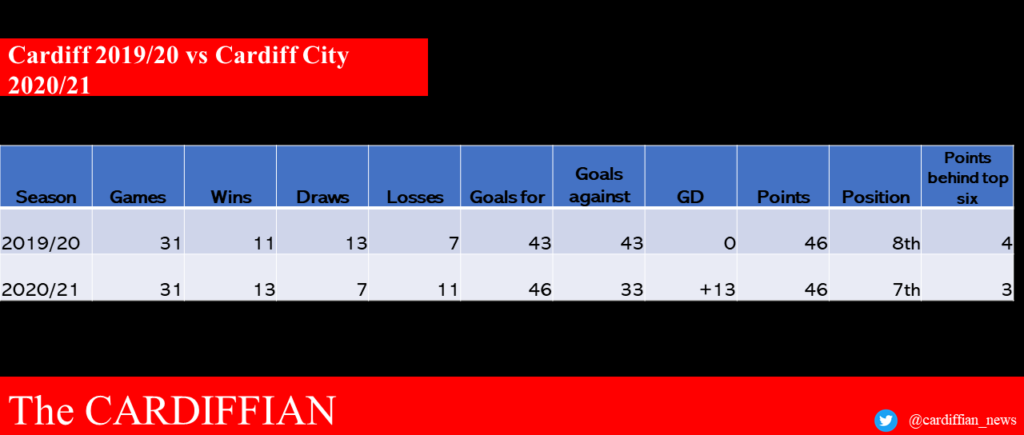 Cardiff actually have the exact same number of points after 31 games this season as they did at this stage last season – 46.
It could even be said that they are better off than a year ago, as they have won more games, scored more goals, conceded fewer and are closer to the top six in both points and position.
Under Neil Harris in 2019/20, Cardiff won eight of their final 15 games of the campaign, picking up 27 points to end up in fifth place with 73 points.
The run-in
So what about Cardiff's final 15 games of this season?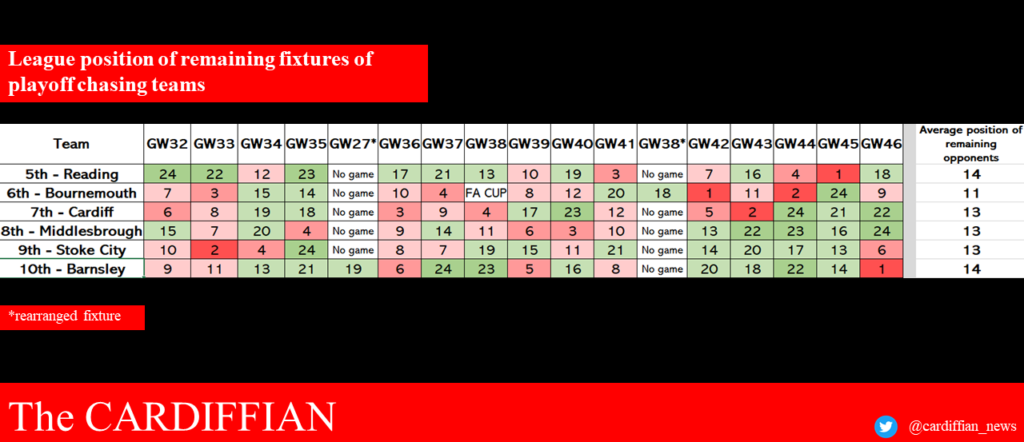 Considering that the current top four – Norwich City, Brentford, Watford and Swansea City – look fairly assured of their places in at least the playoff zone and that teams from Millwall in 11th downwards seem too far behind and too inconsistent to mount a serious challenge, we have compared Cardiff's remaining fixtures with the five other teams battling it out for the final two playoff spots.
The Bluebirds' run-in is neither favourable or unfavourable compared to the other teams – they still have five of the current top six left to play (the most of any of the sides) but they also will be facing all of the current bottom four.
Their final three games look advantageous – Wycombe Wanderers (24th), Birmingham City (21st) and Rotherham United (22nd). Middlesbrough are the only other side not to be facing a current top six team in those final three games.
That said, facing a side battling relegation at the end of the season may not be as straightforward a task as it seems, as those clubs will be more desperate for the points than ever.
In many ways, facing mid-table sides as the season draws to a close could be considered a better scenario as they have nothing to play for and, to use an old cliché, will be 'on the beach'.
It could be Cardiff's next two games that really decide if they are playoff material or not, as they travel to Bournemouth (6th) on Wednesday night and then Middlesbrough (8th) on Saturday.
On paper, the Cherries have the hardest run-in of the playoff chasing teams and seem the most likely side to drop out of the current six, so a win for the Bluebirds tomorrow would be hugely significant.
Meanwhile, Middlesbrough, managed by former Cardiff boss and serial promotion winner Neil Warnock, have already taken nine points off the current top six this season and made a statement of intent with a win away at Reading at the weekend.
Cardiff on the other hand have only taken four points off the current top six.
The Verdict
The fact that there is even a suggestion that Cardiff could qualify for the playoffs given where they were a month ago is testament to the work that Mick McCarthy has done in his short time at the club. But he will not want to stop here.
The 62-year-old has won promotion to the Premier twice before and the Bluebirds board are desperate to get back to the top-flight.
McCarthy is yet to face a truly stern test – he has encountered no team higher than Bristol City who were ninth at the time but in the middle of a horrendous run of form.
This means that the challenges are only getting tougher, and the next week will be crucial in determining quite how good Cardiff are.
But if he and his rejuvenated squad can stand up to the test, this season might have an unlikely ending after all. If this is mission impossible, then McCarthy is Tom Cruise.
---
All data gathered from WhoScored, BBC Sport and Wikipedia.