The business will help fund grassroots triathlon, tree planting and ocean clean-up
FOR most people, the last thing on their mind during a pandemic would be launching a new business from scratch.
But one group of Cardiff University students has done just that.
Created during lockdown, Copa is a sustainable, ethical business selling products ranging from artwork to hoodies.
The idea for Copa began with PhD student and GB triathlete Alistair Souch. Now run by a team of eight members of Cardiff University Triathlon Club, the business is driven by their love for triathlon and the great outdoors.
The students are committed to making Copa a community-minded and environmentally friendly business; 25% of the profits are invested in grassroots triathlon and environmental charities.
"We've been fortunate enough to have experience in triathlon and have access to a good set-up in terms of a club, access to swimming pools, that sort of thing," said Mr Souch, "but we realised that so many people don't even have the opportunity to start.
"We thought if you could do something about that, try and make it more accessible at the beginning, then hopefully it would become a more inclusive sport, a more diverse sport".
The multi-discipline nature of triathlon – swimming, cycling and running – means it can seem like an overwhelming prospect, even if you are just trying to work out what kit you need.
"Brands always try and sell you the next model up," said Mr Souch.
Ellie Millington, a geography student, added: "I also think there's a misconception within the sport that you have to have all this gear, a nice bike and nice kit, when it's just not the case.
"I think if we can show people that you can do it with whatever you've got then it will make it much more accessible".
Supporting grassroots triathlon
Setting up a business during a pandemic has not been without its challenges – the group have not been able to sit down in the same room since they started Copa.
But it has also highlighted the need for businesses such as Copa to adress inequalities in the UK regarding access to outdoor spaces, knowledge of sports and financial constraints.
"This pandemic is probably going to further show the disparity between those that can and can't afford and those that do and don't have," said Mr Souch.
To help improve access to triathlon, the Copa team are investing 15% of their profits in grassroots groups and activities.
"The idea is that it's going to be used to reach out to specific communities and groups that want to start getting involved in triathlon," said Souch.
The group are hoping to fund beginner-focused events, as well as helping individuals go through leadership and coaching courses so that they can continue to grow triathlon communities independently.
""During the pandemic, people have reached out to try new things," said Millington, "so it's a good time to reach out to people and say 'this is also on offer and we want to help you get involved'".
Sustainable and ethical products
As well as investing in the sport they love, the group behind Copa are keen to ensure their business is sustainable and environmentally friendly.
Roughly 5% of their profits are donated to the World Land Trust, which works to combat deforestation, and a further 5% goes to the Ocean CleanUp.
"We wanted to make sure we were being as socially and environmentally conscious as we could," said Souch, "that was a real driving force behind what we wanted to set up".
All the clothes and accessories produced by Copa are sustainable from start to finish. Made from organic cotton and powered by renewable energy, once the items are worn out they are returned to Copa to be remade into new items – a 'circular' economy.
Exploring from your front door
While the pandemic may have curtailed access to gyms and pools, the team are optimistic that people have become more willing to explore and protect the world on their doorstep.
"I think lockdown has placed a much bigger focus on the locality that you live in," said Jess Simpson, an architect student who has spent much of lockdown exploring Cardiff by bike.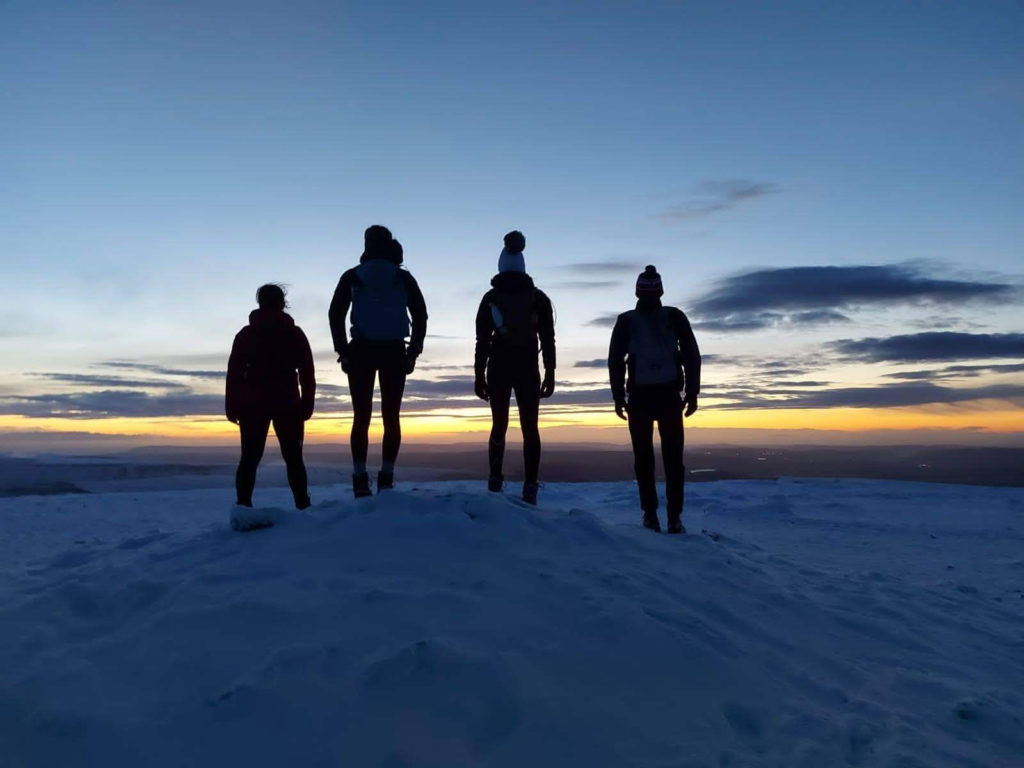 As the days get longer and Covid restrictions begin to ease, the Copa team are hoping to help people get active in an environmentally conscious way.
"Just getting out and about from your front door is great and you can make it a real adventure," said Souch.
"The number one tip to anyone going out and exploring is leave everywhere as you find it and bring everything you take back with you".
You can find out more about Copa here.