When will we be able to have our nails, lashes and make-up done?
THOSE of us who love a blow-dry, manicure or full glam have had to go without for most of the past year as the beauty industry remains closed due to the pandemic. 
Beauty salons are expected to open on April 12 if cases continue to stay low, according to the Welsh Government.
The re-opening of the beauty sector is anticipated by many. Self-care treatments are part of many people's routine and customers often have close relationships with their beauty therapists.
Krisztina Potari, owner of Style Hair and Beauty on Crwys Road, is very much looking forward to being reunited with her regular customers.
"When you've had clients for years and years, they become friends. I have followed their life, from university to boyfriends to having a baby," she said.
Krisztina is waiting until April 2, when Mark Drakeford will confirm the date beauty salons can open, before taking bookings.
During lockdown Krisztina has kept busy by researching new beauty trends and learning new treatments such as LVL, a natural looking lash lift that curls the eyelashes.
Krisztina, 42, has also been practicing treatments she would typically do in the salon, on her husband.
"I didn't want to lose my confidence, so I was always practisng, even on my husband," she said. 
Lockdown and the past year has been difficult for Krisztina and her team at Style. The lack of events and students moving home have all contributed to a significant loss in income.
"We've missed out because we usually get students in for their nails before graduation or summer events, it is usually a very busy time.
"Last minute cancellations due to customers developing symptoms we're also difficult, we obviously appreciate them not coming in, but it's been hard," said Krisztina.
A report by the National Hair and Beauty Federation (NHBF) found that the average cash loss to a business in 2020 was £17,000.
Additionally, social distancing has meant that salon capacity is 70% less than what it was before the pandemic began.
Staff at Lazarou hair salon thought it was "interesting" that the beauty sector didn't all open at once.
On March 15 hairdressers in Wales were able to re-open and those with dark roots or numerous split-ends rejoiced.
"The past year has been like a roller coaster. It's definitely had its challenges", said Andreas Lazarou, owner and managing director at Lazarou.
"We appreciate the fact we are busy. We appreciate the team for showing up and doing their best. It's been such a team effort, including the customers," he added.
Bookings for haircuts have been hard to come-by recently as hairdressers' diaries fill-up due to public demand. All stylists at Lazarou are fully booked for the remainder of March and most of April.
With salons shut for months on end, many of us attempted DIY haircuts or a box-dye, often a hair stylist's worst nightmare.
"We received a few pictures of DIY gone wrong, but our clients knew we had stylists on hand to answer any questions," said Denise Supper, social media and marketing at Lazarou.
To show support for keyworkers, the team at Lazarou painted their windows to say, "We heart NHS". This statement is still displayed above their shop on Castle Street.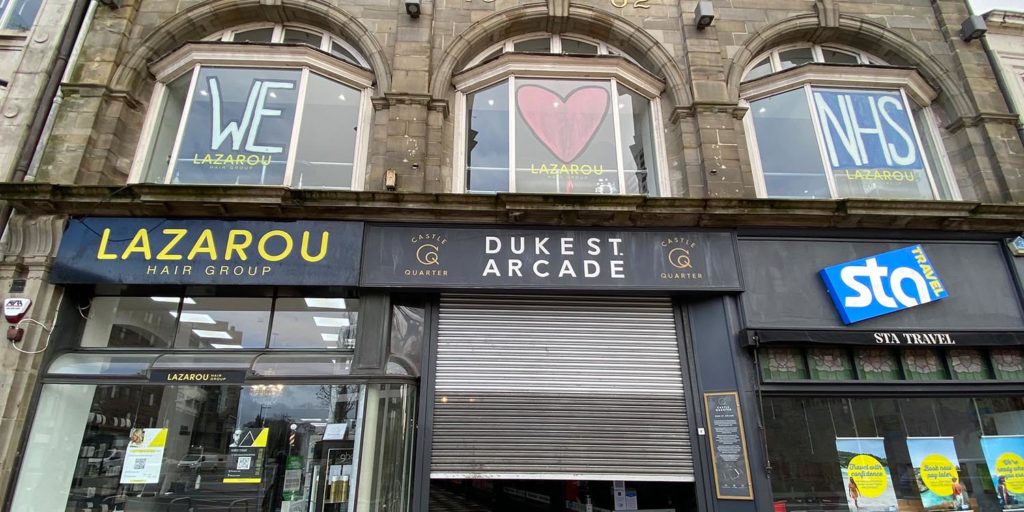 "We wanted to show our support for those working for the NHS. We did this via email and social media but because we have a large unit, we thought we would utilise this too," said Ms Supper.
Emma Louise, a make-up artist who moved from Milton Keynes to Cardiff to enhance her career, has been able to move her work online.
Prior to the pandemic, most of Emma's working week was spent teaching make-up courses. Fortunately, she was able to continue this virtually via Instagram live and zoom.
"I recently just finished an eight-week online makeup course which was every Sunday evening and that really helped me stay connected with my clients, students, and followers throughout all of this," said Emma.
Lockdown provided Emma with an opportunity to build her brand as a make-up artist. During the first lockdown her Instagram followers doubled, and she now has over 14,000 followers.
Emma, 27, also had the opportunity to work with brands such as Kylie Cosmetics, Beauty Bay and more.
On top of her make-up career, like many people in the beauty industry, Emma has had to take-on other part time jobs.
"Since October I've had three different jobs including office jobs, supermarket work and now working from home for track and trace. It's been hard as most of the jobs out there are only temporary due to covid, so I've had to jump between jobs to keep afloat," she said.
Emma, 27, can't wait to get back to work, she said: "It really is my dream job, and it just never feels like work. I'm looking forward to getting my name back out there and meeting new clients and making everyone feel glam again."
"I think the beauty community as a whole, not just in Wales but in the UK, have come together stronger throughout all of this. It's been nice to see local makeup artists, hairdressers, beauticians and nail techs all support each other and build each other up," she added.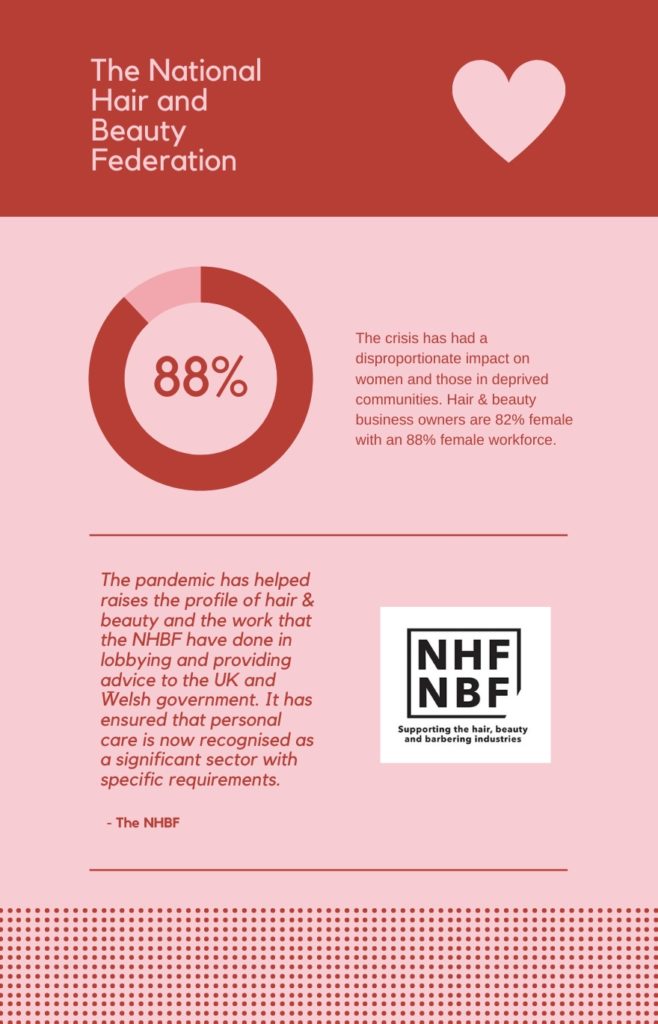 The NHBF is pushing the Welsh Government to offer further support to businesses.
"The crisis has had a disproportionate impact on women and those in deprived communities. Hair and beauty business owners are 82% female with an 88% female workforce.
"There is a higher proportion of personal care businesses than any other sector in the most deprived areas of the UK. The closure of these businesses poses greatest risk to those in the local community who are most likely to be employed in these salons and barbershops."
Those in need of a trim are now able to do so, but our eyebrows, eyelashes and nails will have to wait a bit longer.