Around 150 people marched with flags and signs
BARRY residents marched to the Civic Offices as part of a peaceful protest in support of Palestine, as a response to the latest conflict between Israel and Palestine this year.
The protest began at 6.30pm on Wednesday, May 19 at King Square in Barry, outside the Town Council offices.
Equipped with a megaphone, many gave passionate speeches about the conflict and condemned the actions of Israel. This included the organisers of the event, representatives from Black Lives Matter and anyone who wanted to share their views.
As shown in the video above, the crowd Intermittently chanted "free, free Palestine." And "from the river to the sea, Palestine will be free."
One woman said to the crowd: "Over the last five days there have been bombings, whole families have died, fathers mothers and all their children.
"There's no one who can't make a difference even if it's a post or a hashtag, you can make a difference, your voice will be heard."
The crowd then marched to the Civic Offices. Speeches continued, followed by a moment of silence to honour those who have died during the conflict.
The police were in attendance, but protesters remained peaceful throughout.
The protest was organised by Cardiff Palestine Solidarity Campaign, a group that has organised protests regularly in support of Palestine. More information can be found about them here. https://www.cardiffpalestinecampaign.org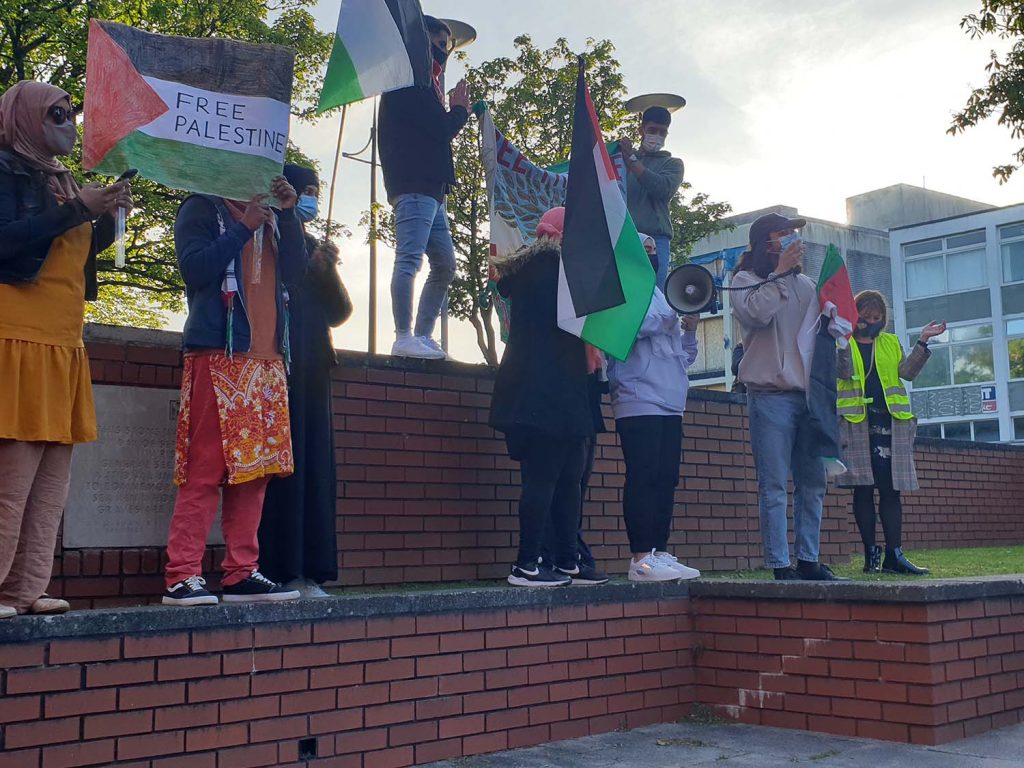 Kamal Ihbasheh, 63, was one of the organisers of the protest and was surprised with the large turnout.
"It was the first time in Barry as a small town we had an event like that, and we had a large number of people interested and it was great.
"It was only organised a couple of days before the event and I was expecting 20 or 30 people because Barry is a small town, but I was really surprised that we had over 100 so it was very good." he said.
Mr Ihbasheh is originally from Palestine.
"Although I've been here in the UK for 44 years, it is still my home, where you are born it's another part of you." he said.
"It's about the freedom of people, to live in dignity and respect, to see children having wonderful lives, not to see children being killed in wars.
"We support people to live in peace, we are against shootings and killings and violence. It doesn't matter which side it is, I condemn killings and shootings."
The Israel and Palestine conflict
The conflict between Israel and Palestine began in 1948 when 700,000 Palestinians were expelled or fled their homes after the creation of Israel. The refugees and their descendants haven't been able to return since.
In 1967 the occupation began, and Israel captured the whole of Jerusalem, the West Bank and Gaza and millions of Palestinians have had to live under military control as a result.
The conflict at the moment is at one of its most intense stages in recent years, with rioting on the streets and attacks from extremists on both sides of the conflict.
This graphic shows how the situation has escalated this year: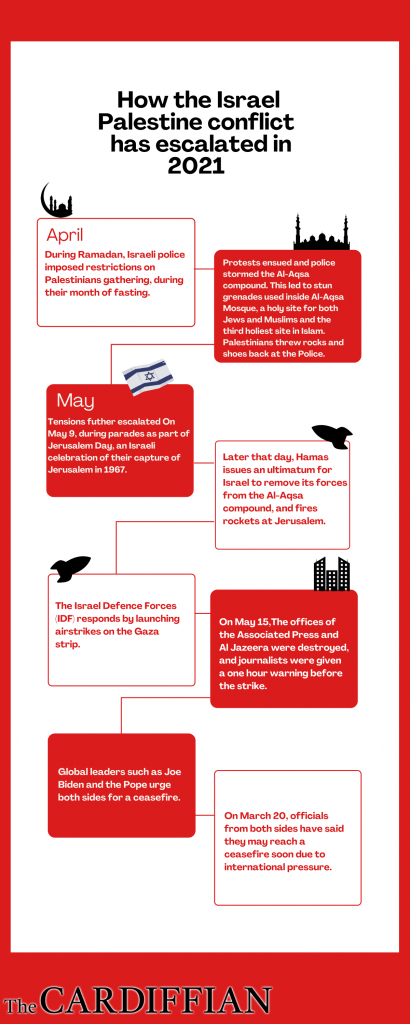 In the first week of fighting more than 200 Palestinians, including 59 children, were killed. 10 in Israel have been killed, including two children.
Even if they reach a ceasefire the conflict has escalated to another destructive stage in a fight that has lasted decades.
The next protest organised by the Cardiff Palestine Solidarity Campaign will be Saturday May 22 in front of the BBC Wales studios in Cardiff. Details can be found on their Facebook page: https://www.facebook.com/cardiffpsc