How breweries in Cardiff, Bridgend and Trefforest survived lockdown
Neil Randle made "brewed for pleasure" the slogan of his brewery. But he's not feeling so free and easy now.
His business degree helped him become a founding member of recruitment specialists CPS Group. But it didn't prepare him for selling beer during a global pandemic. Wales' winter lockdown was tough.
"Over this last year we've just re-adapted and re-adapted. I'm talking total diversification here. We just rolled up our sleeves, got on with it and sold as much as we could direct to consumer."
The 47-year-old's business is still reeling after cafes, bars and restaurants called to cancel their orders in the run up to Christmas.
"Breweries, in October and November, we make all of the beer based on pre-orders. Anyone outside the industry wouldn't have even thought about it."
Pubs and restaurants in Cardiff reopened indoors for the first time this year on 17th May. But for Welsh breweries, the turnaround does little to make up for the sharp losses seen over the last year.
Like many craft brewers, finding creative ways to diversify in the new normal has become a way of life for Neil.
He first set up his company, Bang-On Brewery, in Bridgend back in 2016. Now, he says he's had to adapt to get by, running deliveries via DHL as far afield as Warwickshire, Manchester and Kent.
As well as support from local customers, craft brewers in South Wales are also working with other small businesses. For example, Neil has built a print shop in his brewery and turned to local artists to create the labels for a new beer, Bohemian Pilsner.
"The whole point is that people see the label and they go, "Oh I like that artwork. I wonder who the artist is". But they're credited on the beer label and people can contact them directly. So we're hopefully supporting people in the arts."
"Some people have a romantic notion that brewing is really cool. The reality is that it's bloody hard work. The last year has tested people's resolve."
And he isn't the only one.
In Cardiff, father and son team Duncan and Sam Higgitt have watched their keg sales fall to nothing after the December lockdown.
"We took the view that we would be a bit like the Jurassic rats that stayed up the trees when the meteor struck. But realised that we were in the fight of our lives."
Rival Brewing on Theobald Road produces about 4,000 to 5,000 litres a month. But they paired back their outgoings and pushed distribution out as far as Bridgend, delivering door to door in their van.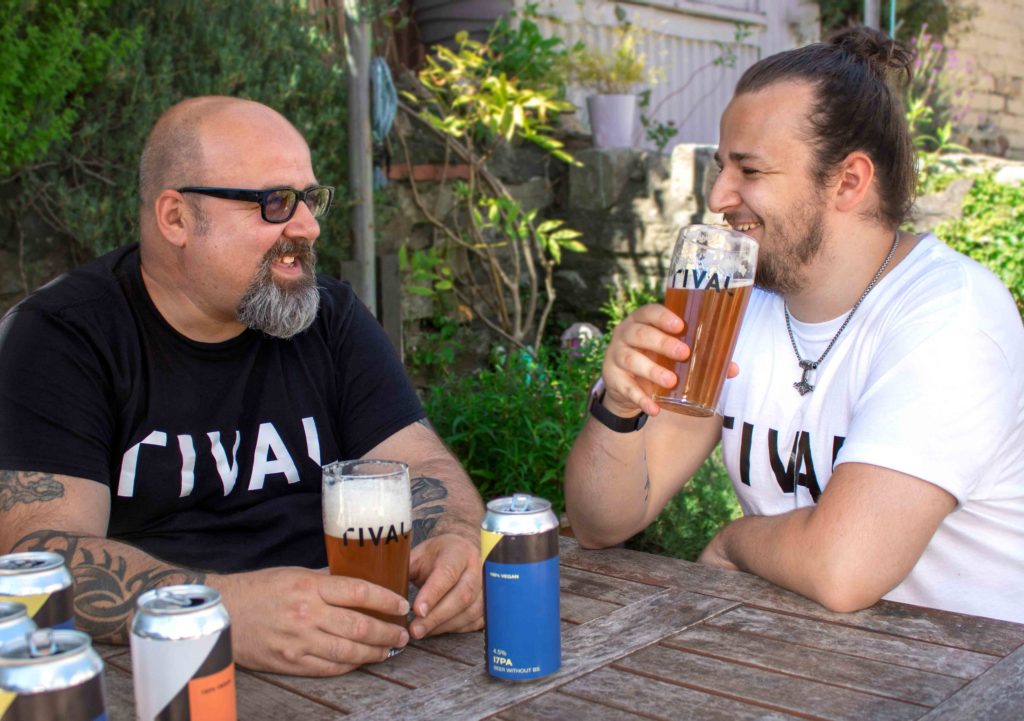 Reflecting on the reopening of pub gardens, Duncan admitted that the scale of demand had been greater than they anticipated.
"It was really nice to get back to delivering kegs again. You could feel a spring unwind inside you, you know, sort of uncoil as it felt a little bit like normality."
"I don't know that we're out of the woods yet, because these things can end in recession. Our plan at the moment is to keep things as tight as we can. No major expansions and basically rebuild our customer base."
Another survivor was Phil Thomas, whose brewery Bragdy Twt Lol, in Trefforest, was hit by floods only a month before the first lockdown. His sales to pubs are only now beginning to improve.
For months Phil, 38, has poured his energy into the craft brewery shop that has kept his business afloat. Many of the beers are produced by other Welsh breweries that have been unable to operate, but Mr Thomas is pleased to be supporting businesses which once supported him.
With two young children, late nights and early mornings, Phil acknowledges it's been tough. But he says talking to publicans again, "seeing the people and the faces that I know so well for the last six years", has been nice.
So were there any success stories? Yes, according to Andrew Traynor, one of Wales' younger craft brewers.
For Flowerhorn Brewery on Western Avenue in Cardiff, lockdown has done little to halt a steady rise.
"This month is our busiest month ever since we began in 2019," said Andrew.
"We've had a massive influx of orders on top of all our home deliveries."
Flowerhorn, another two-man team, has attracted some new customers, having spent the whole of lockdown growing their brand online. However, Andrew believes that the popularity of the brewery lies in a growing interest in local business.
"Behaviours have changed. Support local, eat local. It looks like pubs are starting to pop up and notice that. I've got five kegs in the car to deliver to the Corporation pub. Mostly it's local Cardiff pubs."
Their bestseller is called Yawn, a tropical pale ale.
So what are the barriers? A question I put to the determined crafts brewers and innovators.
They all came up with the same answers: drinking habits and commercial competition.
"I think the main worry is that people's drinking habits might have changed," said Andrew. "More people choosing to consume their drinks at home than pre-lockdown."
What's more, despite the easing of restrictions, many predict a cautious return to pubs and restaurants with the focus on health and safety.
"If you look at the industry that we're in, people have had to do what they've got to do to survive," said Neil.
"But they've had to do it within the parameters of keeping health and safety at the forefront of their mind. Pubs are opening up but they've got to be very careful how they do it, and they can't be that busy.
"I don't think it's going to go back to normal. I speak to lots of people that are quite happy to stay at home."
What is the state of the pandemic in Wales?
Wales' case rate is now at 15 per 100,000 people. The figure is the highest since April 16, although still below the other UK nations.
13 cases were reported in Cardiff, 12 in Conwy county and nine in Swansea.
Covid Cases
Vaccinations
11,385 more people in Wales have had a first vaccine, bringing the total to 2,213,050.
A further 41,531 people have received their second vaccine, with the total now standing at 1,378,010.