A new strategy to get 70% of waste recycled by 2025 will be presented to the council on December 16
THE recycling rate in Cardiff dropped to a six-year low in 2021 with only 56% of waste in the city recycled.
The city's recycling rate has declined by 3% since 2018 and we now recycle 15% less waste than the neighbouring Vale of Glamorgan – which has increased by 6% in the same period.
On December 16, a new waste strategy will be presented to the Cardiff Council Cabinet to get Cardiff recycling rates up to 70% by 2025.
A Cardiff Council spokesperson said: "Despite these figures, Cardiff continues to be the best performing major city for recycling in the UK.
"We know that we have more work to do to increase the city's recycling rate up to 70% by 2024/25, so this is why a new waste strategy for the city will be presented to the council's cabinet at its meeting on December 16."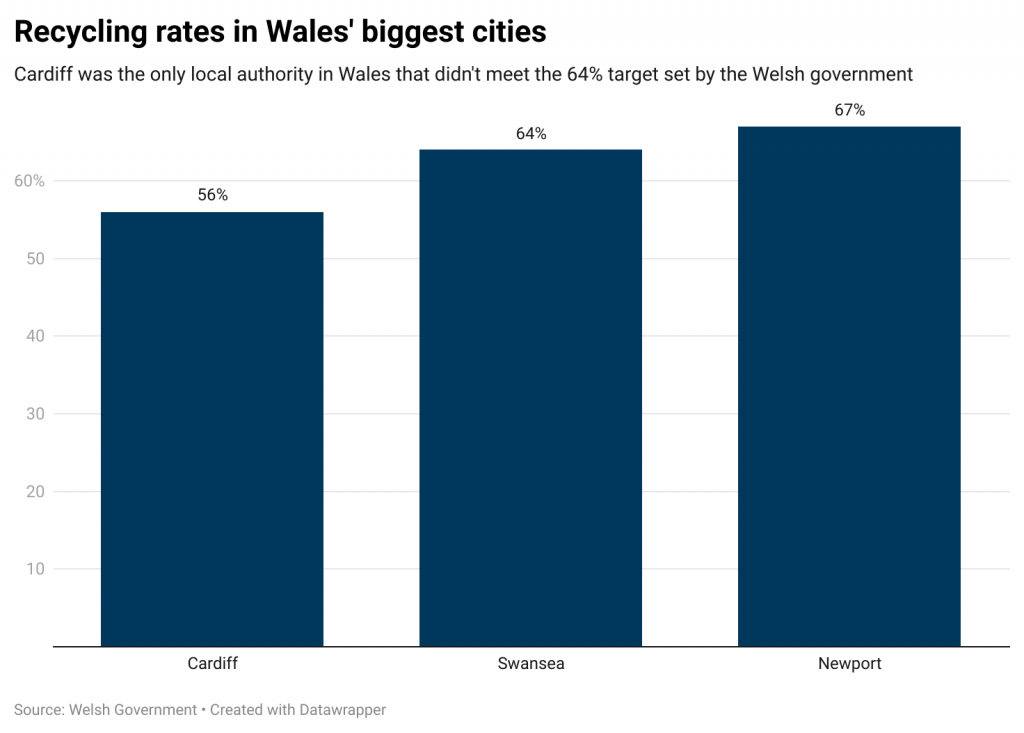 The council has also announced that a multi-stream recycling service – where residents will sort paper, plastic and glass separately – will be trialed for six months in Llandaff, Radyr, Pentwyn, and Trowbridge from January 2022.
If successful, the scheme could be rolled out across Cardiff.
A multi-stream recycling service is already in place across the Vale of Glamorgan and was extended to Penarth, Dinas Powys, and Sully in 2021.
Seventy-thousand tonnes of waste were not recycled in Cardiff between April 2020 and March 2021, compared to nearly 17,000 tonnes in the Vale of Glamorgan.
When population sizes are adjusted, Cardiff only produced 8,000 more tonnes in un-recycled waste in 2021 compared to the Vale.
Cardiff's population was 369,202 while 135,295 people live in the Vale of Glamorgan, according to 2020 Welsh government estimates.
The Welsh government has set targets for all councils to recycle 70% of waste by 2025. In 2020-21, recycling reached another high with 65.4% of waste recycled across Wales.
This is also the second year in a row that the statutory recycling target of 64% was reached nationally.
For every tonne of waste that is missed from the 64% target, Cardiff Council receives a £200 fine. It is the only local authority in Wales not to meet this target.
In 2021, £9m was saved and 36,000 tonnes of carbon dioxide were avoided in Cardiff through recycling. In the Vale, this was £5m and 18,000 tonnes respectively.
The council says that the drop in recycling rates is linked to the first lockdown. The Bessemer Close and Lamby Way recycling centres closed and since reopening in May 2020, both sites use an appointment system.
Curbside recycling was also incinerated during the first lockdown over coronavirus transmission concerns. This meant little or no waste was recycled during this period.
A Cardiff Council spokesperson said: "As Wales went into its first lockdown, all waste was collected together and taken to an energy recovery plant, rather than being hand sorted for recycling. It meant little or no waste was recycled at this time."
When the processing plant in Rumney reopened in 2020, the city's recycling rate rose to 60.5%. This is significantly higher than 55.8% average for 2020/21 but still below the 64% target.
A Pink Sticker scheme was set up in March 2020 with £100 fines for contaminated food waste and recycling. The scheme is still running, but it now targets areas of Cardiff with high-density housing.