The Bluebirds filled just over 50% of their stadium on average last season
THE average attendance at Cardiff City games is at its lowest in over five years, with just over 50% of the Cardiff City Stadium being filled on matchdays.
Cardiff has an average attendance of 20,164 in the 2017/18 season when they finished second, securing promotion to the Premier League.
This saw the average attendance skyrocket to 31,408 the following season, but that figure has nearly halved since relegation back to the Championship.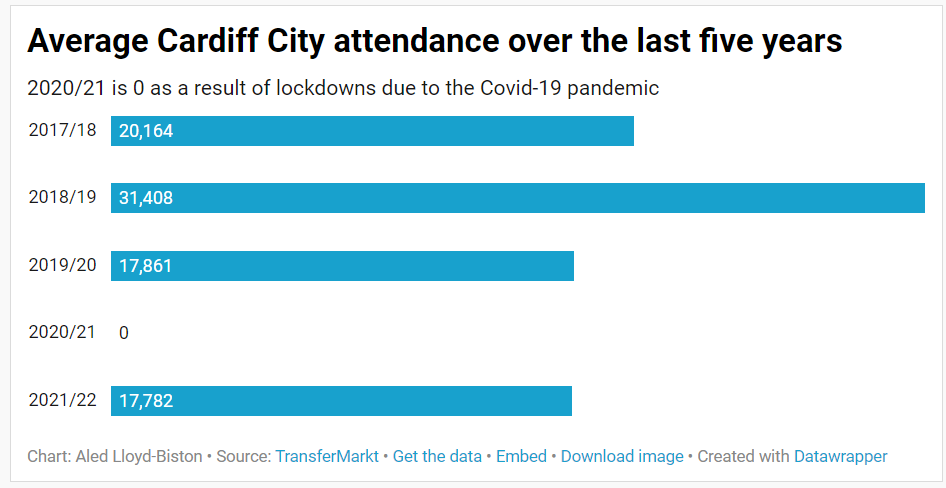 Cardiff's average attendance this year is 17,782, a slight decrease on the 2019/20 season when fans were last allowed to attend matches before lockdowns meant empty stadiums.
When compared to other Championship clubs, Cardiff's attendance is the ninth-best in the league, but their 17,782 attendance fills just over half of their 33,000-seater stadium.
Rhys Gittins moved to Cardiff as a student in 2018. He's supported Cardiff all his life and decided to buy a season ticket for the 2018/19 season.
But, this year Mr Gittins decided not to renew his season ticket for more than one reason.
"If I'm being honest I was just fed up with the way we played. I'll always be a fan, but I felt like I was wasting my money going to watch the same boring football every week.
"The cost is a bit much for me as well. I'm still a student and the thought of paying around £380 for a season ticket to watch us finish in the bottom half was really putting me off."
Cardiff's season ticket prices range from £249 to £479, and with the cost of living rising rapidly, many fans must make a difficult choice.
Mark Tavernier, 37, from Llanishen, has decided not to renew his season ticket for next season because of the increase in living costs.
"It's a tough decision to make but I have to put my family first. Costs will rise again in October and I can't face spending such a large amount of money to watch football.
"I think a lot of fans will be in the same situation. It's heartbreaking because we all want to go and support our team week in week out."
For some fans like Mr Gittins, it's not just the cost, but the standard of football that's putting people off.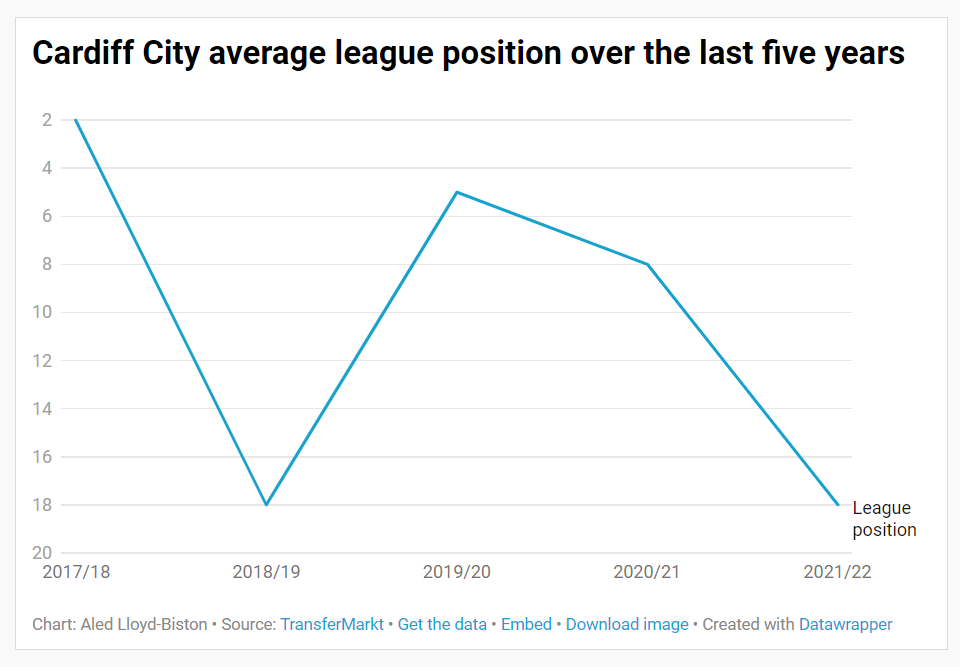 Since relegation from the Premier League in the 2018/19 season, Cardiff have finished 5th, 8th and 18th in the Championship.
This season was their worst league position in the second division since the 1999/00 season, and some fans don't see it getting better.
"There isn't an identity or structure at the club, it seems like everyone is lost and no one knows how to fix it," said Lee Stephens, 57.
"I won't be going back to the Cardiff City Stadium until things are sorted and we actually start playing some good football and are heading in the right direction."
Cardiff now prepare for another season in the Championship. They'll look to turn things around this season and bring back the crowd to the Cardiff City Stadium.