Despite the rise of student teacher applications, their training has been deeply affected by Covid-19 regulations.
The number of student teachers has seen a sharp growth as a reaction to the economic insecurity because of the pandemic, a UCAS report revealed.
In Wales, on June 15 there was a rise of 6.8% of student teachers in comparison to the same period the year before. Applications for secondary school training has reached a 19% increase.
These numbers are encouraging as the shortages of secondary school teachers has been a growing problem for Wales. Although, distanced learning and COVID-19 restrictions are having a considerable affect on the preparation of to-be teachers.
Mariesa Thomas, a student teacher from Swansea, said: "I honestly don't think I am gaining the correct experience I should be getting, which worries me about starting a job in September."
The placement is a vital component of their training. But, as the NFER (National Foundation for Educational Reasearch) report shows, some schools reduced or withdrew placement options.
Matthew Hare, an IT coordinator working in a Swansea secondary school, said that the school has decided not to have any placements this academic year.
"I do feel sorry for these student teachers," said Matthew, " they are missing out on a massive chunk of their learning."
The challenges of digital learning are affecting the opportunity to work itself. Mariesa said: "My placement school is doing brilliantly and the department are doing everything they can, but it's not the same because we are not going to be online forever."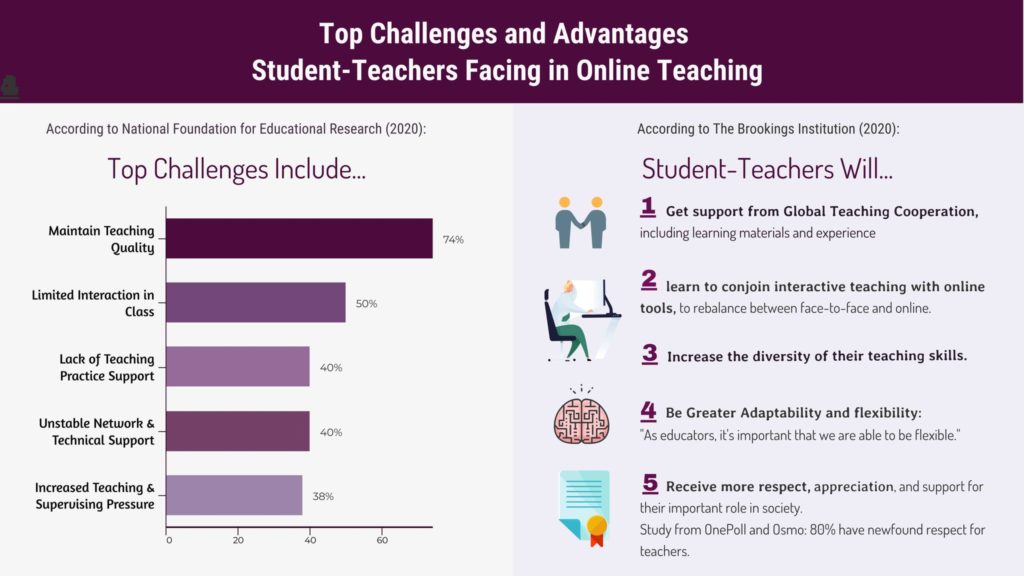 TeachWire reported, that evidence suggests that teaching remotely could result to higher workload and stress level for teachers. Emily Horan, a history trainee in a secondary school in Cardiff, said: "It was a lot of stress going into a new medium I had no experience with before. I had only been on the receiving end of online learning instead of being the person behind it.
"Once you get used to it, the stress kind of lessens and it became a bit easier, a bit more manageable. But to start with, it was terrible."
Distance learning is an unfamiliar approach to established teachers too, the ones that should be guiding trainees.
Anna Matthews, a student History teacher from Swansea said: "Everyone does it different, all the teachers I have observed have done everything in different ways. So, it has been hard for me to find my own unique teaching way online."
With the right tools and preparation, digital learning can also offer some advantages. Flexibility to accommodate students' needs is one of those.
"For online lessons we have a thing called differentiation where we offer a variation of tasks for different student abilities," said Emily, "you just have to keep them motivated and keep them engaged."
Despite this, the hope is to go back soon to traditional in-class lessons. Anna said: "I have gotten used to teaching online now so it's not so much of a shock to me anymore, but I do hope I can have the chance to teach children within the classroom as there are so many more activities that you can only do in the classroom."