A warm gathering at Splott fair for community to celebrate Christmas time in advance.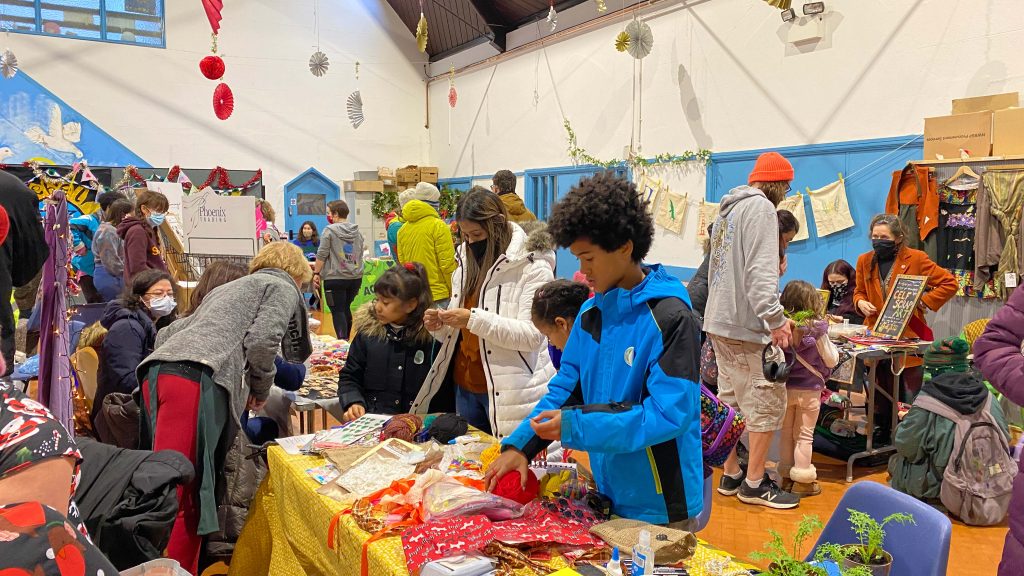 People in the Railway Garden community affected by last year's lockdown didn't have a gathering Christmas celebration. For this year, the community hold a Christmas fair at Splott Road to attract more friends to spend time together.
Stallholders, local markers, volunteers, performers, guests, a total of 354 people came to the Railway Garden building site feeling festive. There were many interesting activities here. People can enjoy the performance and festival food, drop-in play and craft activities, buy unique gifts from local market stalls, know about community organizations and projects, make a donation for Christmas wreaths, rebel cushions, and more.
Hannah Garcia, the project manager of Railway Garden said, "So we wanted to do something for Christmas this year. In that, we're doing this on our Railway Garden building site. "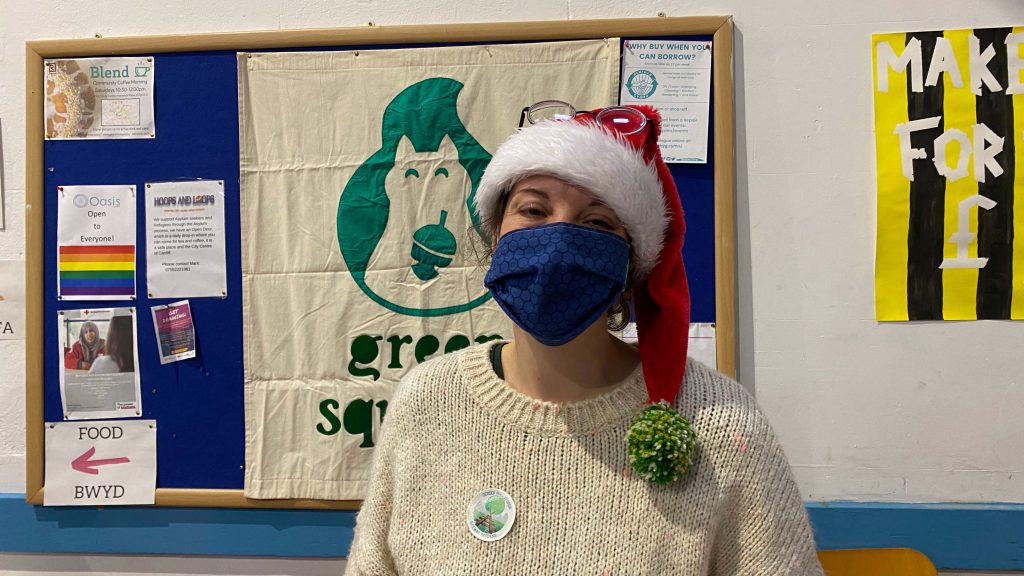 Hannah's main job at Christmas Fair was telling people about the Railway Gardens project so that everyone in this community knew what was going on and how they could get involved. They were also giving away free flower bulbs and seeds so people could grow plants.
Beside her, her colleagues Helen Edwards was making beautiful beeswax candles as a fundraiser to raise money to buy a bee observation beak. "Because of the COVID time, most people are hard and struggling with it. So I really enjoyed this activity like this because it can make people together and chat with each other to have made friends with each other. This Fair is really good," said Helen.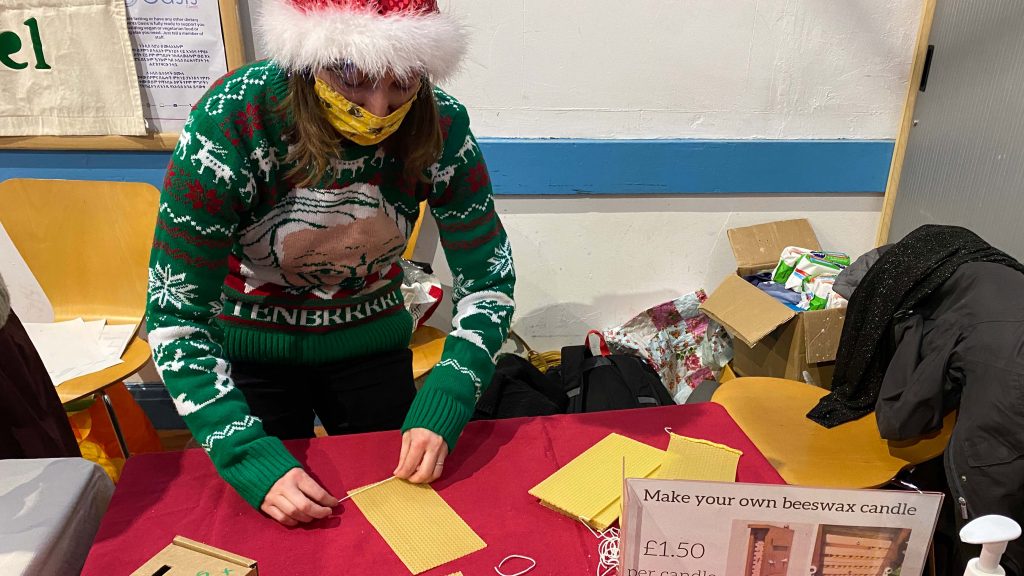 Many local makers and designers sold their unique handcrafts here. Kat and Frankie were doing the sauciness. They have kept making sauciness for ten years. They brought the food here and made a sale. Joanna showed a lot of upcycled gifts at the Fair. All the handcrafts she made are using recycled materials.
Kate was sitting behind a lot of postcards. She made an introduction to these Christmas cards.
"We are a British company. Our Christmas and Advent cards are sold in support of three UK charities. We have a fantastic selection from different artists' design of greeting cards, giftwrap and Christmas cards. Our cards are not available in shops in the UK. So we use this Fair as an opportunity to sell and make some donations," Kate said.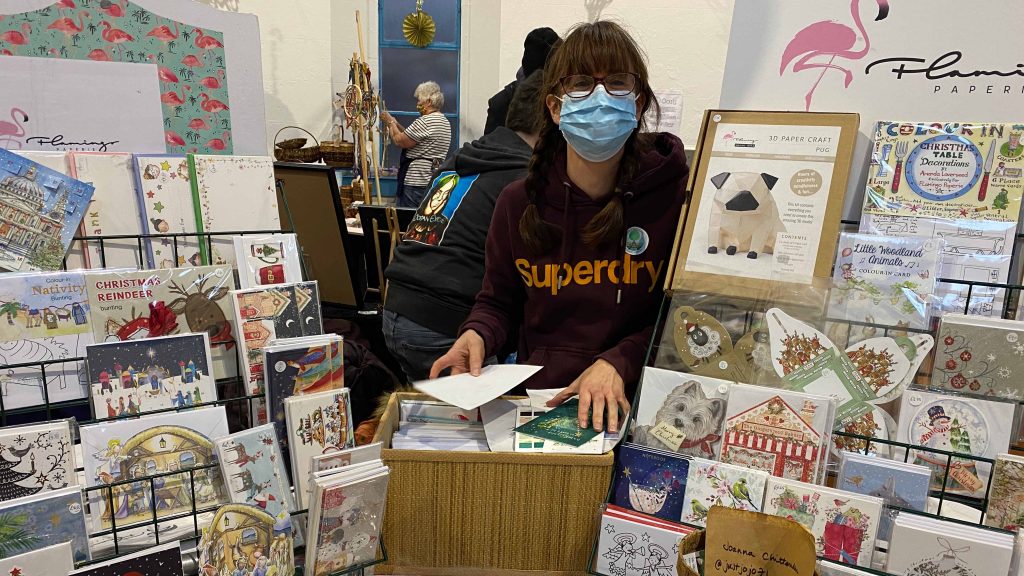 Besides the local markers, many community organisations were full of the main hall. Splo-Down Food Coop, StarGarAllot Community Allotment, Tremorfa Pantry, and XR Cardiff were all there to help new people get involved with their projects and campaigns.
Liz is one of the members of the XR Cardiff. She said, "We're here to get people noticing and talking about the climate crisis and how urgent it is. And how we need to make the government changes. And we are trying to raise money to support people who are trying to push the government to make changes about climate change."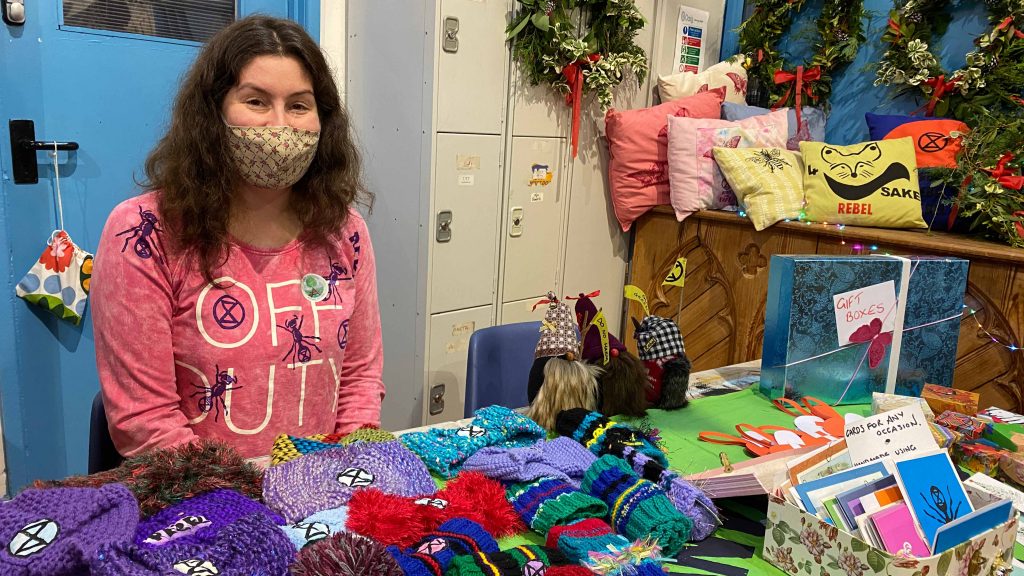 "I think holding a Christmas fair like this, it's a nice way of bringing more people into community activities and building relationship, getting better friends with each other. It's really worthy to get involved into it, " said Hannah.