At the most diverse Oscars to date, Anthony Hopkins' win put a spotlight on the acting scene in Wales. What does that mean for young Welsh actors?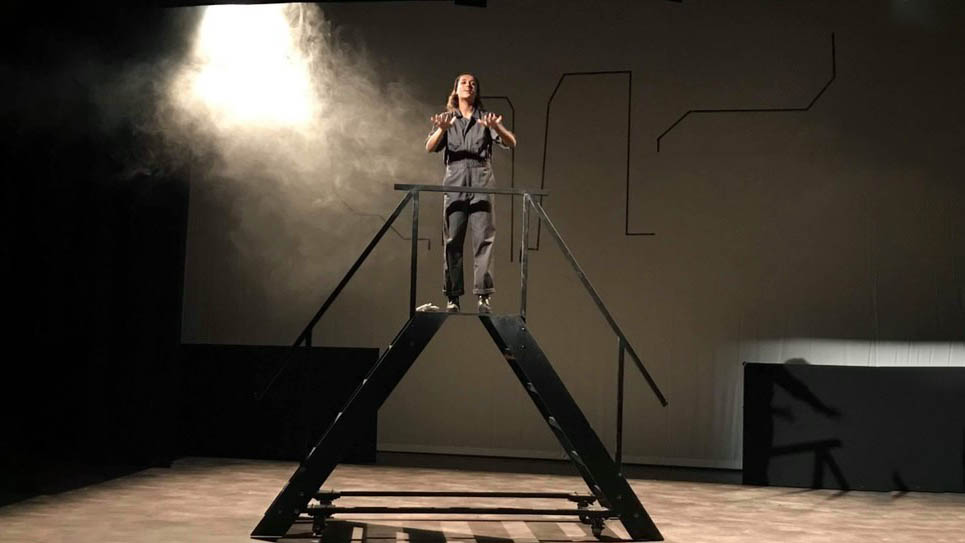 During a production of High School Musical, Aisha was asked to audition for the role of Taylor, the only black woman in the show. She felt like it was only because she was mixed-race herself.
"Growing up, I found myself feeling like I would never be able to be the main character," she says. "As a mixed-race, lesbian, Welsh person, I've never really found someone who completely represents what I want to be or who I am. A lot of shows, TV, or films always have a person of colour as a best mate rather than a main character"
Aisha-May Hunte is a 21-year-old musical theatre performer. She always felt like she was different from others, and that was only emphasised once she started performing.
"But those weird things about you are actually what is going to make you stand out. I just hope that creators realise that the world is more diverse and colourful and they don't have to stick to what's going on already. The industry is changing."
This change can be seen in this year's Oscars ceremony, which could be considered the most diverse yet: Daniel Kaluuya is the first-ever British Black actor to win an Academy Award, Chloé Zhao won Best Director, Youn Yuh-Jong won Best Supporting Actress and many more.
And yet, the end of the ceremony disappointed more than one. The award for Best Actor, was given to Sir Anthony Hopkins, an 83-years-old Welsh man. Many viewers expected Chadwick Boseman, who passed in August last year, to win the award for his role in Ma Rainey's Black Bottom – even Hopkins himself.
In his acceptance video, he said, "At 83 years of age I did not expect to get this award, I really didn't. And [I'm] very grateful to the Academy, and thank you, and I want to pay tribute to Chadwick Boseman, who was taken from us far too early, and again thank you all very much."
Despite the numerous broken records at the Oscars, Hopkins' win showcases a diversity problem, not only in Hollywood, but closer to home too, in the UK and specifically in Wales. In the UK, 86% of actors reported themselves as white, compared to 7.5% as Asian and 3.3% as Black, shows a 2019 study.
Though this bothers Aisha, she explains that she sometimes sees the lack of diversity as an advantage – but not without its downsides. "The welsh industry likes me because I bring diversity to them," she says. "Sometimes I do feel like a statistic. I question things: 'Am I being hired because I'm good or because they need someone who's not white?' I try to not let that get to me."
As a result of backlash due to their lack of diversity, many theatre companies in Wales joined forces with BECTU, or The Broadcasting, Entertainment, Communications and Theatre Union. This is to address the under-representation of BAME people in the industry's workforce.
Some of these include the Wales Millenium Centre, the National Theatre Wales, the Welsh National Opera, and Fio.
Justin Davies, a 24-year-old actor from the South Wales Valleys, adds that it is also difficult to get into the acting world if you're anything other than the norm. To him, being Welsh and starting his career in Wales was an essential part of his growth as a person and as an actor.
"I love the fact that I'm Welsh, and that it's something different," he says. "There's so many actors out there like Tom Hiddleston, Tom Hardy, Benedict Cumberbatch; they're the typical white, six foot tall, leading English man. Whereas I'm a small welsh guy from the Valleys. I'm really proud of that. It gives me something different."
A lot of actors have come from Wales, including Catherine Zeta-Jones, Christian Bale, or Micheal Sheen. And yet, many don't know that they are Welsh. Endless articles, titled '10 actors you didn't know were Welsh', appear when searching for actors on Google.
Justin explains that this sets him apart from the average british man. He says, "You want Welsh people telling Welsh stories. I think the Welsh actors that I know are brilliant, and we have great stories to tell."
While both Justin and Aisha-May love acting and performing, it doesn't mean that their profession comes without fear and insecurity, especially in terms of income. Indeed, only 2% of actors make a living being actors, and 90% are out of work at any one time, shows a study by Queen Mary University of London.
"The problem with acting is you don't know when the next job is going to come," says Justin. "The biggest fear is feeling like there's no room in the industry for you."
Aisha agrees, saying: "This industry is not secure. You have to be ready to pack up and leave, to take risks. You are your job. You are the thing they're hiring, you are the talent."
But despite the constant worry that there might not be a job waiting for you at the end of the week, neither Justin nor Aisha could see themselves doing anything else.
"Acting makes me happy now, and if that carries on, then I think it'd make me the happiest," says Justin with a beaming smile. "Now I'm older and I have dreams and goals of my own, I would love to write and star in my own series."
As she thinks about the future, for herself and for the industry, Aisha can't stop a smile spreading across her face. She stays staring out of her window, determination slowly creeping upon her face. And when she turns back, there is a fire in her eyes.
"I just can't wait to be a part of that change," she concludes. "I want to show people that no matter the minority group, no matter the statistics, that anyone can do anything. And I want to just keep speaking out about things that are unfair and unjust; Keep speaking out about how things can be done better."
What would Aisha and Justin say to their 12-year-old self?