International Wheelchair Day celebrates the diversity of the disabled community. But how is Cardiff for wheelchair accessibility?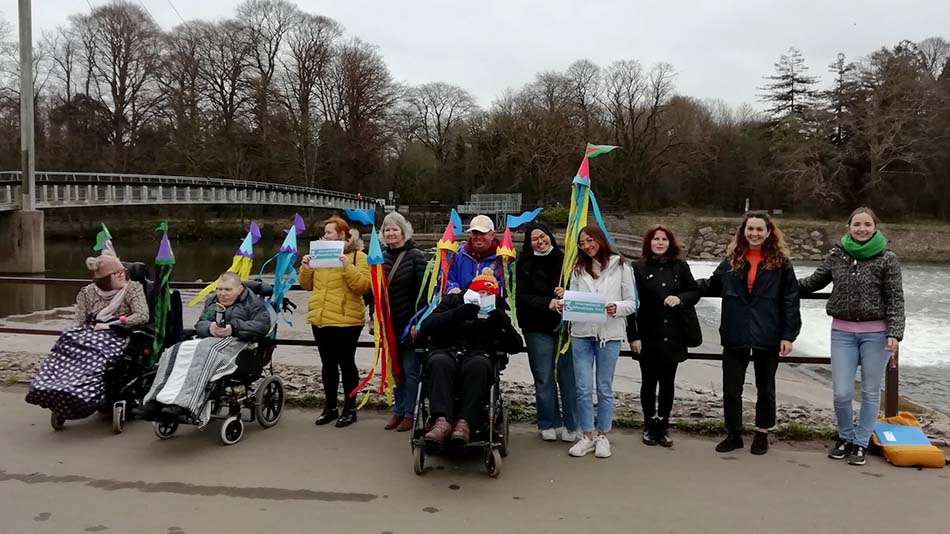 Multi-coloured decorations danced against the grey Cardiff sky near Pontcanna fields. The path that runs parallel to the river Taff is normally home to joggers and cyclists. However, today a small yet bold number of Cardiff's Wheelchair community braved the early March gloom in a parade to celebrate their diversity and pride.
Frankie Hackett of Skills and Volunteering Cymru, one of the groups that organised the parade says why it's an important event, "We've come for an accessible parade around Bute Park in celebration of International Wheelchair Day…to celebrate wheelchair pride and celebrate accessibility," she said.
Wheelchair accessibility can range from ease of entrance into a building to employment and work opportunities. Some of the community and support workers have praised the accessibility of Cardiff to Wheelchair users while acknowledged the Welsh Capital can still improve.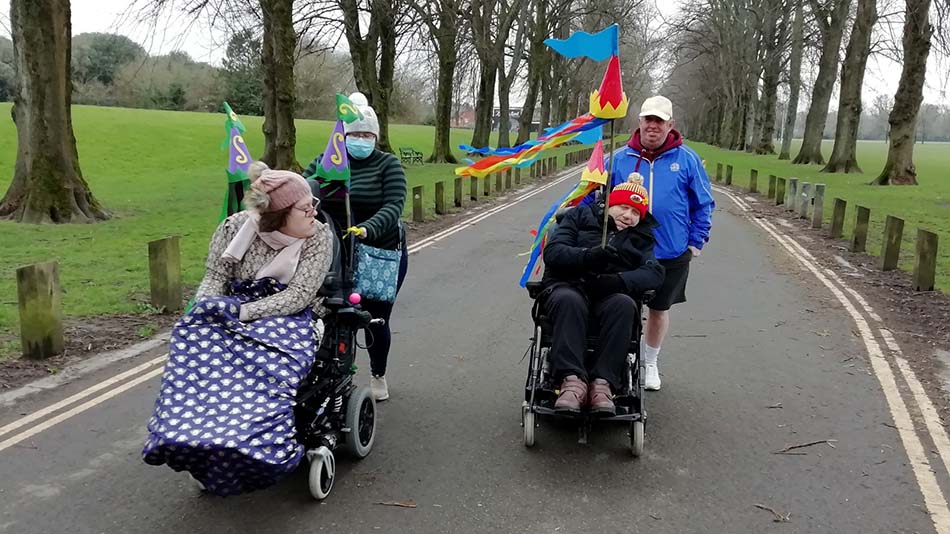 International wheelchair day was established in 2008 and is celebrated annually by users around the world, parading through their communities with brightly coloured banners and decorations. A year later in 2009, a Senedd inquiry into wheelchair accessibility aimed to improve aspects such as waiting times for wheelchair provisions and assessments, the effectiveness of wheelchair needs for individuals, as well as wheelchair provisions across geographic areas and ethnic minorities.
However, Leah Llewellyn, a support worker for the Innovate Trust, noted that improvements in individual facilities still need attention, "It's definitely an improvement but more could be done, more places could make an effort," she said. "Lots of places don't have accessible toilets, that's a big one…that's the biggest thing to be honest, toilets and lifts."
Will Harding, a Cardiff University postgraduate student and wheelchair user has found the capital's move towards pedestrianisation has created some issues. He notes that making areas only accessible without a vehicle, and a greater emphasis on public transport in the face of climate change has made getting around a bit more difficult for those in wheelchairs.
"Although, yes, going about as a pedestrian you can get very easily to places, there isn't that much parking in Cardiff if I'm being honest which is tricky," he says. "I've been quite surprised by the roads… I get the environmental reasons, that it's really important we have loads of bus lanes… it does genuinely feel in Cardiff like you're almost being punished for using your car, which when you use a wheelchair and you don't have any choice often but to use your car, doesn't often feel very fair."
Will sees the difficulty in creating a harmony between two separate issues, "I totally get the thing about, would I rather have my journey be longer and we stop climate change, well of course that's fine, of course it's a balancing act it's just it's an interesting issue that's been created by that."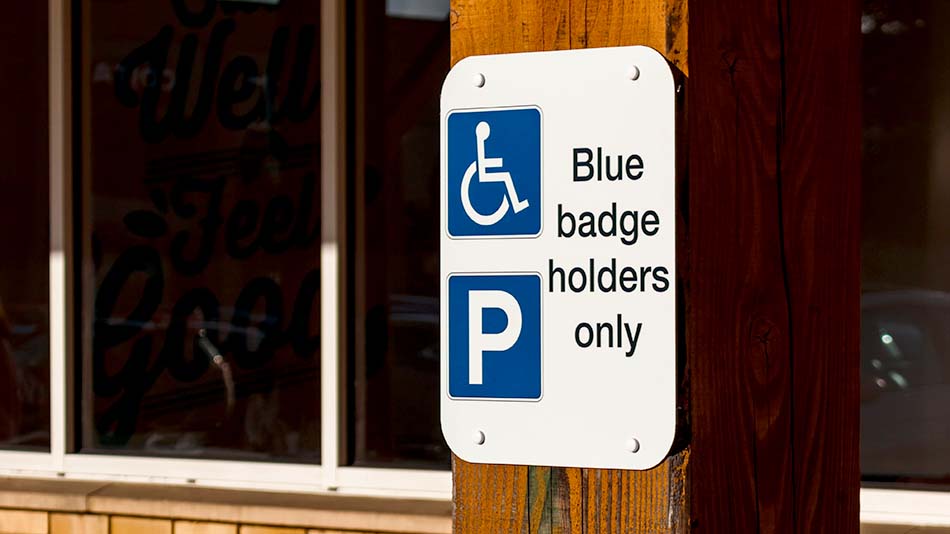 Will praises the role in which awareness campaigns have in bringing issues to the public view, he says, "Cardiff is generally pretty good for wheelchair access, you know clearly there are places which aren't and so actually to have an international wheelchair day does kind of hopefully bring it a bit more to the floor."
For Will, speaking with members of the disabled community is the most effective way to improve accessibility, he says, "A massive thing to do is talk to someone in a wheelchair and nine times out of ten they'll tell you…it's really about focussing on the small details…it's about those small details which actually really do, for a lot of people in a wheelchair, make a massive difference."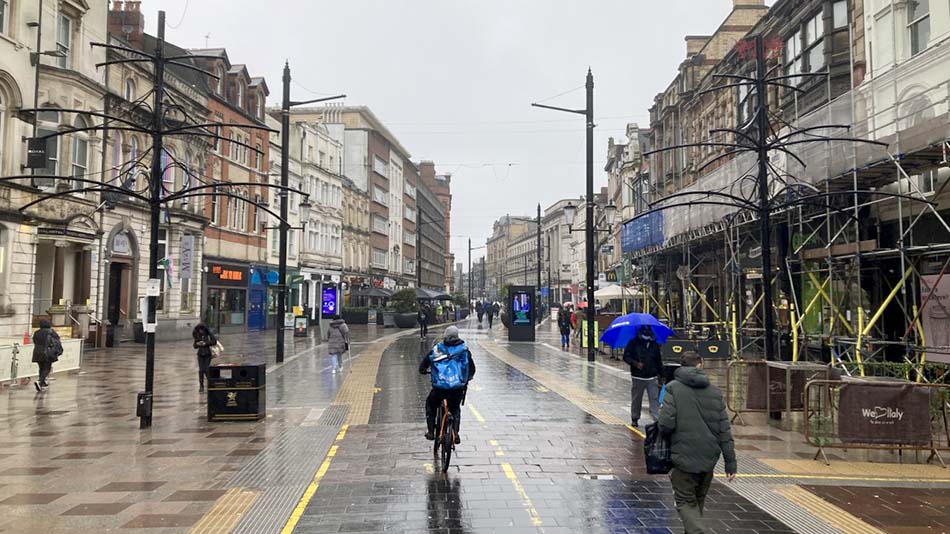 South Wales appears to be heading in the right direct, child wheelchair user assessment waiting times had declined from 32 weeks to six weeks in the space of a year between 2011 and 2012, according to Welsh Government statistics, employment rates for the entire disabled community had risen by 3.3% in 2021 from 2014 in Wales as a whole. However, this rise is still behind the non-disabled population at 4.4%. The work of disability support groups continues to ensure that the community has the same opportunities as everyone else and does not get left behind.
Events such as the International Wheelchair Day continue to bring accessibility into the public eye "I think people are a lot more inclusive these days, I think people are starting to know a bit more about it, which is part of our whole premise of our project is that we're trying to educate other people on it." says event organiser, Frankie Hackett.
In the cold March weather amongst the colourful eye-catching wheelchair decorations, Frankie notes that there's still work to be done, "I think there's definitely always room for improvement especially with accessibility." says Frankie. She is has no doubt in the purpose of events like these, she says, "Proving that every bit of education helps, everyone can make their own little bit of difference and hopefully that can make a bigger bit of difference in the long run."