Although one is licensed for use in the UK, contraceptive apps are still not used within the NHS
CONTRACEPTIVE apps have been making headlines in 2021.
In February Clue became the second app to be licensed for use as a contraceptive in the US by the FDA.
A month earlier NICE, the organisation that advise the NHS on adoption of new technologies, published a briefing about the contraceptive Natural Cycles app.
This NICE briefing involved four experts who discussed the benefits and risks of the app. Three experts highlighted a need for further evidence before Natural Cycles could be used within the NHS.
Despite this the app is currently available in the UK through the App Store and Google Play for £49.99 a year and the company states that there are 250,000 users in the UK.
Natural Cycles was licensed as a contraceptive in the EU in 2017, making it the first and only contraceptive app licensed for use in the UK.
So how do contraceptive apps work, why is more research needed and will they soon be available at your local contraception clinic?
What are contraceptive apps?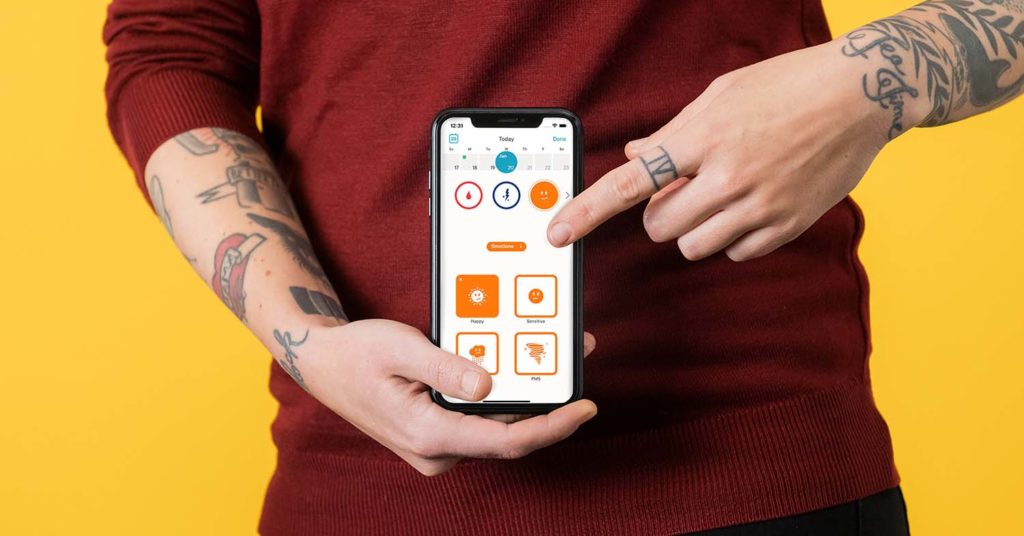 Contraceptive apps work in a similar way to period trackers: users add their period data and the app uses this to predict their ovulation date. Natural Cycles also asks users to take their temperature and add this data into the app.
The app tells the user when they are most likely to be fertile and should either refrain from sex or use another contraceptive method. Users can also see when they are unlikely to be fertile and can have unprotected sex without becoming pregnant.
"Apps to track fertility are a high-tech version of what women have been doing for years with a diary and a thermometer," said a spokesperson for MSI reproductive choices.
Experts who contributed to the NICE briefing acknowledged that the app had a better typical use pregnancy rate (7%) than condoms (8%) or standard fertility awareness methods (24%) –meaning that out of 100 women using the app in a year, seven would become pregnant.
The experts said positives included that it has no side effects and allows users to develop a better knowledge of their cycle.
"The main positive would be giving more choice, particularly for those looking for non-hormonal methods," said one NICE briefing expert and sexual and reproductive health researcher Dr Rebecca French. However, she warned that fertility apps would be more suited to couples in relationships where a pregnancy would not have such negative consequences, and that there are more effective options available.
The briefing also said that Natural Cycles would be cheaper than a contraception counselling session and health services would not have to be accessed. This is particularly relevant during the pandemic as healthcare services have been less easily accessible.
Why are they not available through the NHS?
Natural Cycles Co-founder Raoul Scherwitzl said: "Our goal is to help as many women as possible who can benefit from a non-hormonal birth control option as possible, and the NHS can help, so we'd like to be used within the NHS."
However, the NICE briefing said that further evidence would be needed before Natural Cycles could be used within the NHS.
In 2019 a British Journal of General Practice article highlighted that Natural Cycles had not undergone a randomised control trial, where subjects are randomly assigned a new treatment such as Natural Cycles or an alternative treatment.
"There are multiple reasons for this," said Mr Scherwitzl. "It's because it's not realistic and near impossible to do so with any birth control method or product, including with Natural Cycles. That's because women are obviously aware of what product they are using to prevent pregnancy.
"In addition, randomized controlled trials in contraceptives are very unusual to establish efficacy rates because it is not obvious what control group to choose – many women would join a trial because they precisely want to use that new method, but wouldn't be interested in another," he said.
Despite this, he said the company would be interested in undertaking any research that NICE ask for.
Dr French highlighted that although research on contraceptive apps has taken place it has not often been done independently.
"Most research on contraceptive apps has been conducted by the developers, and much of this research has small sample sizes and is of low quality. Well-designed independent studies to follow up those using apps to determine pregnancy rates are needed," she said.
However, she said that funding for this is unlikely to be a high priority with scarce resources following COVID. A 2019 article by Dr Shemtob and Dr Littlewood also stated that there is a lack of funding for unbiased research into healthcare apps.
What is the future for contraceptive apps?
Although Natural Cycles is available in the UK, many people still want a contraceptive that is recommended by their healthcare provider.
When asked if she could see contraceptive apps being used in the NHS in the next five years, Dr French said:
"Not as a contraceptive. More research would need to be done on effectiveness and cost-effectiveness before these sorts of apps would be taken up by the NHS."
However, she thought that there could be other uses for fertility tracking apps.
"It would be useful to research the effectiveness of these apps for those people who are wanting to plan pregnancy. Do users conceive faster when using apps and are there any cost-savings for individuals or the NHS if conception is more likely to occur before seeking investigations or treatment for infertility?"
A spokesperson for MSI Reproductive Choices UK said:
"If you want to avoid pregnancy, it's much better to choose a reliable, long-acting modern method of contraception like an IUD or implant.
"Traditional methods, including tracking fertility, carry a much higher risk of unintended pregnancy as they rely on women being meticulous about recording their temperature at the same time each morning so may be unsuitable for many people."