Trend is downward but comparisons are difficult due to Covid, says Public Health Wales
THE number of new HIV cases identified in Cardiff and the Vale dropped by half in 2021 continuing a three-year-trend.
Seventeen cases of HIV have been diagnosed in the area so far this year. This is fewer than half the 35 cases identified in 2020. In 2019 the number was 59.
"There is a downtrend but you have to put it against the backdrop of Covid. In 2020, we saw a 60% drop in testing through our normal services and a postal testing service wasn't set up until June that year," said Zoe Couzens, head of the Sexual Health Programme for Public Health Wales.
"Even in 2021 with a gradual return to normal, clinics still can't see as many people," she said.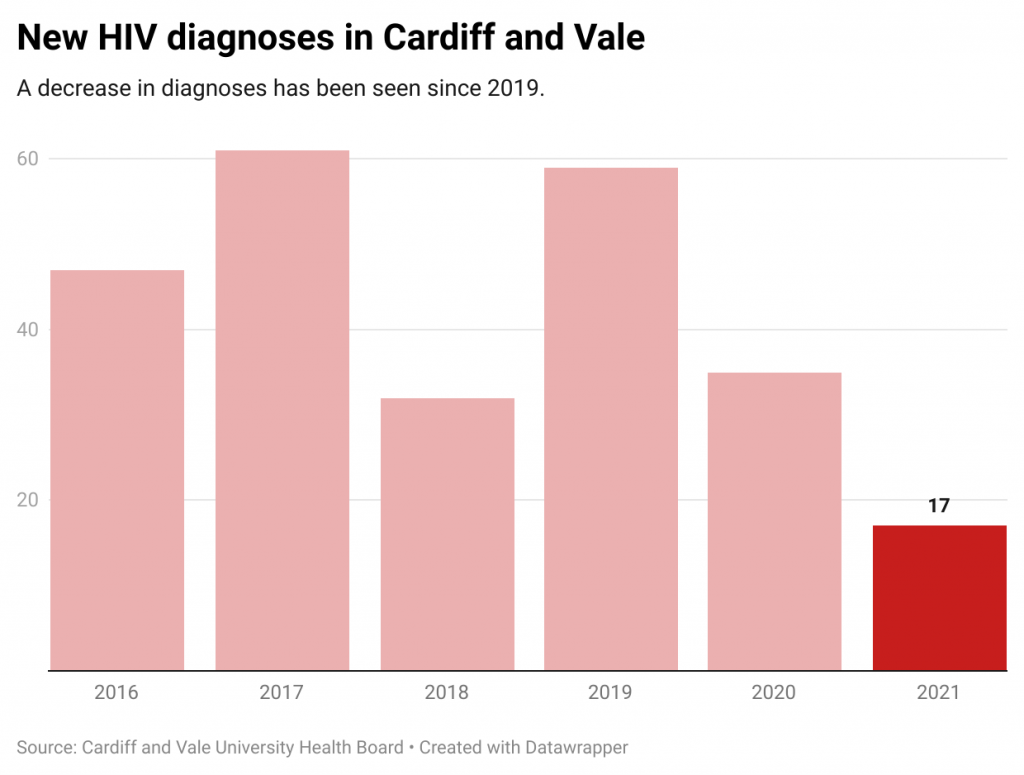 The decrease may also be because people were having less sex due to coronavirus restrictions.
"We saw that during the first lockdown, people followed the rules stringently. Even when things opened, a lot of places where they might meet someone such as bars and clubs weren't open," said Adam Williams, a PhD researcher within Centre for Trials Research.
The decrease has also linked to the rollout of Pre-Exposure Prophylaxis or PrEP, a drug that cuts transmission of HIV by 99%.
Figures show that by October 31, 636 people had been prescribed PrEP in Cardiff and Vale Health Board this year, an increase of 125% on the previous year.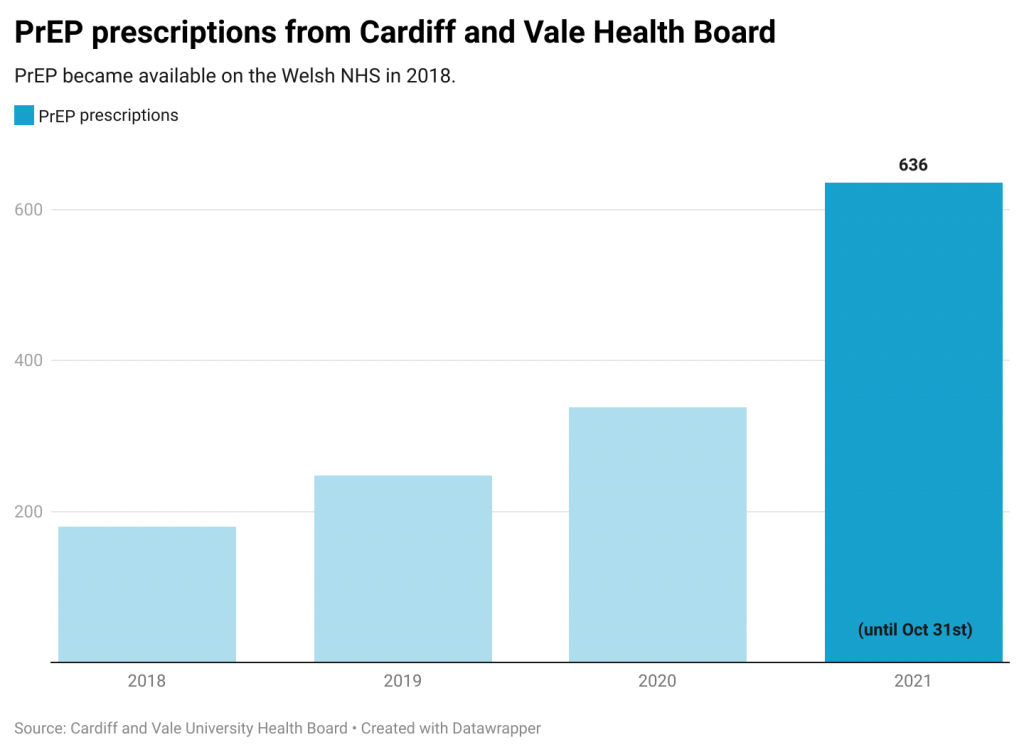 "PrEP gives people control over their HIV status and we have seen the number of PrEP prescriptions more than double," said Dr Darren Cousins from Fast Track Cardiff, a HIV awareness campaign group.
November saw a further increase in PrEP prescriptions and more than 800 prescriptions have now been given to those at risk of contracting HIV, according to the group.
"The rollout of PrEP definitely fits in with the trend. It's part of a package that also includes promoting condom use, raising awareness, and making testing a normal thing," said Mrs Couzens.
The Welsh Government is currently working on a HIV Action Plan and Fast Track Cardiff has outlined proposals it would like to see included.
"We need to have more representatives from different communities involved directly in the drafting and publication of the action plan. It needs to be transformed from a wish list into a plan of action," said Dr Alessandro Ceccarelli from Fast Track.
Sexual health testing in Cardiff and the Vale has been increased through a nationwide postal scheme for sexually transmitted diseases. It was set up after clinics closed during the first lockdown and is guaranteed funding until March 2022.
"Testing is a key strategy in helping reduce HIV and we've just got to make it easier to test," said Mrs Couzens.
About 50,000 more tests than expected were ordered across Wales through the scheme with 29% of those being in Cardiff and Vale. Four people in Wales have tested positive for HIV through postal tests.
Mrs Couzens said she would like to see a group like Fast Track Cardiff set up for Wales and a continuation of the postal testing scheme beyond 2022.
"The government also needs to do more education in the wider sense. Campaigns don't necessarily work. An RSE curriculum is currently being debated in the Senedd and we need to ensure schools have the resources to embed sexual health education in the curriculum," she said.
"We need to make sure young people have a full understanding of different relationships and sexual health including different STIs, the important of testing, and PrEP."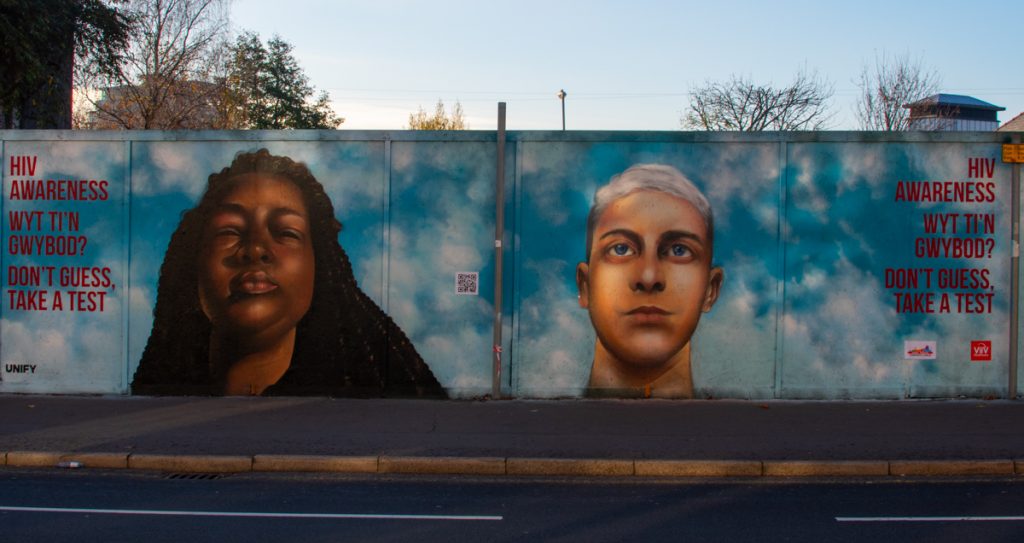 The new figures come as Wales HIV Testing Week finished on Sunday, November 28. The campaign featured a mural in Butetown as well as social media videos with Billie Piper and Gareth Thomas.
It also received support from Alex Davies-Jones MP in the House of Commons and Buffy Williams MS on Twitter.
"We had a very high-level of engagement and reached thousands of people through social media," said Dr Ceccarelli.
World Aids Day, on Wednesday, December 1, marks nearly 40 years since John Eaddie was the first person to die from Aids in the UK on December 12, 1981.
HIV can now be effectively treated with 96% of HIV+ people in Cardiff and Vale being "undetectable". This means they cannot pass on the virus.
"Getting to zero transmission of HIV by 2030 is achievable. I sincerely hope so," said Mrs Couzens.