AN elderly woman was hurt in a fall after tripping on an uneven pavement at a bus stop in Birchgrove.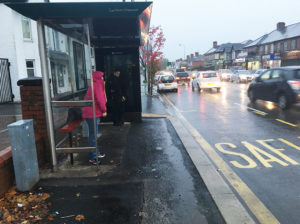 The passenger was stepping off the bus when she tripped, injuring her face and teeth and breaking her glasses.  The council has sent her a compensation claims form.
The incident took place on Wednesday, October 19 but nothing has been done since to improve the surface at the bus stop on the southbound side of Caerphilly Road, outside Llwynbedw Medical Centre.
The drop from the new bus boarder on to the rest of the pavement is still craggy and bumpy.
Councillor Fenella Bowden said: "I reported this on Saturday and still nothing has been done. The lady tripped on the lip where they have put in the new bus boarder edge and they have not filled it in properly."
"This work should have been finished months and months and months ago," she added.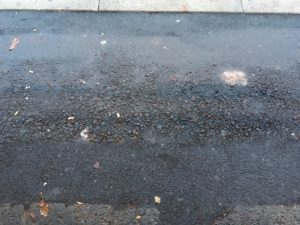 It is also difficult for mobility scooters to pass the bus stop because of its position on the narrow pavement.
The bus stop was moved from outside Birchgrove Dental Practice to allow a new crossing to be put in as part of Birchgrove Neighbourhood Renewal Scheme.
The £228,000 council-run scheme, funded by the Welsh government, has regenerated the area by putting in new paving, seating and crossings.
The project is due for completion on October 31 but there is still a lot of work to be done. 
A mast needs to be taken out and parts of the pavement, including the stretch at the bus stop, must be dug up and relaid.
Work has been taking place in Birchgrove since January, but the council have hit several problems, including having to relay some of the paving stones placed on Caerphilly Road.
Some businesses in Caerphilly Road reported disruption to trade as people were unable to reach shops while the works were under way.
Paul Clough, owner of Younger's Fish Bar, believes he lost £800 worth of business some days as parking restrictions made it difficult for people to get to his shop.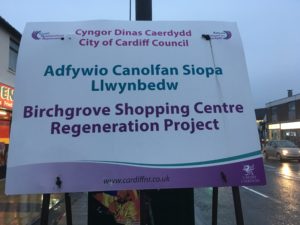 Mr Clough said: "The regeneration was desperately needed, but it has been executed dreadfully. I won't get the money I lost back. It has been a disaster."
Coun Bowden, who represents Heath and Birchgrove, said: "Residents could not get to the shops at the time they planned. It was awful. The management was awful and we are only now coming to the end of the issues we are having in Birchgrove."
Councillor Graham Hinchey, who proposed the Birchgrove Regeneration Project, was not available for comment.