CARDIFF council has denied that new bus lanes have contributed to three car crashes on Caerphilly Road in the space of 12 days.
The £2.2 million project was designed to ease traffic congestion on Caerphilly Road in Birchgrove by adding a bus lane along parts of the street.
But residents and traders said they have noticed an increase in accidents and the area now seems more dangerous for motorists and pedestrians than before work began in January.
They also said that there had been no improvement in the flow of traffic despite the introduction of bus lanes.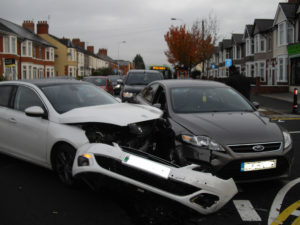 Sonia Saltmarshe of Saltmarshe Picture Framing said: "Every couple of weeks there's a smash because somebody tries to jump across the lane, not realising somebody's bombing down the bus lane. It happens quite often."
"I don't feel safe walking across the road anymore. They've moved the crossing to the edge [of Caerphilly Road] so if somebody jumps the lights you don't stand a chance."
Chris Briggs of Thane & Mears garage said: "It's too narrow. They've narrowed Caerphilly Road and they [drivers] are getting too close to cars. The bus staggers these lanes and push cars over so there's going to be an accident here soon as well."
Mr Briggs also said there had been no improvement to traffic in the area, as the council said there would be.
"It's exactly the same as it was if not worse," he said.
A worker on Caerphilly Road who didn't want to be named, suffered personally last week when a bus crashed into their parked car.
These concerns have only been increased by three other crashes at the junction between Caerphilly Road and Maes-Y-Coed Road in less than two weeks.
According to Councillor Fenella Bowden, the first incident took place on November 3 when a car crossing from Dryburgh Avenue to Heol Dryfed was in collisions with a taxi travelling down the bus lane.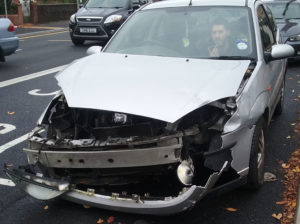 Two days later, a car ran through a red light, hitting another car at the junction between Caerphilly Road and Maes-y-Coed Road. However, police said this incident was not a result of the road layout.
Coun Bowden said the third incident, on November 14, was similar to the first. A car tried to cross the road and was in a collision with a taxi driving down the bus lane.
The scheme was closely tied in with Birchgrove Regeneration Project, which caused controversy on Caerphilly Road.
Coun Bowden said: "We have not seen so many accidents like this on Caerphilly Road on such a regular basis since I have been a councillor. It's just unprecedented."
Motorists have to cross the bus lane to turn right into Maes-y-Coed Road, which Coun Bowden says causes more problems.
"Motorists trying to turn into the bus lane is causing fear among motorists and people are coming off Caerphilly Road on to residential streets," she added.
Cardiff council denies the new bus lanes have contributed to these incidents.
A council spokesman said: "The City of Cardiff Council is aware of three recent collisions on Caerphilly Road. There is currently no evidence that points towards the new bus lanes as being a contributory factor in any of these incidents.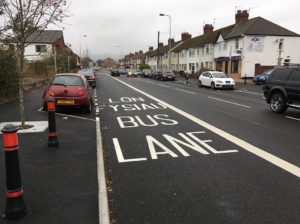 "We want to assure residents and commuters that the road scheme on Caerphilly Road has been safety audited and, as with implementation of all new road schemes, it will continue to be monitored to ensure it complies with road safety requirements.
"The bus lanes on Caerphilly Road are part of a city-wide scheme designed to ease congestion across the city and to improve public transport options for commuters.
"Any concerns around speeding on Caerphilly Road can be forwarded to Go Safe, the Government body responsible for managing and placing speed cameras on road networks."