"Feeding hungry children is bigger than party politics" says letter as push for policy change continues
A PROPOSAL to extend free school meal provision in Wales is to be debated in the Senedd tomorrow, after an open letter appealing to politicians was published.
The proposal, put forward by Plaid Cymru MS Siân Gwenllian, calls on the Welsh Government to use unallocated funds in its 2021-2022 budget to provide free school meals (FSMs) for all children of families on universal credit or equivalent benefit.
It also says the policy should also apply to any child in a family affected by the controversial "no recourse to public funds" policy, which prohibits people from accessing benefits based on their immigration status.
An open letter to Senedd members was published on Saturday by the local action group behind the campaign, People's Assembly Against Austerity Wales (PAAAW).
"How can it be right that a child growing up in poverty is less likely to get a free school meal in Wales than in England, Scotland and Northern Ireland?" the letter asks.
The letter goes on to dismiss comments by Welsh Labour MS Hefin David that previous debates on the issue were "electioneering" by Plaid Cymru.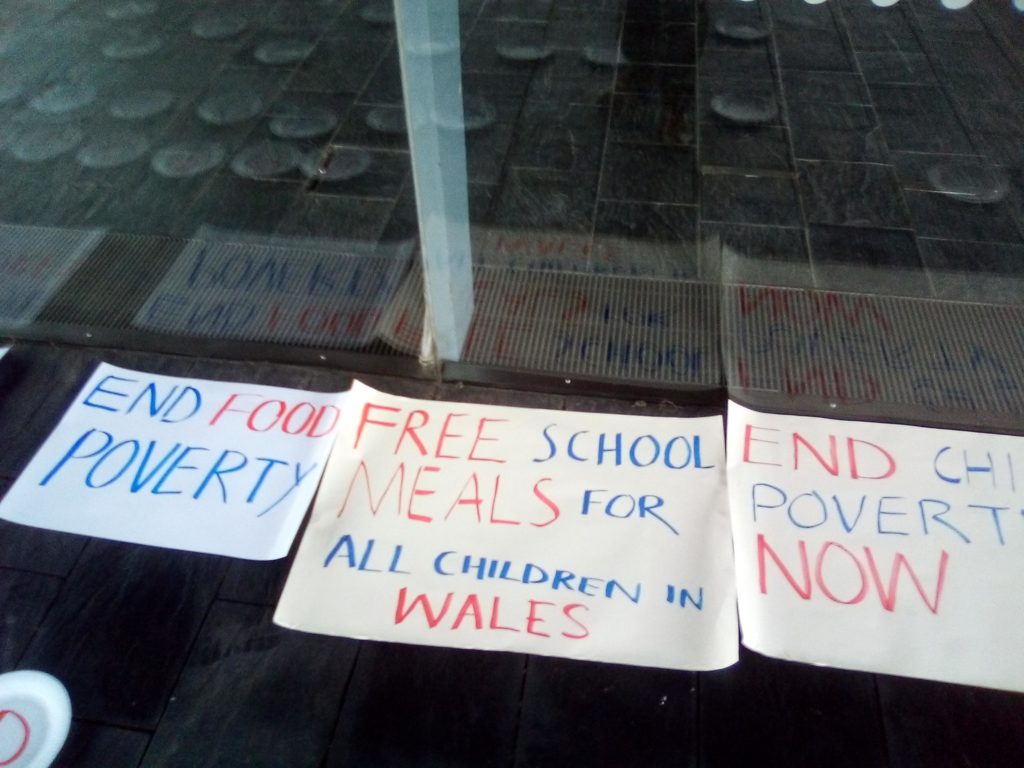 The adequacy of free school meals provision in Wales has been a contentious topic in the Senedd since December last year, when a Plaid Cymru motion to extend the eligibility criteria was voted down by a majority of MSs, including all Labour and Conservative members.
A second vote took place earlier this month, this time on Siân Gwenllian's amendment to the draft 2021/2022 budget, calling for unallocated funds to be used to expand FSM eligibility.
While the Welsh Conservatives joined Plaid Cymru in voting for the amendment, Labour voted it down, causing unrest among some Labour backbenchers who believed that the party was on the "wrong side" of the debate.
Finance Minister Rebecca Evans pointed to budget constraints when asked about Labour's position by the BBC, suggesting that using unallocated Covid funds might take away resources for local councils and NHS services.
"Basically when that debate happened, even though the motion didn't pass, it did really take things up a step," says Adam Johannes, co-convener of the Cardiff branch of the PAAAW and author of the Senedd petition which kicked off the free school meals campaign.
"The Child Poverty Action Group (CPAG) and the Bevan Foundation, they've done these briefings that they've sent to Senedd members – they've just been ignored. So suddenly this has put it forward into the mainstream debate."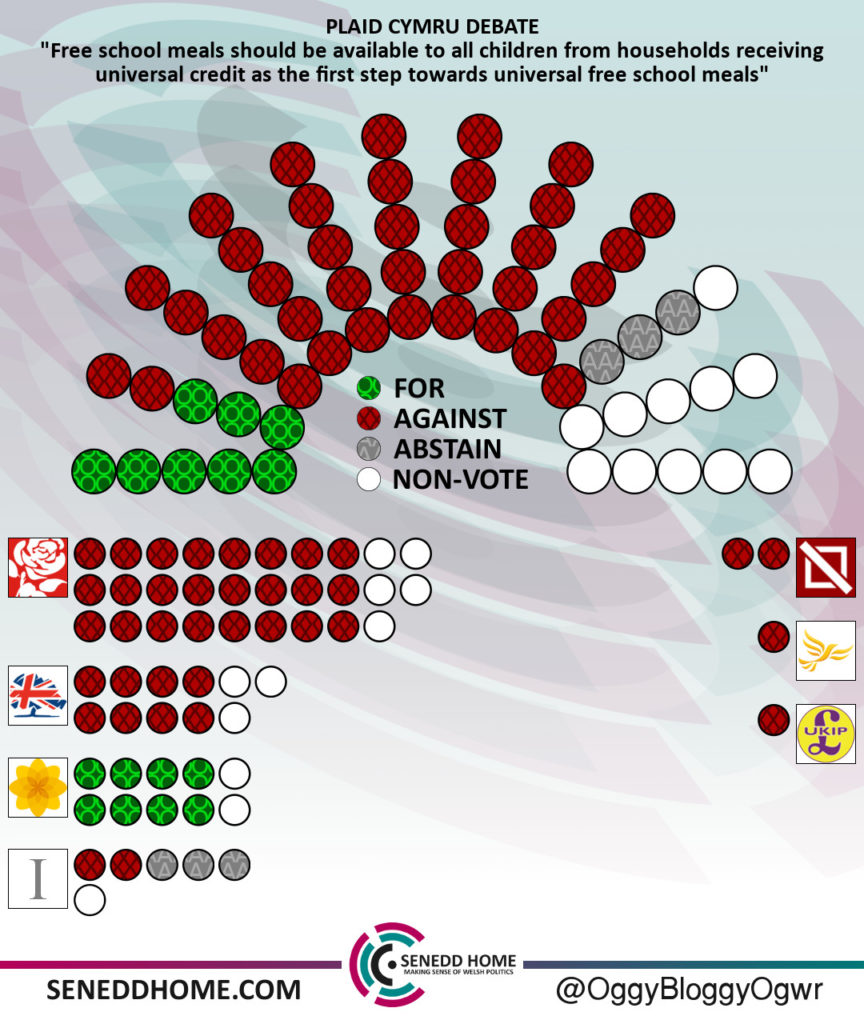 Both CPAG and the Bevan Foundation, a poverty and inequality think tank, are in support of the current campaign, having previously highlighted shortcomings in the Welsh Government's FSM provision.
Research by CPAG published in October last year found that more than half of children living below the poverty line in Wales are not eligible to receive free school meals.
Dr Steffan Evans, policy and research officer at The Bevan Foundation, told The Cardiffian: "Too many children who live in poverty in Wales are not eligible for FSMs.
"At present a child is only eligible for FSMs if their family receives one of a series of legacy benefits (e.g. Job Seekers Allowance) or Universal Credit if their household's earned income is less than £7,400 a year.
"This low income threshold locks out as many as 70,000 children who live in poverty but whose families earn over the £7,400 threshold from receiving FSMs."
Expanding the eligibility criteria for FSMs would provide a "vital lifeline" for families in Wales, Dr Evans says, noting that a recent report by The Bevan Foundation found evidence that some parents were going without food in order to provide for their children.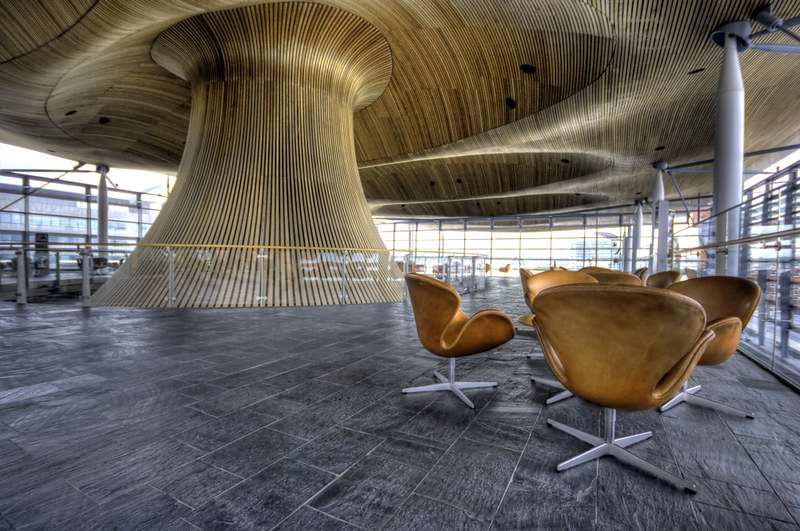 "Wales has the second highest child poverty rate of the UK nations, once housing costs are taken into account," says Ellie Harwood, Wales Development Manager at CPAG.
"During the pandemic, many families have found themselves having to rely on social security for the first time, and it can be a shock just how low the basic payments are.
"At the same time, their living costs have often gone up because they are having to spend so much time at home, and spend money on things like laptops and learning materials, which they would usually be able to get from school."
On free school meals in the country, she says: "Wales has the tightest means-test in the UK when it comes to who can qualify for free school meals.
"The most obvious gap is in provision of free meals for our youngest learners. Because the Welsh Government means-test children in this age group, more than half of infants in poverty don't get to have a free cooked meal at lunchtime."
In Scotland and England, all infant school children are automatically entitled to free school meals.
Asked about the government's argument that budget constraints might prevent expansion to free school meals, she says:
"We must remember that the Welsh Government has an annual budget of £18 billion – and it's even more than that during the pandemic. It would cost just £130million extra to extend free school meals to every single learner in Wales.
"I really feel the question we should be asking is not 'what will this policy cost?' but 'what will it cost us not to do this?'
Welsh Labour has been approached for comment.
Tomorrow's debate will be available to view here.