Cardiff's fairytale castle has not lost its magic, despite the impact of Covid
CASTELL Coch may have been closed for most of the last year, but Cardiff's fairytale castle always has stories to tell.
The castle raised its drawbridge on March 18 last year as the coronavirus situation escalated. Few people would have anticipated that, almost a year later, the site would still be closed to the public.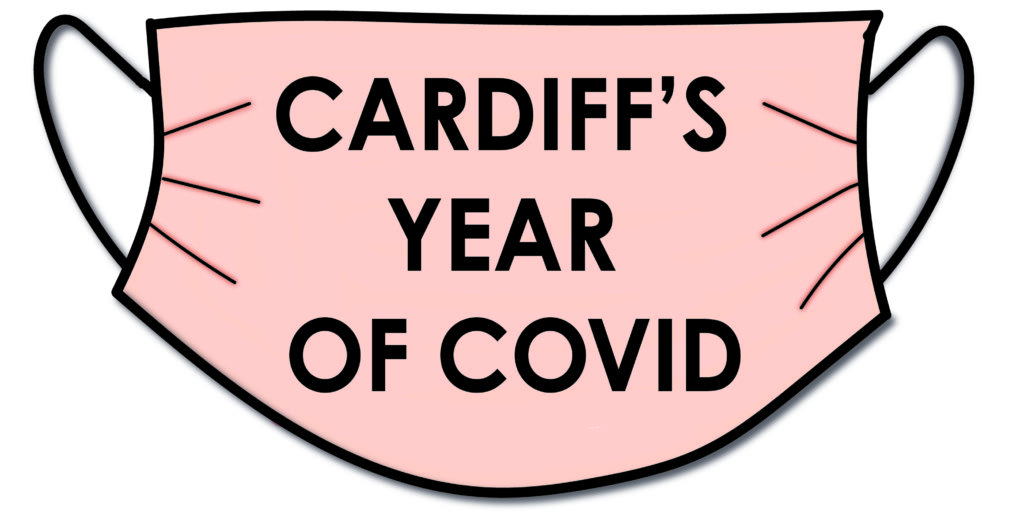 The "Red Castle", which is managed by Cadw, the Welsh Government's historic environment service, was able to re-open in August with new safety and hygiene measures in place, such as a time-allocated ticketing system, a reduced visitor capacity, and PPE for staff members.
Plastic partitions were installed, directional arrows were placed and hand sanitiser was made available throughout the site. Because of their small size, some of the castle's rooms remained closed, including the tea room.
When the Welsh Government's restrictions tightened once more, Cadw had no choice but to close its sites again.
Castell Coch's custodian, Angharad Howell, said: "The Covid pandemic has had an obvious impact on visitor numbers as the castle was closed for most of the year. Visitor numbers have fallen from 59,549 during the 2019/20 financial year to 1,528 during the 2020/21 financial year.
"Cadw has sought to compensate its membership by offering a 50% reduction on renewals or six months extra free. We've very encouraged to see we've maintained over 90% retention rate with many members appreciating that their membership fee goes towards conservation work at our fantastic monuments."
Visitor numbers, facemasks and hand sanitiser only tell a small part of Castell Coch's pandemic tale. From weddings to websites and walking for charity, here is how the fairytale castle has retained its magic.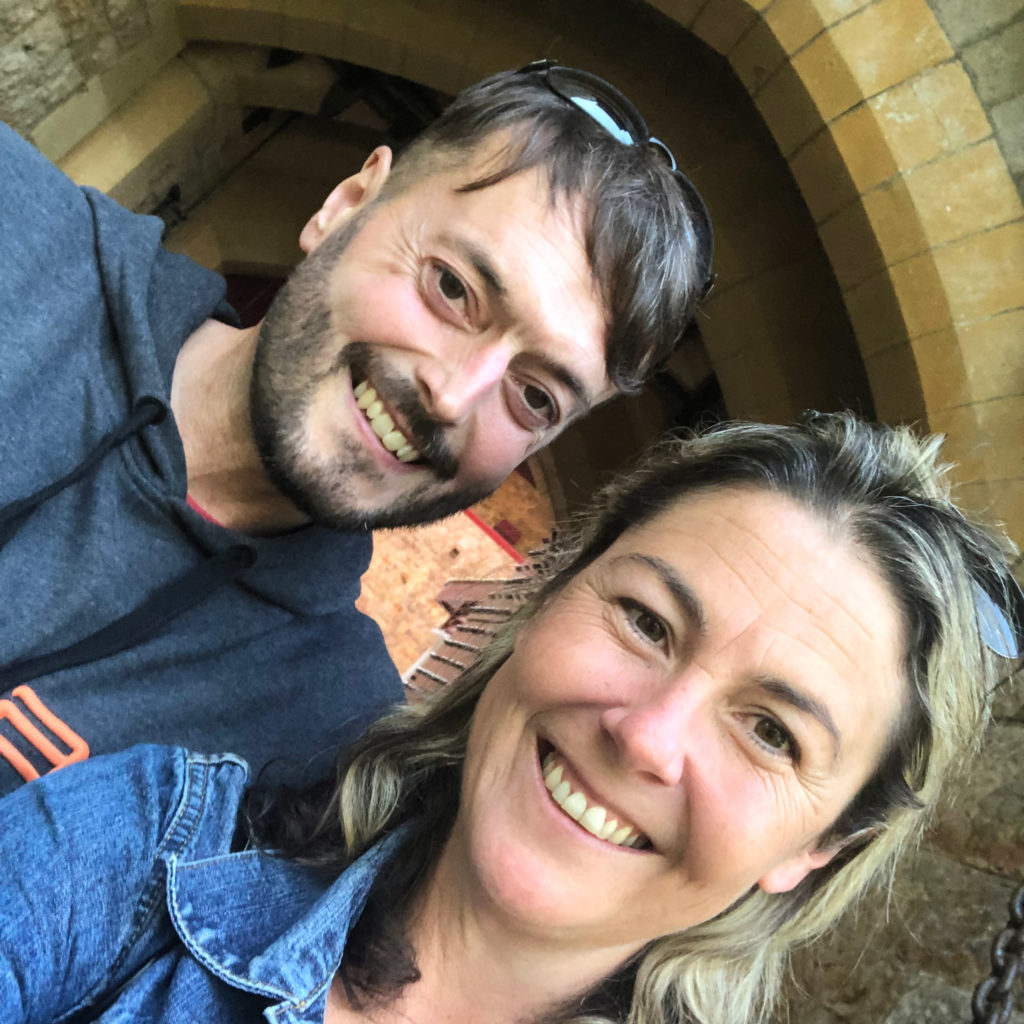 Castell Coch is woven into the fabric of Anna-Louise Stubbing's life.
Anna-Louise, 45, from Thornhill, founded Believe Organ Donor Support in memory of her late husband, Stuart, and her son Fraser "Bear" Bates, who died in a road accident in 2015. Fraser's organs were donated and saved the lives of four people.
Believe aims to raise awareness and educate people about organ donation, support people involved, and break down the taboos surrounding it.
Castell Coch played a part in Believe's success on St David's Day, 2018, when stunning 4K drone footage of the castle featured as the backdrop to a short animation published to promote the charity's work.
The animation, which was produced by Mike Young, creator of SuperTed, has since reached a global audience of 8.2 million people. In 2019, it won in its category at the Charity Film Awards.
"Growing up in Cardiff, Castell Coch was always the fairy castle," said Anna-Louise.
"The way that the animation shows Castell Coch is phenomenal. It's just lovely for everyone to see not only the message of organ donation but how beautiful the castle is. The drone effects are brilliant, and it shows Castell Coch really well."
Anna-Louise was due to get married on May 29, 2020, at Castell Coch to Zachary Stubbings, 42, who she met through Believe. He proposed to her at the castle.
Sadly, their wedding could not go ahead as planned because of Covid.
Anna-Louise said: "When I met Zach, he was wonderful about understanding what I'd been through. He decided to propose to me at Castell Coch because he knew that it would make me feel like the boys were there as well.
"That was so lovely, and we decided then that we would get married there. Covid hit, and we couldn't have it there, but for me, it will be such an important place."
Instead, the couple held a virtual celebration to mark what should have been their wedding day and asked for donations to be made to Believe and Help for Heroes, who have supported Zachary since he was discharged from the RAF on medical grounds after a cancer diagnosis.
The celebration included a cake in the shape of Castell Coch.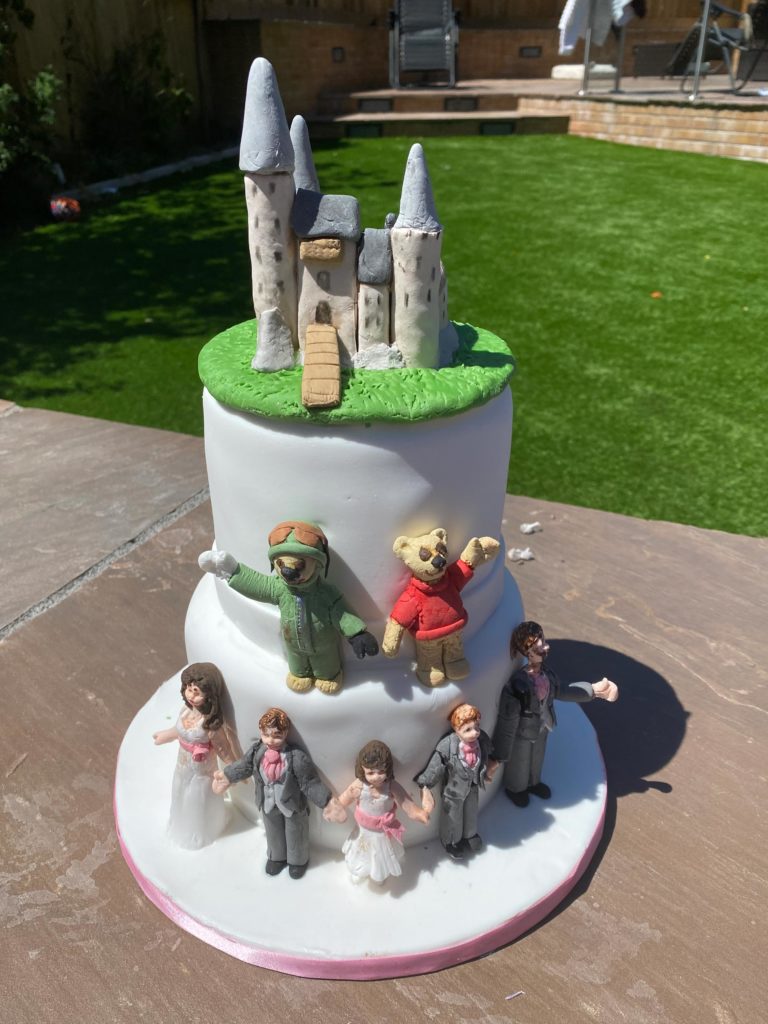 "One of my friends is a cake-maker," said Anna-Louise.
"It was a real surprise when she turned up with that cake! She'd beautifully done it so, not only was it us, but Fraser was also present on the cake."
In August, they got married at St Martin's Church in Roath, which has other important connections to Anna-Louise and her family.
"My mother was brought up in the vicarage there, so that's always been a tie for me," she said.
"The priest, Father Irving, was with me at my final goodbye with Fraser, just before we donated his organs, and he held my hand through that."
"We were fortunate because St Martin's is a very big church, so we could have guests there with social distancing.
"We had re-booked the wedding for the Easter holidays, but Zach – very wisely – was worried about a second wave and, with him being on the shielding list, said 'let's do it.'
"In the future, we might look to renew our vows at Castell Coch, or to do something significant there once it's open. I think we have to, really, even if we don our wedding dress and suit and have a couple of photos outside.
"It's a beautiful place and it's really tranquil. Even though we didn't get married there, it's still the most special place in the world for me. Because of both of the connections, it really is the fairy castle."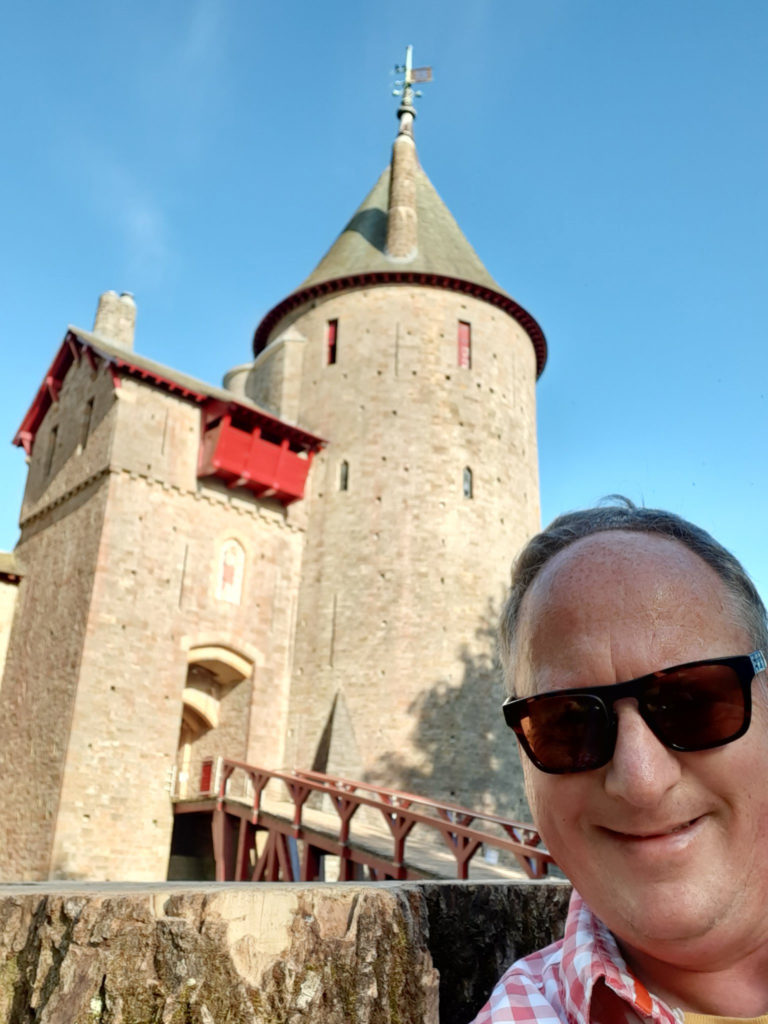 Beautiful and tranquil are words commonly used to describe Castell Coch and its surrounding area, including the nearby Taff Trail.
Having walked the 3.1 miles from Hailey Park to Castell Coch along the trail 191 times, Alan Bretos knows it better than most.
Alan, a 54-year-old plastic salesman from Llandaff North, has set himself the target of walking to and from Castell Coch 200 times – a challenge he expects to complete on May 23.
He started taking walking more seriously after being diagnosed with a heart condition five years ago, which prevents him from more doing strenuous forms of exercise.
Because of this, he spent the first month of the pandemic indoors to protect himself. Once he was cleared to stop shielding, he resumed his weekly walks to the castle, but this time with an increased appreciation of the benefits it has for his mental and physical health.
"I used to do running. I would do eight laps of Hailey Park, which is 10k," said Alan.
"I was diagnosed with Hypertrophic Cardiomyopathy, so I thought, I'm not going to do any more running – those days are over. I thought, I'll keep up my walking, because it's the best exercise on earth, and I'll just top up my walks to work by going to Castell Coch.
"It's a lovely building and it's a beautiful walk up the Taff Trail. When I get to the castle, I have a ritual: I go up to the castle gate where the door is, and I touch three stones. I've done that ever since I've gone up there, so they're my lucky stones."
Alan's initial target was to walk to the castle 52 times in 2016, but he fell short because of family commitments, bad weather and the flu. Despite this, he kept going and is now only nine walks away from his updated target.
As he approached his 200th walk, Alan decided to set up a JustGiving page for Cardiomyopathy UK to extend the benefits of his challenge to others in a similar position. After setting a £200 target, he has raised £235 and is now aiming for £500.
He said: "It's tough for charities at the moment. If I can raise money for these people, then great.
"I never get tired of seeing Castell Coch and, when you get there, you're huffing and puffing. You've worked hard to get there, and you can enjoy the beauty of it.
"It's so good for your body and your mind. I want to go for a thousand. I'll be in my 70s and I'll be up there in a Zimmer frame, I think!"
One of the few people who might be able to hold a candle to Alan's 191 visits is Tongwynlais resident Jack Davies.
Alongside trail running in Forest Fawr several times a week, Jack, 43, has collected and created artwork, photographs, memorabilia and stories linked to the castle and the village.
In a "normal year" he visits the castle around once a month to find inspiration for his artwork and blog posts. His fascination with Castell Coch began 10 years ago when he moved to the village.
In 2012, he founded tongwynlais.com, which houses his collection. Last year, lockdown gave him the time and opportunity to develop a second website, castellcoch.com, which he worked on during the summer and launched in November.
"It's been really important to me," said Jack about working on his Castell Coch projects during lockdown.
"I don't have a creative day job. All the websites, the writing and the illustrations that I do have been my creative outlet. If I didn't have the time to do this, I think I'd really struggle."
His artwork includes painting, drawing and photography as well as eye-catching digital illustrations of the castle's lavish interior and unique patterns.
"I've got a lot of creative passions. I like doing digital illustrations, and I like painting, drawing and photography. Having a bit of extra time has meant that I probably did a lot more creative work last year than I would normally," he said.
"Creative people are uniquely drawn to Castell Coch because it's so distinctive and iconic.
"As well as creating work myself, I enjoy finding and sharing it. If I find an artist who's doing something, I try and share their work and, if it's really interesting, I might get in touch with them and ask to do an interview.
"There's so much history to research and I don't seem to be short of ideas for things to do."
Although the castle has been voted by the public as their favourite building in Wales, there are people in Cardiff – and even Tongwynlais – who are yet to take advantage of it.
"Living here, and seeing it every day, you take it for granted. I know people who have lived in the village for years and have never been up there.
"There's equally lots of pride that we've got this fantastical, iconic building on our doorstep."