Artists hope to "uplift" the community with image inspired by 'My City, My Shirt' picture
A MURAL celebrating Cardiff's ethnic diversity has been painted on the wall of a Butetown bar.
Located at Mischief's Café Bar, James Street, the mural recreates a picture taken by local artist Shawqi Hasson, as part of his "My City, My Shirt" photography project with fellow Cardiff creative Yusuf Ismail.
The photo in the series that the mural features Maimuna Yoncana, who moved to Cardiff four years ago from Guinea-Bissau, a small country nestled between Guinea and Senegal in West Africa.
"I was grabbing some coffee, and I saw her. We're both Black, but there are all these subtle nuances to Black skin. She was just glowing," said Yusuf.
"I walked over to explain the project – I'm sure she didn't really grasp what I meant. I was rambling."
Fortunately, she agreed to be photographed. Maimuna was heavily pregnant, and posed in the Cardiff shirt with a hand resting on her bump. She gave birth less than a month later, to a baby girl.
The mural was painted by Grangetown artist Bradley Rmer (pronounced "Armour"), also known as "Rmer1", who's behind several pieces across Cardiff, including the "Gwenno" mural at Clwb Ifor Bach.
Yusuf came across Rmer's work on Instagram, and was delighted to find they lived only two streets apart.
Rmer said: "It's been an amazing journey. It's mad seeing the reaction from the community – the positivity."
Yusuf says he hopes the mural will uplift the local community, after the recent death of Mohamud Hassan, 24.
"This happened on our doorstep. With George Floyd last year, with the backdrop of a pandemic, these are very emotional, very heavy times," said Yusuf.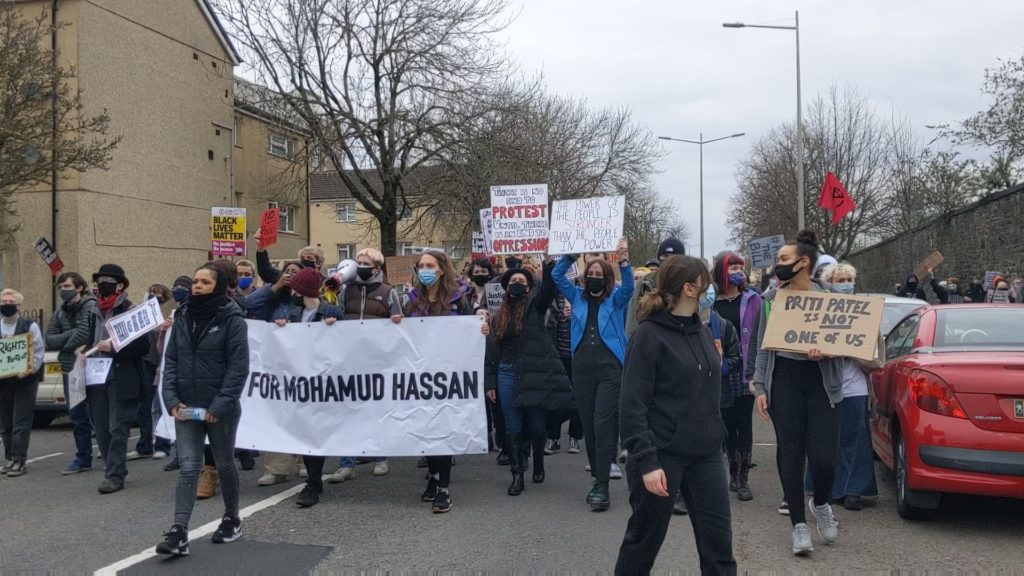 He says the photo project idea came to him after he attended a Cardiff City match with a friend in 2019, and was startled to find they were the only people of colour in the stands.
He said: "I'm Cardiff born-and-bred, but I walked into that stadium and it was like I'd stepped into an alternate reality, there were just no people of colour.
"Why is it that in a city that's so diverse, so multicultural, and with football such a global sport – there's not a single person of colour in the stands? We were trying to answer that question."
They decided to create a photo series showcasing the "true" Cardiff, with subjects from a range of backgrounds photographed in a Cardiff City shirt.
The series was exhibited at Cardiff Cathedral during Black History Month last year.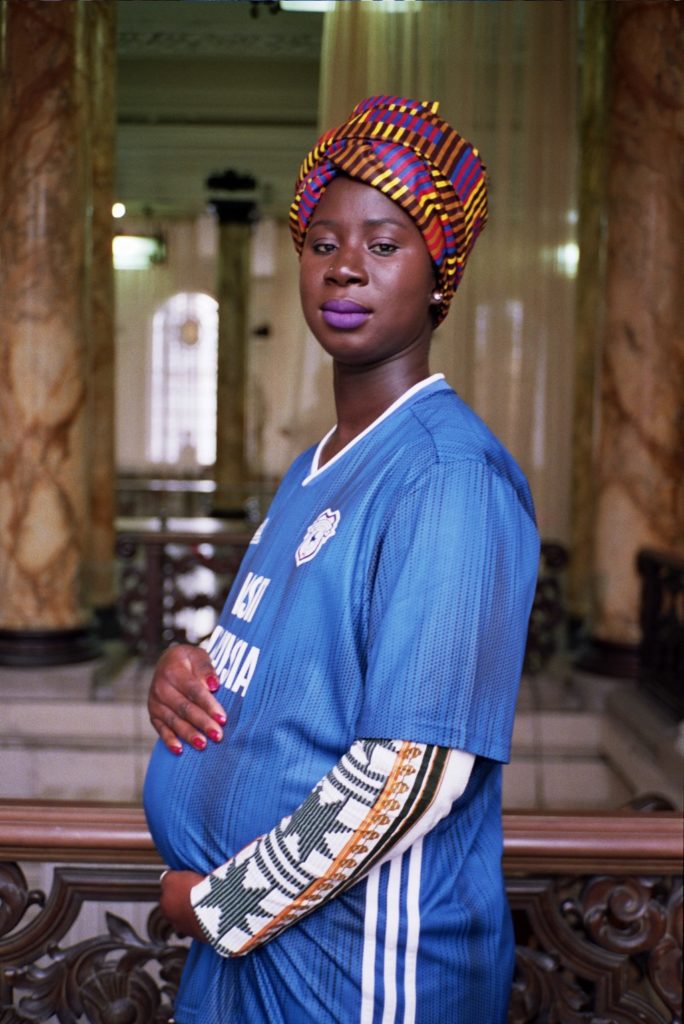 Both Yusuf and Mr Hasson shoot in film, believing it best captures the beauty of Black skin.
Yusuf says he knew he wanted to do something more with Maimuna's picture the moment he saw the developed image.
"It took me to another place. I knew this was something bigger than a photograph," he said.
The pair won funding for the mural from the Sub-Sahara Advisory Panel, which promotes work by young people of African heritage, after being rejected by Arts Council Wales, Yusuf says.
Jahangir Malik, 37, who works at a shop next door to the mural, said: "Every other person is taking photos. Especially at this time of year, everyone's stressed, it's a very uplifting thing."
Yusuf hopes that there'll be more murals to come, which he described as a "win for everybody".
"It's a win for the council, because people will take more pride in their environment. I hope they'll make it easier for young people to do more projects of this scale," he said.
"The whole thing is me, as a Black man, being able to identify with everything around me. Somebody who's brown, somebody who's white – they need to feel that same way, so we can all take ownership of our surroundings, and feel a bit of pride."
Cardiff City has been approached for comment.
Unify, the creative studio founded by Yusuf Ismail and Shawqi Hasson, can be reached on Instagram here.
For more on Cardiff's public art, see our piece on the new mural by Extinction Rebellion.