The increase has been attributed to a successful government scheme
THE number of new charging devices installed in Cardiff increased from 314 to 583 in 2021.
Similar large rises have been seen across South Wales, as part of the UK government's Electric Vehicle Homecharge Scheme (EVHS), which gives grants to help car owners install charging points in their homes.
Cardiff, along with Glamorgan and Monmouthshire, were the only areas in Wales that did not increase their area's number of electric vehicle charging points by more than 100% in the past year, according to figures from the Office of National Statistics, published on April 1 2022.
The number of home vehicle charging devices doubled in Swansea, from 181 to 362, while in Newport the number more than doubled, going from 110 to 248, according to government figures.
The Electric Vehicle Homecharge Scheme, which was replaced by the Electric Vehicle Chargepoint Grant in April, gave owners of electric cars up to £350 off of the total costs of installing an electric charging point in their homes in order to incentivise more purchases of electric vehicles.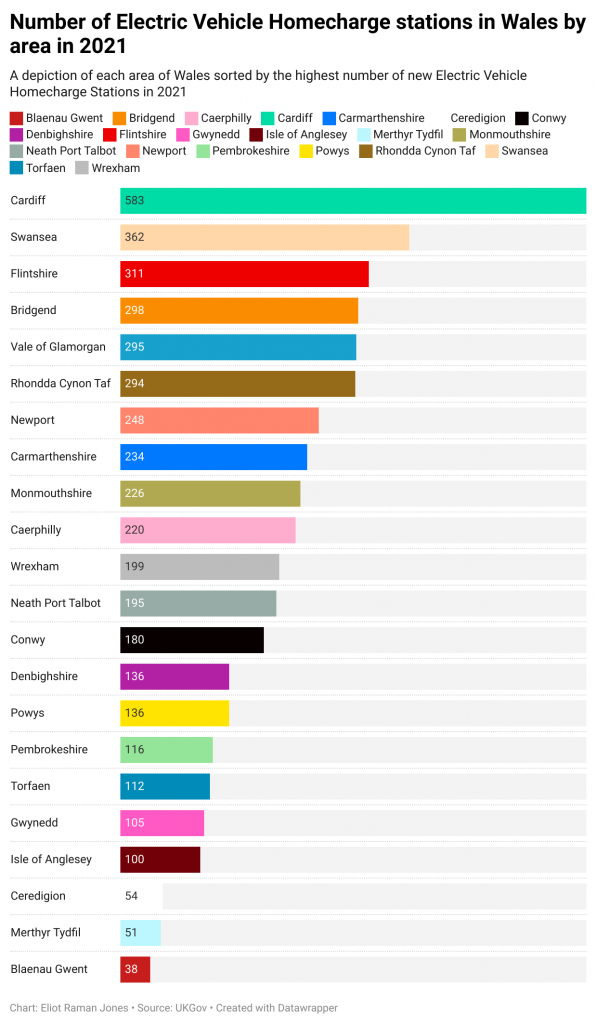 As shown in the graph, Cardiff has seen the largest increase in Electric Vehicle Charging Points in the past year, explained by the comparative size of the capital in comparison with smaller areas such as Blaenau Gwent and Merthyr Tydfil.
2020 represents a large shift for Cardiff in particular, as there is a sizeable increase which is much larger than the previous year.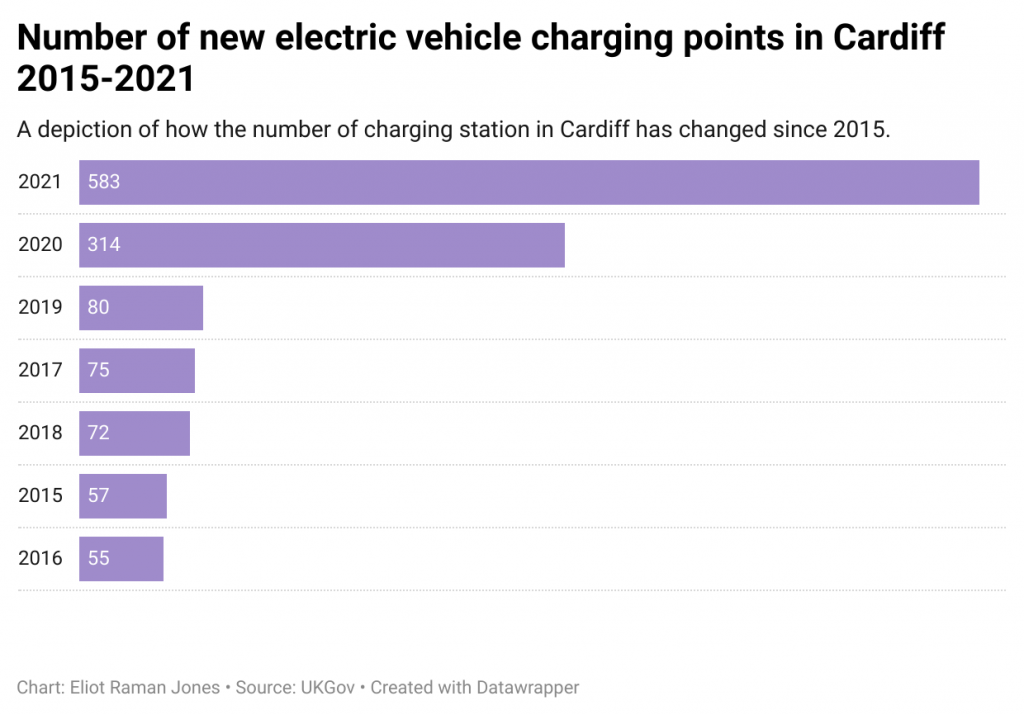 The increase from 314 to 583 represents how Cardiff is witnessing the effects of the booming electric vehicle market.
According to car review site HeyCar, electric cars made up 18.5% of all new cars in the UK registered in 2021, largely due to the impact of the pandemic on the global semiconductor chip shortage.
Jake Wreford, owner of EVWales in Bridgend, who sells new and used electric cars as well as gives advice for those looking to switch to electric from diesel, says that the number of electric cars will only go up.
"In the last year, electric cars have grown in popularity because they're a lot cheaper and easier to run, as well as being less to maintain.
"Rising costs of fuel mean electric vehicles are more of a viable option. People think the batteries last only five minutes but they last a lot longer than you think!
"The rate of new cars being sold has increased, we're seeing a lot of people considering electric vehicles for second cars."
Jake believes that while Cardiff is just catching on, electric cars will be in a majority in no time, and says that in other countries they are a proven success.
"I think the majority of cars will be electric in the future, they're better, easier to run, there's lots more options in the energy network that they allow for.
"You have to look at the Netherlands where 85% are electric, 10% hybrid and the last are petrol or diesel, and it's working well."