Further chats to the Welsh track and field heptathlete about her career, balancing a medical degree with athletics, and her future aspirations
Lauryn Davey has her eyes set on the 2026 Commonwealth Games. Only 23 years of age, she is pursuing a four year undergraduate degree off the track at Swansea University. On track, she is participating in the heptathlon which comprises seven track and field events contested over two days.
Having competed in athletics since she was 12, Davey has dozens of junior national titles and medals to her name. In the 2021 Combined Events Challenge, she was the Welsh Senior Champion. In the same year, she also finished 4th at the European Combined Events Cup and the English Combined Events Championship.
Listen to the third episode of On Track here:
On the move
Davey enjoyed participating in team sports at school, and tells Further that it was her family and coaches who inspired her to push further in the field. She says, "It's the belief and motivation just to see how quick I can go, how far I can go, how far I can jump."
Always looking forward to the next big competition, it's what Davey carries in her kit bag that ensures she can perform at her best. "I have a bag full of one litre or half litre bottles [of water], and food because I travel like a mad woman," she laughs, "And bobbles! If I go to the track and I haven't got a bobble, that's it. There's no point in doing anything because my hair is everywhere."
She also competed in her first year as a senior at the British Indoor Athletic Championship in February. Having sustained a knee injury, Davey could not complete the heptathlon but competed in the hurdles, which happens to be one of her weaker events. She says, "I struggled to gain speed between the hurdles, so just to be invited, I was over the moon. I learnt a lot from that experience."
Doctor in the making
Pursuing a full-time medicine degree at Swansea University, Davey has often been told that she shouldn't compete at the same time. She explains, "Mentally, it's the toughest because they're both so demanding. I feel like I'm not as good of a medical student as I want to be, and I'm not as good of an athlete as I'd like to be. I can't pick between both as they're both careers for me."
"I've always wanted to be a doctor and I want to be the best athlete," she smiles, "I know it isn't an easy road but I know I can do it. I get bad days and think, 'That wasn't great' but I just move on."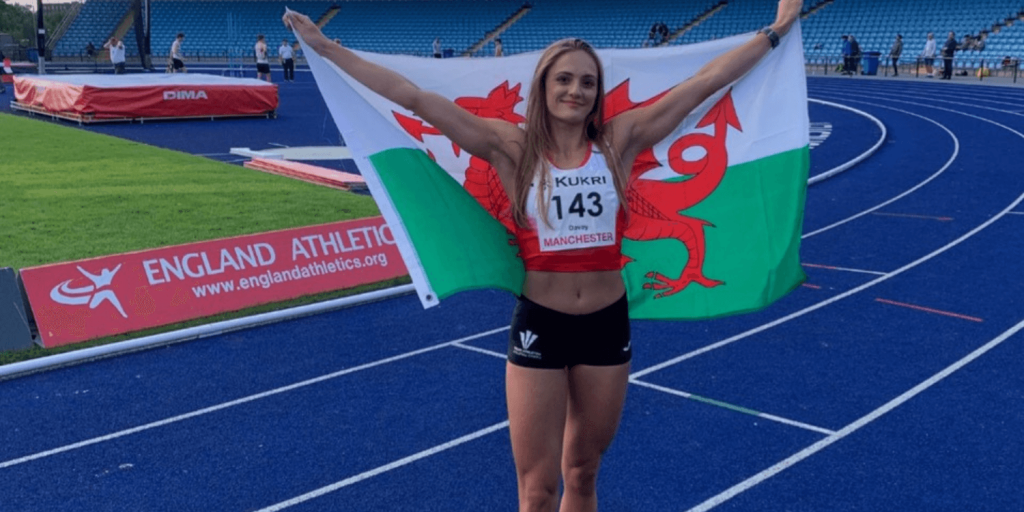 On to bigger things
Davey has been telling people since she was five that she wants to participate in the Olympics. Like all of us, she has her moments of self-doubt, and when aiming for something as big as the Olympics, the doubt creeps in. But she doesn't let it overwhelm her. She says, "It's not entirely impossible so why don't I give it my all? If I give it my all and don't make it, I'll have no regrets. Whereas if I tell myself now, 'I'm not ever going to make it, there's no point in trying,' how will I ever know what I can do?"
Brimming with positivity, Davey is confident that the 2026 Commonwealth Games will act as a stepping stone to her long term goal of making it to the Olympics.
Follow Davey on Instagram. The next Commonwealth Games will be hosted by Australia. Tune into our other episodes here.