Formula One's first female driver in 22 years, the CEO of a leading Formula E team, and a spearhead for initiatives to increase female participation in motorsport, Wolff is the pack leader
Formula E (FE) is a single-seater motorsport championship for electric cars. In her first season, Susie Wolff led Venturi Racing to their first win at the 2019 Hong Kong E-Prix. On the weekend of 9 April, the fourth and fifth rounds of this year's FE will take place, and Wolff's team enter the race weekend at the top of the standings with 68 points.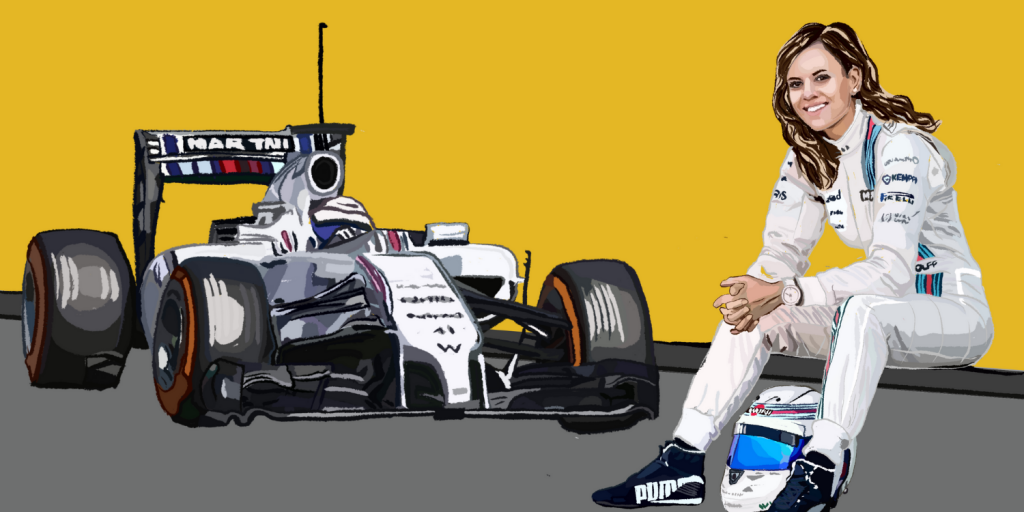 There have been only six women who have raced in Formula One (F1), a sport that has held events for 72 years. On 18 May 1958 Maria Teresa de Filippis became the first woman to participate in an F1 Grand Prix. Over the years, this male-dominated sport would go on to see five more women feature on the grid who would try their best to break the mould. But it wouldn't be until 2014 that a female driver would become a household name in Britain, leaving a mark on motorsport so large that her legacy has already been solidified. Wolff became the first woman to participate in an F1 weekend in 22 years. A titan of women's motorsport, the 39-year-old is looking to change the world of motorsport for good.
FE is only a decade old. Wolff's team Venturi was founded in 2013 but they won their first race only three years ago. She may have retired from F1 in 2015 but she has found a way of winning in her role as team principal. She is the only female team boss across FE and F1 and is paving the way for more.
Out of the box, box
Born in Oban, Scotland, Wolff began her karting career when she was only eight. Aged 13, she was named British Woman Kart Racing Driver of the Year in 1996. The following years would see Wolff participate in a range of karting competitions where she would go on to be titled Driver of the Year four times. At the dawn of the new millennium, she was named Top Female Kart Driver in the World.
I'm not here to be the best female. I'm here to be the best
Wolff was promoted to single-seater racing in 2001. She participated in Formula Renault and then graduated to the British Formula 3 Championship in 2005. But Wolff's defining moment came when the Williams Formula One team named her as a development driver in 2012. Wolff's first free practice session at the 2014 German Grand Prix, though riddled with engine problems, showed her potential as she finished two-tenths of a second behind veteran teammate Felipe Massa. The same season, Wolff was given an enhanced role at Williams as a test driver. In conversation with The Gentlewoman in 2015, Wolff said, "I'm not here to be the best female. I'm here to be the best."
Wolff on the hunt
A year later, however, she announced her retirement from F1. In a blogpost for Huffington Post, Wolff said, "At 13, the dream and the goal became Formula 1. I got oh so close. I wanted it and fought very hard to make it into that starting grid but the events at the start of this year and the current environment in F1 the way it is, it isn't going to happen."
The current environment that Wolff was referring to was F1 being male-dominated, and Wolff is on the hunt to change that. The comments she received during her karting and racing days only made her more passionate. She once passed a male driver who chimed in on the team radio, "Get this girl out of my way, get her out of my way!" His engineer replied, "We can't get her out of your way, you have to overtake her."
In 2016, she founded Dare to be Different, a non-profit organisation that aims to increase the participation of women in all forms of motor racing. The UK-based organisation hosts events throughout the country and invites schoolgirls aged eight to 14 to partake in racing related activities. She went one step further in 2019 by collaborating with the motorsport governing body Fédération Internationale de l'Automobile (FIA) on the Girls on Track initiative. "It's making sure that the sport as a whole is more diverse, because there are opportunities but our sport can be seen as inaccessible," Wolff told Autosport, "The more women involved, the more will rise to the top."
In FE, Venturi is one-third female. In F1, Mercedes ranks the highest with women making up 20% of their workforce, according to ESPN. Female participation needs to increase at every level of the sport. "Do I think F1 is ready for a competitive female racing driver that can perform at the highest level? Yes. Do I think it is achievable as a woman? Most definitely," Wolff wrote in Huffington Post, "Do I think it will happen soon? Sadly no. We have two issues, not enough young girls starting in karting at a young age and no clear role model."
Thanks to Wolff's initiatives, women everywhere have a role model to look up to. She may have hung up her helmet, but the gloves are off now. She dares to be different.
---
In other words…
"Susie has proved herself to be a great role model. She has got here on merit and it will be fantastic to see what tomorrow brings for her, but also for the future of Formula One." – Claire Williams, former team principal of Williams F1, on Wolff's debut
"The cliché of making fun of the lady driver gets blown out of the water, because Susie holds her own absolutely and drives the car exceptionally well." – David Coulthard, former F1 driver
"When I saw Susie on the podium with the trophy in Berlin, I was more happy than if I had stood there." – Toto Wolff, team principal of Mercedes AMG Petronas F1 team, Susie's husband
"What makes Wolff a role model is not her on-track pace, but the very fact that she broke ground and ended the 22-year drought. She is seen as a driver and an ambassador for women in motorsport; a figure for young girls dreaming of being racing drivers and making it in a man's sport to look up to." – Luke Smith, F1 writer at NBC Sports
"Her goal was not to be the best female driver in the world, but to be the best driver in the world. Susie's helmet played a significant role in bestowing her equal status as a driver: once her helmet was on, no one knew if she was male or female." – Angela Palmer, artist at National Galleries Scotland who designed a glass replica of Wolff's helmet